Latest Digital Skills Festival confirmed for Manchester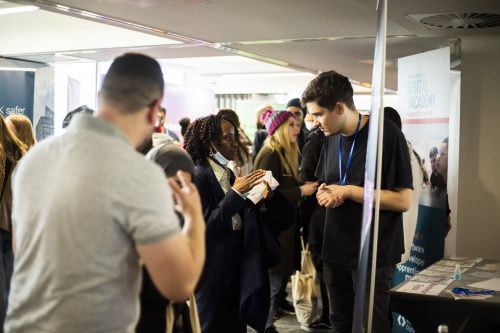 The week-long Digital Skills Festival returns to Manchester next February.
The North's longest running and largest talent and skills festival for the digital and tech industry will take place from February 6-10, 2023, across Manchester city centre.
The Digital Skills Festival, which has been run by industry trade body Manchester Digital for more than a decade, brings together the leading North West tech businesses with the future stars of the digital and tech world.
Katie Gallagher, managing director of Manchester Digital, said: "Our 2023 Skills Festival will showcase the region's digital and tech sector at its best and will ensure that even through difficult economic times, there are still vacancies and opportunities on the table.
"A recent study found that 28% of all jobs advertised in Manchester were for the tech sector. On top of this, the average tech salary is 50% higher than the average salary for other jobs, making it a hugely attractive industry for young people and career changers."
She added: "While the sector is always impacted by economic conditions, its resilience and ability to innovate will mean that the sector continues to grow and, importantly, create high quality jobs which are key to the region's overall prosperity and improving the lives of our citizens."
Manchester City Council has been confirmed as the strategic partner for the event.
Up to 300 job opportunities will be on offer on the flagship Talent Day (Wednesday, February 8), including roles in software engineering, data, cyber-security, UX, design, business analyst, project management and much more.
Conference Day (Monday, February 6) will see the launch of the annual Digital Skills Audit, as well as keynote speakers on the latest industry issues such as the current economy and rising inflation, skills shortages and the lasting impact of the COVID pandemic.
Sherelle Fairweather, digital strategy lead at Manchester City Council, said: "We are super thrilled to be supporting the festival.
"The city-wide Manchester Digital Strategy 2021-2026 focuses on the need to build on the city's strengths to grow the digital sector and digital ecosystem – creating more good quality learning, employment, business, and investment.
"Manchester City Council have been long supporters of Manchester Digital and its community, and we look forward to contributing to and being immersed into a great week."
The event also coincides with National Apprentice Week, with a dedicated apprenticeship day to inform and guide anyone considering a tech apprenticeship programme.
The five day event, will take place at venues across the city centre, as well as online sessions, with more speakers and professional sessions to be announced.