Chancellor focuses on stability with £55bn plan to rebuild public finances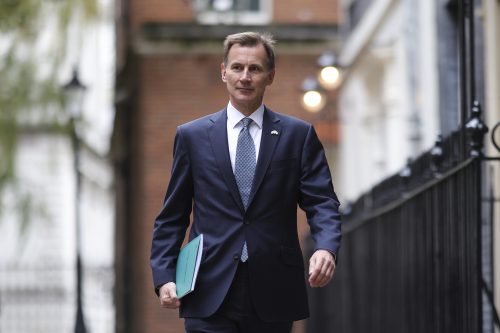 Chancellor Jeremy Hunt has set out his plan to "rebuild" the UK's finances with a series of tax rises and below-inflation or delayed spending proposals.
The Autumn Statement was the third major financial plan in just two months, following Kwasi Kwarteng's mini-Budget and Hunt's subsequent reversal of most of those key measures.
Hunt, who has been Chancellor for less than five weeks, set out the three pillars of his financial update as "stability, growth and public services" but had little room to be positive in his 54-minute statement.
"We will face into the storm," he told MPs. "There may be a recession made in Russia but there is a recovery made in Britain."
His subdued delivery was given vocal support by the MPs behind him as he sought to deflect blame, cherry-picking international comparisons on growth and interest rates, as he blamed "unprecedented global headwinds" and "a made-in-Russia energy crisis".
The failure of the mini-Budget left the latest Chancellor trying to address a fiscal "black hole" of up to £60bn – although the very existence of the black hole is a matter of debate and depends on how the forecasts are calculated.
Regardless, the UK economy is in a difficult position. The Bank of England believes the country is at the start of a long recession, interest rates have been rising fast but inflation is at 11.1% and not yet falling, and millions of households are only now starting to feel the impact of higher energy bills and mortgage repayments.
Hunt said his Autumn Statement will find £55bn – just under half from tax rises and the remainder from spending cuts.
He acknowledged there would be "a substantial tax increase" as he reduced the personal tax threshold for top-rate taxpayers – costing those taxpayers up to £1,200 per year – and froze tax-free allowances for another two years, to 2028.
The energy profits levy will increase for five years, and is expected to raise £14bn next year.
Hunt also revealed smaller measures, including ending the road tax exemption for electric vehicles. The revaluation of business rates will go ahead but transitional support means two-thirds of properties won't pay more next year, Hunt said.
Overall spending in public services will continue to rise in real terms for the next five years, he said, as he revealed annual increases in the schools budget of £2.3bn, the NHS budget of £3.3bn, and social care of £4.7bn.
There was just one mention of levelling-up as he promised round two of the levelling-up fund would be worth up to £1.7bn.
Hunt recommitted to deliver the "core" Northern Powerhouse Rail and HS2 to Manchester, and said progress was being made on previously-announced "trailblazer devolution deals" for Greater Manchester and West Midlands.
Investment zones, which were one of the key measures in Kwarteng's economic growth plans, will be scaled back and instead "be centred on universities in left-behind areas".
Hunt confirmed the pensions triple-lock would be protected – a somewhat-controversial measure given all pensioners benefit, regardless of wealth – while the national living wage will be increased by 9.7% and benefits increased by 10.1%.
Hunt has been Chancellor for less than five weeks, after being appointed in the dying days of Liz Truss's short-lived premiership.
The Autumn Statement is an attempt to reset the domestic economy after one of the most extraordinary periods in the UK's modern political history.
Kwasi Kwarteng's mini-Budget on September 23 torpedoed the Government and damaged its reputation with the markets with its combination of tax cuts and unfunded spending pledges. It led to his sacking as Chancellor after 38 days, the second-shortest in history.
Hunt and new Prime Minister Rishi Sunak have already undone most of Truss and Kwarteng's announcements, while Sunak has largely distanced himself from pledges made in the summer leadership contest which he lost.
The Autumn Statement marks the start of Sunak's campaign for the next general election that is expected in two years' time.
The Prime Minister will be hoping that today's measures will be the right course of action to reduce the depths of the recession and bring forward the start of a recovery.caption]