People: Knight Frank; Holker; MAC Construction Consultants; FW Capital; Ward Hadaway; Code Computerlove

Knight Frank has appointed Suraj Visavidiya to join partner Jason Gray and grow the business rates team in Manchester.
Jason said: "Suraj has extensive experience in helping ratepayers mitigate their rate liability and I know that our clients will benefit from his knowledge and enthusiasm in finding solutions to reduce their rates burden at what is going to be a challenging time for many.
"Now that the Government has released the draft 2023 Rating List, businesses can be proactive and clarify their business rates charge for next year. For business this creates certainty which is very welcome in the current climate."
The new Rateable Values will come into force next April with some sectors, such as logistics and industrial, facing increases on average of 27% according to Knight Frank data.
Suraj, who lives in Bolton, worked previously with Jason at Altus Group, and said: "Business Rates are a huge overhead and the 2023 Rating List will present some significant increases in liability for ratepayers across the region.
"I am very pleased to have joined Knight Frank at this time, working across sectors with some of the best experts in the business and I look forward to assisting our clients and helping them run the most efficient businesses they can."
::
Holker has appointed Paul Taylor as technical director.
He joins fellow directors Matthew Metcalfe, MD, and James Dewhurst, FD, on the board at the 47-strong team.
Paul, formerly head of cloud services, is one of Burnley-based Holker's team of experts with real technical knowledge.
His IT career started in software development, following a Computer Science Degree. It took a natural shift into IT support and infrastructure engineering, where Paul found his passion specialising in networking and cloud solutions during a period as the cloud infrastructure manager at a regional ISP.
Today Holker's cloud offer provides a future-proofed and turnkey solution for more than 120 clients including MKT Logistics and educational institutions like Denton College in Manchester.
Paul said: "Now there's three directors, there's more energy and we can tackle bigger issues facing our customers together.
"It's exciting, and it's a natural extension for me. I like building solutions to make customers happy – now it's just that the solution is bigger and it's not 1:1 feedback from the clients about me, but about the company's service."
Paul's role means he will serve as the technical point of contact for the team, represent the company's interests, directing the team as they work on the projects, and facilitating technology transfer during the project.
Matthew Metcalfe said: "Paul is an incredibly capable individual who has a wealth of knowledge about the IT industry and the ability to spot opportunities in the future for the business.
"Now that Paul has become a director, it gives Holker scope to look at new and innovative products and services we can offer customers, supported by a knowledgeable and experienced help desk and support team."
::
MAC Construction Consultants has strengthened its client offering with the appointment of Mathieu Ducry as associate director, architectural designer Anahita Mohammadkhani and project manager Sandra Ochuba.
Sandra joins the firm's Manchester Office as an accomplished project management specialist with more than five years' professional experience supporting successful delivery of a portfolio of multi-disciplinary projects throughout the UK and Europe.
She is experienced in delivering all project phases from pre-feasibility/initiation and planning, through implementation and execution.
Welcoming them to the firm, director Nicolas Maari said their appointments were indicative of the commitment that MAC has to growing its offering across each region, as well as nationally.
Their arrival follows a strong couple of years of growth for the business, which has continued to secure major private and public sector contracts across the country, and has successfully been appointed to a number of frameworks.
Nicolas Maari said: "I am thrilled to be able to welcome Mathieu, Anahita and Sandra to the team across our London and Manchester offices. I believe all three will make brilliant additions to MAC."
MAC operates out of a number of strategically placed offices, including Birmingham, Manchester, Milton Keynes, Leeds and London.
::
FW Capital has appointed Grant Peggie to strengthen its management team and build key relationships in a move to accelerate SME growth across the UK.
Former director of venture capital solutions at the British Business Bank, Grant is responsible for securing new fund opportunities across the UK. This will bolster FW Capital's strong record of delivering funds to support SMEs in the North, driving more job creation, innovation, and economic growth.
With more than 20 years' experience working with regional SMEs, Grant was instrumental in launching the first regional venture capital fund and headed up the regional funding team at the British Business Bank. Here he worked across the Northern Powerhouse Investment Fund (NPIF), Midlands Engine Investment Fund (MEIF), and the Cornwall and Islands of Scilly Investment Fund (CIOSIF). He was also part of the team that led to an allocation of £1.6bn of new funds as part of the Government's Spending Review.
Grant Peggie said: "FW Capital brings energy and enthusiasm to each investment opportunity and are committed to supporting SME growth. My focus is on fundraising which is vital in opening doors for many more businesses seeking financial support to take them to the next stage. By facilitating smart investments, we can help SMEs to unlock their potential and accelerate economic growth."
Mike Owen, FW Capital chief executive, said: "This is a great appointment for FW Capital, and we welcome Grant to the team. We are committed to helping businesses in the North access the capital they need, and Grant's appointment supports our ambition to secure further new funds.
"This will help us to deliver investment beyond the North and across the UK. The current climate is difficult for many and having access to the right financial backing is critical for business and economic growth."
::
Law firm Ward Hadaway has appointed 13 trainee solicitors and one solicitor apprentice as it continues to grow strongly and expand its workforce.
A number of the trainees, who have been awarded a two-year training contract at the firm, will be based in Ward Hadaway's offices in central Manchester.
The trainee appointments follow a strong financial year for Ward Hadaway, which recently reported an 11% firm-wide growth with the Manchester office growing by more than a quarter. In July, the business completed a 28-strong round of promotions.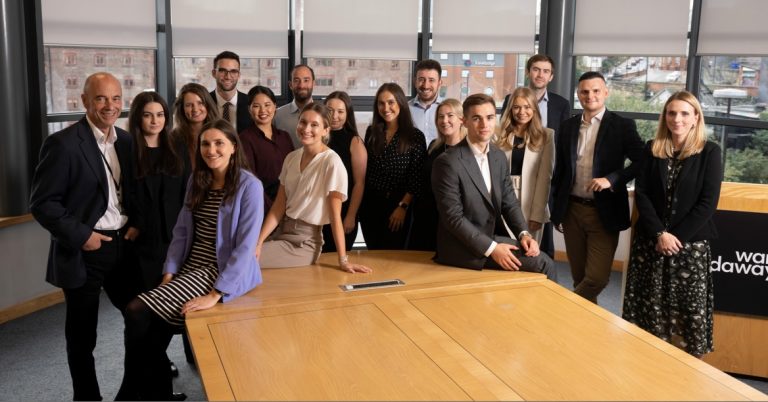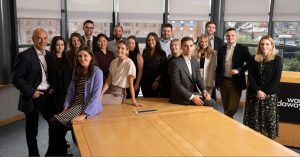 Caroline Jones, recruitment and emerging talent manager at the firm, said: "Our trainee programme is a key aspect of our people development strategy and aligned with our aim to recruit motivated, skilled and forward thinking individuals with the right mix of competency, skills and attitude. A trainee role is a pivotal starting point in a law professional's career and at Ward Hadaway we fully invest in each trainee to ensure they have a long, fulfilling and successful career in law.
"Because our focus is completely person-centred, we also support trainees in the step up to a newly qualified role and in progressing towards other development milestones."
Liz Bottrill, executive partner for Ward Hadaway's Manchester office, said: "A key priority is our investment in the lawyers of the future. The foundations of a highly skilled, vastly experienced team are based on the quality of training and development trainee solicitors receive before they fully qualify. It's something we commit a lot of time and energy towards."
Mia Armstrong, one of the Manchester-based trainees, said: "I am thrilled to be starting at Ward Hadaway and look forward to what my time at the firm will hold."
::
Code Computerlove has appointed Gemma Handley as its new managing director.
Gemma joined Manchester-based Code in 2018 and the promotion sees her moving from commercial director to managing director at the start of 2023. Gemma will replace current MD Rob Jones who is taking up a new position outside the group.
Part of MediaCom North, Code was established in 1999 by founders Tony Foggett, Louis Georgiou and Wini Tse, and Gemma will now lead the 80-strong agency through its next phase of growth.
Gemma has 15 years of experience in commercial delivery and operations and has been instrumental in introducing new company-wide operational and cultural initiatives, alongside progressing team-centric practices and relationship-focused collaboration tools. Prior to joining Code, she held delivery roles at some of Manchester's biggest dot-coms, including LateRooms and ao.com as well as working for agencies like Kin & Carta (formerly Amaze) and Dept (formerly Building Blocks).
In January, the group will be officially part of EssenceMediacom and move into the new WPP Campus based in Enterprise City and St John's tech, media and creative quarter.
CEO of MediaCom North, Paul Cooper, said: "I am thoroughly looking forward to Gemma moving into the role of managing director, as her leadership has been crucial to Code's amazing success this year.
"Gemma will play a key role in our EssenceMediacom North leadership team and help bring the capabilities and category leadership of Code into the new agency, whilst retaining its independent culture and spirit."
Gemma said: "The opportunity to lead Code is incredibly exciting. With over 15 years in both large agencies and client-side roles, I've seen every aspect of how digital impacts businesses.
"I look forward to guiding Code and supporting our partners throughout 2023 and beyond, with a focus on value creation in everything we do for them and our people – as well as continuing to have lots of fun along the way."