People: Gateley; Simpson Millar; S I Sealey & Associates; Leonard Curtis Legal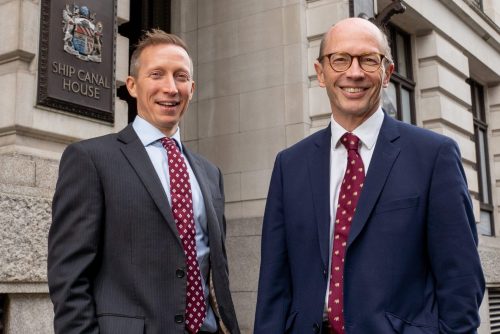 Gateley Legal has bolstered its construction team with the appointment of Andrew Harbourne as a partner at its Manchester office.
Harbourne joins the team from his previous role as a partner at Wilkin Chapman Solicitors. Prior to that, he spent eight years at Cripps and has a wealth of construction law knowledge having worked across several areas including property development, commercial development and real estate.
He is also experienced in handling property law issues within the charity sector.
In his role at Gateley Legal, Harbourne will assist the team with servicing clients across the North West region and beyond. He will focus on non-contentious construction matters including contracts, development agreements and collateral warranties. Harbourne will also support the development of junior talent.
He said: "I am extremely pleased to be joining the Gateley Legal team in Manchester. After working alongside a few of the team members on previous schemes and having insight into the innovative business model, I knew it would be a great move."
Emlyn Hudson, partner and head of construction at Gateley Legal, said: "Andrew brings a wide range of construction knowledge and expertise which will support our clients and meet market demand well. I know he will be a valuable addition to our team."
::
Experienced education law expert Emma Davies has been appointed as Deputy District Judge on the Northern Circuit.
The appointment will see Emma sit as a Judge in the County Courts and District Registries of the High Court for two to three days a month, and for around 30 sittings a year.
Deputy District Judges are appointed by the Lord Chief Justice after a fair and open competition administered by the Judicial Appointments Commission. Applicants must have a minimum of five years' appropriate legal experience, such as a practising barrister, solicitor or legal executive.
Emma will carry out her judicial role alongside her dedicated work for clients at law firm Simpson Millar, where she is a senior associate within the education and community care team.
She has a particular interest in school admissions appeals and has acted for many clients in this area. Her numerous successes include difficult-to-win infant class size appeals.
Emma said: "I am proud and privileged to be taking on the new role of Deputy District Judge following the competitive and challenging process over the last 14 months. To be able to carry out this important work alongside working with my clients at Simpson Millar is a real honour."
Imogen Jolley, director of public practice at Simpson Millar, said: "Emma is a long standing member of our education team, having trained at Simpson Millar.
"To see her development and progress over the past few years has been amazing, her dedication to her clients is paramount and since she has been in a management position in the team, has been fair minded and supportive, all great grounding for her new role in the judiciary."
::
Stockport-based building services design consultants, S I Sealy & Associates has appointed Matt Caddick as an associate electrical engineer.
With more than 20 years' experience as an electrical engineer, he has been a Chartered Engineer since 2015.
Matt is well placed to drive and support the growth of S I Sealy's electrical engineering team and the firm's specialist sustainability division, Net Zero UK.
Director, David Stafford, said: "Matt has a broad spectrum of electrical engineering and sustainability skills and experience, including having worked for S I Sealy almost 10 years ago.
"It is great to have Matt back on the team. He is a key addition to our team, strengthening our electrical senior leadership team."
::
Leonard Curtis Business Solutions Group's legal arm has unveiled new roles for two key members of its leadership team as the brand embarks on a fresh chapter of ambitious growth for 2023 and beyond.
Founder Andrew Gregory – who set up the law firm in 2015 – moves into the role of executive chair, while director Paula Smith becomes the head of Leonard Curtis Legal.
Andrew will work alongside Leonard Curtis's CEO, Dan Booth, to guide corporate decisions, while Paula will play an instrumental role in delivering strategic goals for the group, which recently announced its plans to double in size by 2025.
Andrew said: "Since the company was acquired as a joint venture in 2016, we have developed a very different sort of law firm – becoming one of the first of our kind to embrace the Alternative Business Structure (ABS).
"I am very proud of the success we have achieved and this is largely due to the fantastic lawyers and support staff who have joined the firm over the past seven years.
"The investment made by Arete Capital Partners LLP and Svella Plc in August 2021 has meant the group has been able to formulate some exciting new growth plans which will include the legal division.
"I look forward to continuing to support all members of the team and the Leonard Curtis Group as a whole to achieve its ambitious targets."
As the new head of Leonard Curtis Legal, Paula will collaborate with colleagues across four UK territories – including restructuring and insolvency leaders and heads of funding.
She said: "The Leonard Curtis Legal brand has really established itself in recent years and we are very proud of what it has achieved.
"I am thrilled to be given the opportunity to lead the legal team at one of the most exciting moments for the business yet."
CEO Dan Booth said: "We are confident we can significantly scale this business and now we have clarity – by region and division, including legal – on how we will achieve it.
"Our plans for growth and development will be delivered by applying our key principles of confidence, commitment, and consistency."
Demand for Leonard Curtis's legal services has been increasing rapidly as businesses seek advice, guidance and solutions following the pandemic and worsening economic conditions.
The firm is the largest privately-owned professional services provider of corporate restructuring and insolvency, funding, and legal solutions in the UK and Channel Islands – employing more than 250 people across 21 offices including Manchester, London, Birmingham and Leeds.