Date set for start of £52m canalside scheme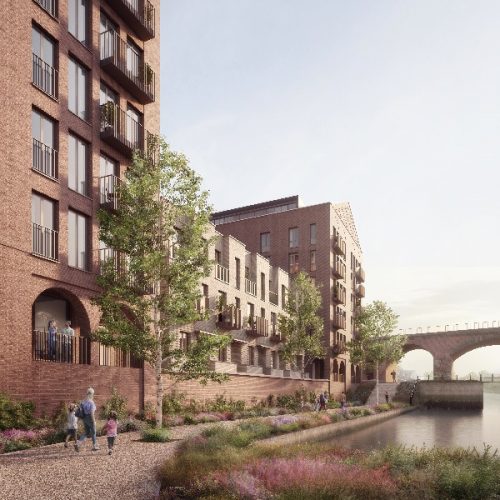 Piling is to start on a £52m canalside scheme set to transform a historic flight of locks in Liverpool.
Structural and civil engineers at Ridge and Partners have spent months planning the complex engineering solution for the development overlooking the Stanley Lock Flight, which brings the Leeds and Liverpool Canal into Liverpool's north docks.
Work will begin on December 5, delivering 185 apartments and 10 townhouses.
Torus Developments' Hartley Locks scheme is to be built by Eric Wright Construction.
Kris Clark, partner at Ridge, said: "The site contains a number of complex structures such as an infilled dock, a substation and railway arches, all of which we have had to work with and around to deliver a suitable foundations design.
"Above the foundations we adopted multiple construction types to suit the architectural aesthetics and layouts, including reinforced frame apartments, timber frame townhouses and steel frame duplex flats. It's a great-looking scheme and it will be satisfying to see it completed knowing that its aesthetics and budget have been helped by hidden engineering."
The scheme has been designed by Tim Groom Architects, with construction set to last 126 weeks. Handover of blocks A-C is scheduled to start in October 2024, phased up to the completion of landscaping in February 2025.
"This is a challenging site with numerous complexities and the dialogue between the engineers, the client and my construction colleagues has been key to developing a workable construction solution.  It's been a very open and collaborative process and I'm delighted we're now on site," said Keiran Murphy, project manager, Eric Wright Construction.
The £52m development is expected to sustain 350 construction jobs and will deliver a range of affordable homes to a rapidly-regenerating area of Liverpool. Everton Football Club's new stadium is 200 yards to the west and the area sits on the boundary of the Ten Streets development zone, quickly becoming a magnet for creative, arts and technology businesses.
Stanley lock flight is a Grade II listed structure built in 1848 which carries barges 44 feet down to Stanley Dock via four locks from the canal's main line. The innovation, by celebrated Victorian engineer Jesse Hartley, designer of the Royal Albert Dock, dramatically improved the rate at which coal and cotton could reach Liverpool docks from the city's Lancashire hinterland.