North West business briefs; Merseyrail; Airbus; Moneypenny; Manchester Central; Pilkington; Damibu
Merseyrail will run a limited train service during the planned strikes by Network Rail staff, who are members of the RMT Union, onf December 13, 14, 16 and 17.
The Liverpool City Region rail network is affected by the UK-wide national walk out, as Network Rail signalling and maintenance employees will be taking industrial action from 02:00 on December 13, to 01:59 on December 15, and 02:00 on December 16, to 01:59 on December 18.
As has been the case during previous strike days, Merseyrail are limited in the number of trains that they can run by the number of Network Rail signalling and maintenance staff that are available. As a result, the operator will run a 45-minute service calling at all stations on selected lines between 07:30 and 18:30 to help passengers make essential journeys. There are no rail-replacement buses on strike days and those wishing to travel outside of these hours are advised to make alternative travel arrangements where required.
Services that will operate on the days of action are as follows: Chester and Ellesmere Port lines: No trains will operate between Chester and Rock Ferry or Ellesmere Port and Rock Ferry. Trains will run every 45 minutes between Rock Ferry and Liverpool Central, calling at all stations. New Brighton line: Trains will run every 45 minutes, calling at all stations. West Kirby line: Trains will run every 45 minutes, calling at all stations. Southport line: Trains will run every 45 minutes, calling at all stations. Hunts Cross line: No trains will operate between Liverpool Central and Hunts Cross. Ormskirk line: Trains will run every 45 minutes, calling at all stations. Kirkby line: Trains will run every 45 minutes, calling at all stations.
On December 15, train services will begin at approximately 07:00 in the morning. A limited rail replacement bus service will be in operation from the busiest stations prior to 07.00. Passengers are advised to visit the Merseyrail website for full details or speak to a member of station staff. On December 18, a normal timetable will operate.
Jane English, acting managing director at Merseyrail, said: "We would like to apologise for the disruption caused to our passengers as a result of the action being taken by Network Rail signallers and maintenance staff. We have worked closely with Network Rail to provide an improved industrial action timetable, with a train serving most stations on the network every 45-minutes from 07:30 and 18:30, to help passengers make essential journeys."
::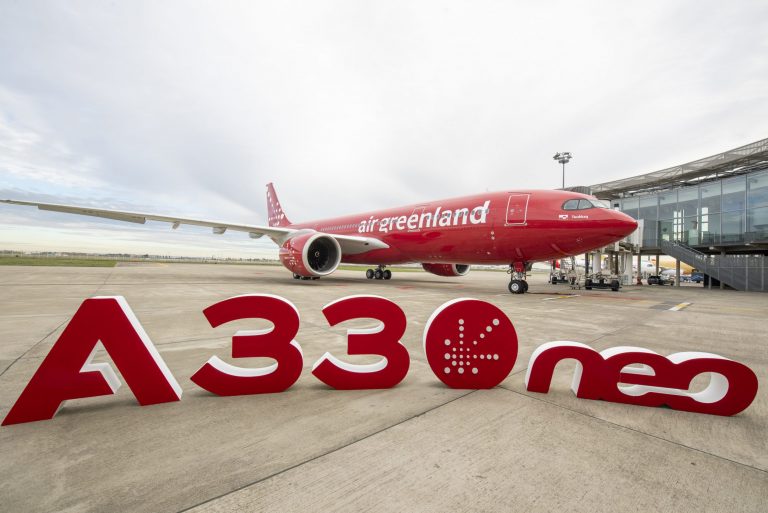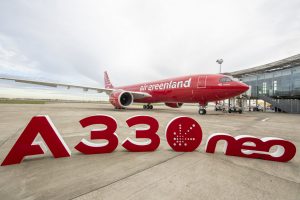 Air Greenland has taken delivery of an Airbus A330-800 widebody aircraft, becoming the latest operator of the type.
The A330neo will replace previous generation aircraft in the company's fleet, reducing operating cost, improving environmental efficiency while offering an unrivalled passenger experience. Air Greenland's A330neo will comfortably accommodate 305 passengers, featuring 42 Premium class seats and 263 Economy class seats.
Air Greenland has also firmed up an agreement with Airbus on Flight Hour Services (FHS) covering component supply and maintenance services. Based on a circular economy model and carbon footprint reduction the Airbus FHS offers more sustainability throughout the aircraft's life cycle. More than 1,200 aircraft worldwide are currently being contracted under Airbus FHS.
To underline Air Greenland's sustainability strategy the delivery flight will be powered by a 30% blend of sustainable aviation fuel (SAF). Air Greenland will first deploy the A330neo between the arctic island and Denmark, adding North American and European routes at a later date.
The A330neo is the new generation version of the popular A330 widebody. Incorporating the latest generation Rolls-Royce Trent 7000 engines, new wings, made at the Airbus wing-making plant at Broughton, near Chester, and a range of aerodynamic innovations, the aircraft offers a 25% reduction in fuel consumption and CO2 emissions. At the end of October, the A330 family had registered a total of more than 1,700 firm orders of which 275 are A330neos from 24 customers.
::
A T Levels workshop is being hosted by the Department for Education, in partnership with two of the Prime Minister's Business Council Members – Joanna Swash, group CEO of Moneypenny and Dawid Konotey-Ahulu, co-founder at Redington & 10,000 Black Interns Programme.
Taking place in the Crown Plaza Hotel, Manchester, on January 18, between 9:30 and 12:30, business leaders and HR professionals are invited to attend to hear about how they can become involved with supporting the programme.
T Levels are a new qualification for students aged 16 to 19 in England, with 80% of time spent in the classroom and 20% spent in the workplace, on an industry placement. During the workshop, those already benefiting from the qualification will explain why T Levels are a significant opportunity for both employers and students. During the workshop, attendees will be asked to consider how they might implement the hosting of T level students into their workforce development strategies.
Joanna Swash, group CEO of Wrexham-based Moneypenny which answers outsourced calls and live chats for thousands of businesses globally, said: "It is vital to get businesses together to hear about this excellent and hugely important new programme. As employers face a skills shortage, this could really impact the future success of businesses by helping shape and deliver the skills that organisations need. It's clear that T-level courses are giving learners career-building pathways, as well as the confidence they need to enter the workforce.
Dawid Konotey-Ahulu, co-founder of Redington – advisors to large pension funds and insurance companies – said: "There are so many people who never reach their full potential because they do not have the right opportunities for education or professional employment. If we are ever to level-up the playing field for all members of society, we have to provide employment opportunities to all. T Levels are an incredibly powerful qualification which employers should all be using to identify and secure early talent."
::
Major events venue Manchester Central has welcomed 14,000 more people to indoor sporting events this year when compared with pre-pandemic levels.
The venue, which has a capacity of more than 10,000 and has recently staged the Rugby League World Cup wheelchair final, has hosted several prominent sporting events this year. The former railway terminal has a wealth of indoor space ideal for hosting mass participation events and large groups of spectators. In the past year sporting activities have included fitness festivals, cheerleading, extreme obstacle courses, boxing, American football, wheelchair rugby and dancing.
The events have welcomed 16,630 people in total, an increase from 2,600 in 2019 – the most recent comparable year due to the postponement of large-scale events during the coronavirus pandemic. Highlights this year included the sold out Rugby League World Cup wheelchair final, which was watched by a combined peak audience of 1.3 million people on TV, with more than 4,500 people watching live at the venue – the largest ever live audience for the sport, setting a new world record in the process.
Manchester Central has also played host to the filming of Ninja Warrior, the popular ITV obstacle course, the England Boxing National Amateur Championship Final and Future Cheer, the UK's major cheerleading gathering.
Shaun Hinds, CEO at Manchester Central, said: "Our venue has come alive once again with the return of large scale indoor sports events. The variety of sports that have been held here is testament to the space being so versatile and our team facilitating exciting and innovative ways to host a range of activities.
::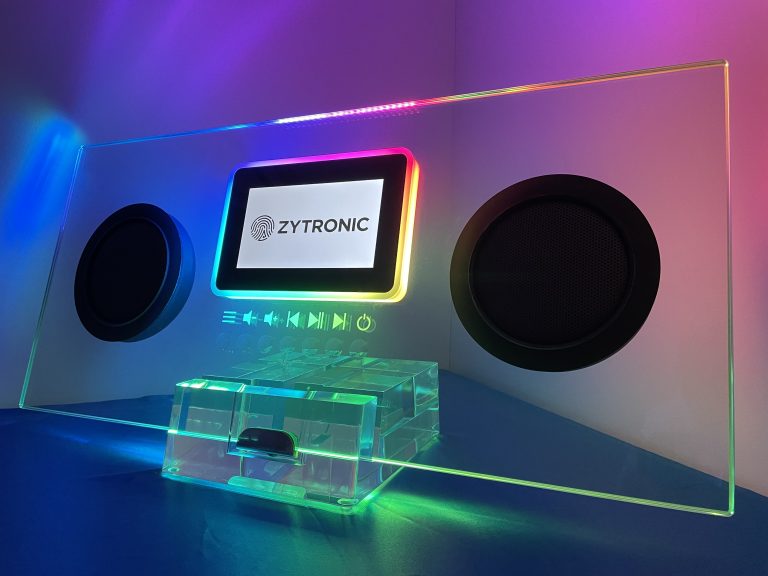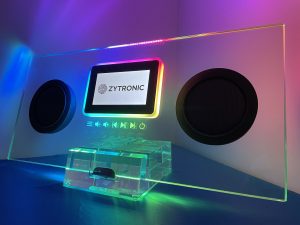 UK touchscreen and glass processing expert Zytronic is reinventing the white goods category with its futuristic new 'transparent goods' Hi-Fi system concept, powered invisibly using electrically conductive glass, developed by NSG TEC's Pilkington UK site in St Helens.
The ElectroglaZ music system comprises a single, upright sheet of laminated glass, which simultaneously powers a set of Bluetooth speakers, a media player and an LCD screen, surrounded by a multicoloured LED array. The stereo can be controlled via seven projected capacitive touch buttons which are carved into the surface of the glass to create a tactile feel for the user. The coated glass acts as a wire, transferring power through conduction, creating the effect that the components are freely 'floating' within an optically clear panel.
The sound system has recently been showcased at glass industry show, GLASSTEC in Düsseldorf, and Light + Building in Frankfurt, the world's leading trade fair for lighting and building services technology, where it drew interest from product designers and architects.
To create the ElectroglaZ unit, Zytronic laminated together two layers of transparent, electrically conductive NSG TEC glass. Electricity flows into the glass via a hidden connection around its perimeter, through the conductive glass's lamination, and out to the speakers and screen. A third layer of glass is laminated to the front to create a touch interface to the device using Zytronic's proprietary Project Capacitive (PCap) Technology.
Alderlan Vitalino, from Pilkington's parent NSG Group, said: "The home is becoming increasingly high tech, with smart devices, voice controlled lighting and automated appliances modernising every facet of household life. Zytronic's technology offers new design possibilities across almost every appliance you can find in the home, providing new ways to create high-tech looking products. The unique properties of NSG TEC make it an ideal choice for a wide range of household products."
::
A Liverpool digital technology company has landed £96,000 in grant funding to improve health information for new parents from minority groups.
Damibu has developed a digital platform for creating and delivering health information on public-facing NHS websites. The latest funding, from SBRI (Small Business Research Initiative) Healthcare, was secured with the help of the Innovation Agency and will help the company explore how information can be 'hyper-localised' to meet the needs of minority groups.
The project will focus on new parents in the Liverpool City Region to ensure they receive the information they need to fully access health services. The Damibu Feeds platform was developed during the early stages of the pandemic and delivers information to places where it can be accessed by the public, such as GP websites.
Dave Burrows, founder and CEO of Damibu, said the latest funding would help the five-strong company make information more accessible by exploring differences in language and culture in local areas. He said: "A large part of the work will focus on engaging with local people so we can better understand cultural and linguistic differences – firstly, to overcome any change in nuance during translation and, secondly, to see if NHS information can be more culturally relevant."
Andy Cairns, the Innovation Agency's commercial manager for the Liverpool City Region, said: "We have a relationship with Damibu going back several years so we're delighted to have played some part in their latest success. Damibu is all about delivering social benefits in an innovative way and this latest piece of work promises to improve services for people from disadvantaged communities."