People: River Capital; FW Capital; B2wBTradeCard; Ultimate Products; All Work & Social; Cumberland Building Society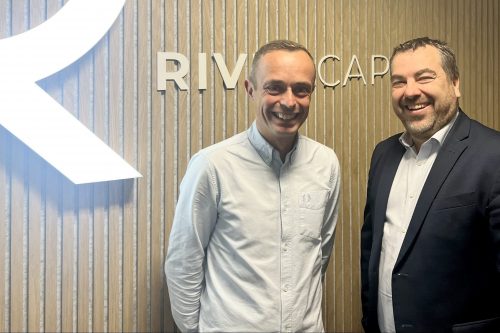 River Capital has appointed Martin Sutton as a venture partner following the recent launch of its dedicated artificial intelligence fund, fund: AI, the first of its kind in the North.
Martin joins Liverpool-based River Capital, having spent the previous six years at Manchester AI business Peak.
As one of the first team members to join in 2016, Martin held positions including commercial director, business development director, and chief revenue officer, where he led the global customer organisation and was responsible for sales, customer success and the data science teams.
Prior to Peak Martin spent 20 years working in high growth teams at global tech firms such as Sun Microsystems, Hitachi Data Systems, Fujitsu and Dell EMC.
As venture partner he will work with the fund: AI leadership team in enabling early-stage, data-focused businesses to achieve their full potential, raise the fund profile and help consolidate an already healthy pipeline of fund: AI investment prospects.
Martin Sutton said: "This is a dream role for me at River Capital as I'm passionate about helping early-stage AI and data-focused businesses to achieve their full potential. Coupled with the fact that fund: AI has a laser focus on Northern businesses made this a no brainer for me, as I've always believed we have amazing tech firms in the North but they are sometimes overlooked and underserved compared to their London peers."
River Capital CEO, Mark Borzomato, said: "We are thrilled to welcome Martin to the River Capital team in a venture partner capacity following the recent launch of fund: AI, hot on the heels of our recent rebranding and subsequent launch of the Business Growth Loan Fund. Martin brings extensive knowledge of the AI landscape within the North, and his knowledge of the region's ecosystem and extensive contacts will ensure we maximise the fund's full potential.
"The AI Machine, Learning and Data Science industry presents fantastic investment opportunities, and securing Martin's services is a real coup as we look to capitalise upon this."
::
FW Capital has bolstered its North West team with the appointment of Junior Bent to support the delivery of investment to local businesses through the Northern Powerhouse Investment Fund (NPIF).
Junior will be based in FW Capital's Preston office and will be responsible for managing the growing number of businesses in the North West which have received investment from NPIF FW Capital Debt Finance – managed by FW Capital and part of the Northern Powerhouse Investment Fund.
He started his career as a professional footballer playing for Burnley, Bristol City, Stoke City and Shrewsbury Town. Following his retirement from professional football, Junior has worked in the North West banking and finance sector for more than 20 years including positions at Barclays, NatWest, Lombard and, most recently, Propel Asset Finance.
Junior Bent, FW Capital portfolio executive, said: "Managing relationships and adding value is really important to me and I'm thrilled to join FW Capital and use my knowledge and expertise to support local businesses who need support and investment to achieve their growth ambitions."
Gary Guest, FW Capital North West fund director, said: "Having access to capital is proving more critical than ever for businesses which are looking to safeguard and create new jobs. Our role at FW Capital is key and it is vital to have the right people and expertise to help these businesses to reach their potential.
"Junior is a great addition to our team. He brings a wealth of knowledge and experience which will benefit businesses across the region and will help us to drive further growth through the provision of the Northern Powerhouse Investment Fund."
::
Chorley-based advertising services, incentive and loyalty solutions provider B2BTradeCard has appointed Len Richards as sales director.
Launched in 2015, B2BTradeCard has undergone significant growth in the past few years, increasing turnover by more than 70% and doubling its staff including Richards' appointment in the past year alone.
Bringing the total team to 12, Richards' sales director position is a new role which will see him working directly alongside CEO Craig Parsons to manage, lead and develop the existing seven-strong sales team to maintain and improve the company's growth trajectory and position as a national brand.
Richards brings with him more than 20 years' sales leadership experience primarily in software and business solutions for national and global companies including ECSC Group plc, ECi Software Solutions, V1, intY, Fujitsu and Xerox.
He said: "B2BTradeCard is a pioneering high growth company with a great company culture and values aimed at supporting the team and making it a great place to work.
"I'm looking forward to the challenge of helping the company sustain and improve its already impressive growth, while also retaining the team-focused values that deliver the best results on a holistic level."
::
Ultimate Products, the owner of a number of leading homeware brands including Salter and Beldray, has appointed Tracy Carroll to the role of brand director. Tracy joins from Helen of Troy, an American designer, developer and marketer of consumer brands, where she served as associate marketing director.
Tracy will be Oldham-based Ultimate Products' first dedicated brand director, a role that will see her lead the group's brand and marketing strategy, management, and communications function.
Simon Showman, Ultimate Products CEO, said: "We are very excited to welcome Tracy to Ultimate Products. Her experience at Helen of Troy will be invaluable as we expand our outstanding stable of homeware brands across new geographies and channels.
"Tracy's arrival will turbocharge our marketing efforts as we seek to build on the incredible success we have had in reinvigorating and growing heritage brands such as Beldray, Progress and Kleeneze. I am confident that, with Tracy's help, these successes can be replicated with Salter and Petra across our European markets and beyond. We are all looking forward to working closely with her in the years to come."
Tracy Carroll said: "I have long admired Ultimate Products' brands, and I'm looking forward to playing my part in the team's efforts to provide beautiful and more sustainable products for every home."
::
Workplace and hospitality operator, All Work & Social, is preparing for growth in Leeds and Manchester with the promotion of a new leadership team alongside several new appointments to the business.
A new leadership team will consist of the newly promoted Scott Gray as sales director, Lauren Allen-Maher as marketing director, and Tanya Grady as commercial director. Working alongside the existing managing director, Anthony Powell, the team is tasked with delivering the commercial growth strategy and expansion of Department, the flexible workspace brand.
All Work & Social is the founding operator of Department Bonded Warehouse and Department XYZ, and the managing operator and experience partner at the ABC Buildings, Manchester. The 'social' pillar to the business includes the food and beverage operations The Stables, Department Store, Dept Coffee and Foley's, with further business acquisitions to come in the growing Enterprise City, St John's district. The team will also open a new Department location at Leeds Dock in early 2023.
The new updated team structure is a result of ongoing business growth, with Department having reported 98% occupancy in its flagship Department Bonded Warehouse site in 2022. This comes only two years since its launch, and an impressive 17% above the workspace industry average.
The leadership team will be supported by the appointment of a new financial controller, Amy Brodie, who will oversee accounting functions for the entire All Work & Social portfolio, while Phil Dove, food & beverage director, will be leading the expansion of All Work & Social's hospitality businesses, with Jack Ingall as alternative strategies lead, and Nathan Wrigglesworth as the recently appointed events and programming manager.
Abi Gunning has been appointed as general manager of Department Bonded Warehouse to continue delivering its successful operation of the 1800s industrial warehouse which has been transformed for modern ways of working.
As the business expands its focus to include Leeds in the new year, Amy Matthams has been selected as general manager to launch and grow the new location. The new space includes Department's own wellness brand Condition operating at a stand-alone site, and the signature bar, restaurant, and lifestyle concept, Department Store.
Additionally, Department Leeds Dock will also house a second Exchange programme, led by Alice Pickersgill, following the huge success of the scheme in Manchester.
Anthony Powell, managing director at All Work & Social, said: "We are entering an exciting time in the development of All Work & Social. As we prepare to launch Department in Leeds, we needed to ensure we have the right team of people to both grow and maintain our well-oiled operations. The group we have in place will make for a smooth transition to opening in Leeds whilst maintaining growth in Manchester."
::
Elizabeth Eastburn has joined the Cumberland Building Society after more than two decades' worth of experience in financial services, and will be responsible for the branch network, mortgage hubs, customer experience and complaints.
Having spent 13 years at Virgin Money holding a variety of roles within the retail network and operations teams, Elizabeth joins the Cumberland as the newly appointed head of direct distribution.
Previously she has developed ways to support and care for vulnerable customers which gave her insights into supporting those who need it most – that are likely to be all the more useful during the current cost of living crisis. Elizabeth said: "I want to ensure every one of our customers experiences that well known Cumberland kindness and continue to nurture our environment for our colleagues to shine and be proud.
"I'm passionate about our purpose. It creates and shapes the decisions we make, gives us the why and drives us to consider how what we do adds meaning and value not just to our colleagues and customers, but also to our communities."
Elizabeth's appointment follows Claire Deekes' promotion to chief customer officer. Claire said: "Our customers and colleagues are going to really benefit from having Elizabeth leading direct distribution sharing the wealth of experience she has, and I'm delighted to welcome her to the team."