Liverpool City Region Freeport officially open for business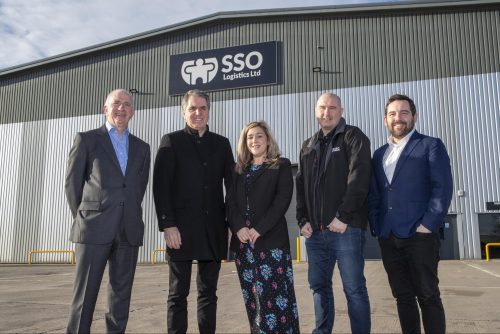 The Liverpool City Region Freeport is now officially open for business.
It follows approval of its full business case by Secretary of State for Levelling Up, Housing and Communities, Michael Gove.
Itt is estimated the freeport could create more than 14,000 highly skilled jobs, deliver £800m of investment, and generate an additional £850m of GVA for the Liverpool City Region's economy.
The region's leaders say they have chosen to pursue businesses and industries that align with the values and priorities of the combined authority. These include innovation in advanced manufacturing, pharmaceuticals and green energy – with a particular focus on the region's target to be net zero carbon by 2040 at the latest.
By grouping high productivity and innovative businesses close together, the freeport can play a role in the region's work to tackle the underlying weaknesses in the local job market such as productivity, pay and job security.
Some critics claims freeports allow the relaxation of health and safety and environmental rules, but Steve Rotheram, Mayor of the Liverpool City Region, denies the initiative represents a race to the bottom. The mayor says he would not accept any dilution of workers' rights, safety practices or regulatory standards. He said: "Throughout the process, I've been clear that I will only use our freeport as a force for good, to help build an economy that works for everyone in our region. I want to attract investors into our area who believe in, and support, our local ambitions – those who will help us to protect workers' rights and uphold standards, and who want to work with us to deliver regeneration and funding in the areas that need it most.
"The establishment of the Liverpool City Region Freeport has the potential to help our drive to attract international investment, create more well paid, highly skilled jobs for local people and build on our existing strengths and promote our international competitiveness.
"It is estimated that the freeport will add £850m to the local economy and contribute towards our plans to boost research and development and target green technologies to help us reach net zero by 2040 at the latest.
"But, for us, it means much more than that. I want to ensure that there is purpose behind this status that fuels greater social mobility, innovation, and inclusion for our whole region – including the integration of our Fair Employment Charter."
He added: "Today, those plans have taken another step forward. I will be pressing for it to be up and running as soon as possible so local people and communities can begin to feel the benefits."
Cllr Janette Williamson, Liverpool City Region Combined Authority portfolio holder for inclusive economy and the third sector, said: "The Liverpool City Region Freeport opening for business is tremendous news for our city region. We have been very clear through this process that we would create a freeport that helps to benefit everyone in our city region, and that is what we have done. I'm sure that it will play a key role in driving inclusive economic prosperity across the whole of our area."
Tom O'Brien, chair of the Liverpool City Region Freeport, said: "We've been working extremely hard throughout the development stage to ensure that we could hit the ground running when we reached this stage and I'm sure the freeport will now deliver tremendous benefits to the city region's economy, creating thousands of high quality jobs and boosting growth and prosperity."
John Lucy, director of the Liverpool City Region Freeport, said: "This is a very significant moment for the Liverpool City Region's economy as, after a huge amount of hard work, the freeport is now up and running. We can now get on with the real business of creating prosperity for the people of the city region. I'm sure that the freeport will be transformational and I can't wait to see it start delivering real benefits."
Last month, SSO International in Haydock, St Helens, became the freeport's first Customs Site Operator (CSO). A freeport customs site operator provides a secure, enclosed customs zone where some normal customs rules do not apply. Every freeport needs at least one approved CSO to be operational.
Following a visit to SSO International last week, St Helens Council leader and LCR Freeport board member, Cllr David Baines, said: "We have seen with the example of SSO International how the LCR Freeport has huge potential for businesses across our region and beyond, creating prosperity and tangible benefits for our residents in the form of good quality jobs and the increased opportunities a growing economy brings.
"We now have a pipeline of 50 companies interested in following SSO International's example. We will look back on the creation of the freeport as a hugely significant moment in the city region's economic history."
The freeport is a designated area covering 45km, where a range of economic incentives will be available, covering customs, business rates, planning, regeneration, innovation and trade and investment support. Local councils will be able to retain 100% of business rates growth generated by the freeport tax sites – located in Birkenhead, St Helens and Widnes.
Centred on a mix of infrastructure including the deep-water container terminal at the Port of Liverpool – the UK's biggest western-facing port, which already handles 45% of trade from the US – it is the key coastal access point to the UK's largest concentration of manufacturing.
Targeting key sectors including automotive, biomanufacturing/pharmaceuticals and maritime, the freeport will support and attract new advanced manufacturing, logistics and low carbon energy industries.