Fertility tech start-up secures six-figure investment to increase IVF success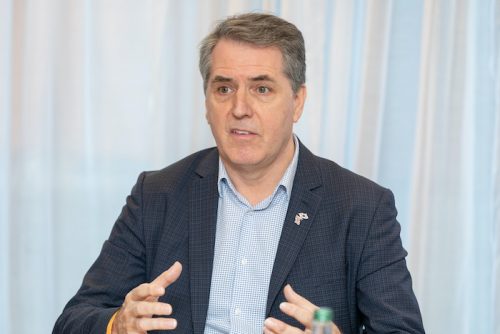 The latest six-figure investment into Daresbury-based fertility technology start-up, Myma Medical, has been unveiled by LYVA Labs, the Liverpoo­l City Region Combined Authority's innovation commercialisation organisation.
LYVA Labs has invested an initial £106,000 into Myma Medical, matched by a £390,000 Innovate UK SMART grant. This investment will lead to the creation of 12 jobs in the region.
Infertility is the most common healthcare condition for 30-40-year-olds, affecting 3.5 million people in the UK and 186 million worldwide. Using automated technology, Myma Medical aims to significantly improve success rates for people struggling with infertility by removing the current manual process and replacing it with an automated machine.
Currently, the process of physically taking the best sperm available to fertilise eggs by manual injection only has a 30% success rate and is subject to human error. Myma Medical's patented automated process aims to reduce the reliance on personal skill and significantly increase the success rate.
The automation process will also aim to eliminate the need for multiple procedures. These are often needed due to the low success rate, which comes at the cost of £10,000-12,000 per cycle, therefore often meaning IVF is a road few can afford multiple times over.
As the city region's dedicated innovation commercialisation vehicle, established by the combined authority with a £10.7m investment, LYVA Labs is key to achieving Mayor Steve Rotheram's ambition to invest five per cent of the region's GVA on research and development (R&D) by 2030 – nearly double the Government's national target.
Lorna Green, CEO of LYVA Labs, said: "Myma Medical is a brilliant, innovative start-up with a model to significantly enhance the experiences of people struggling with their fertility. So many of us are touched by fertility issues in our lives, either personally or through our communities, so I am incredibly proud to bring a business like this to our ever-evolving region.
"I'm also pleased to see that again, we are using the combined authorities' regional funding and support via LYVA Labs to establish a new company in the region and leverage national sources of innovation funding. It is vital we continue to support this approach to future proof the investment cycles of early-stage businesses."
Steve Rotheram said: "People from the Liverpool City Region have got the talent, ambition and creativity to rival anywhere else in the world. But for too long, their potential has gone unfulfilled because of a lack of opportunities and investment. I launched LYVA Labs to help fix that.
"With nearly £11m of investment, we're helping to turn great ideas into successful businesses, creating jobs, economic growth and prosperity for local residents. It's fantastic to see this latest investment supporting a business that will not only generate new employment, but deliver potentially life changing support to families."
Formed in 2020, Myma Medical is a spin-out organisation from nine years of research in the automation of egg and sperm manipulation and injection at the University of Birmingham, Department of Mechanical Engineering. The research has been led by Dr Mozafar Saadat, associate professor, and his colleague, Dr Amir Hajiyavand, assistant professor at the university.
Several PhD students have worked under stewardship of Dr Saadat in automated egg and sperm selection, manipulation, and injection in Intracytoplasmic Sperm Injection (ICSI), a popular male infertility treatment. AutoICSI is one of the various ongoing medical robotics projects conducted by the research team at the University of Birmingham.
Dr Saadat is director and chief technology officer of the company and Dr Hajiyavand is director and chief operating officer. The chief executive of the company is Mr Yash Khandhia, who has more than 30 years of entrepreneurial experience and expertise in the field of robotics and automation.
Mr Khandhia said: "We are excited to bring this innovative, game changing technology to the fertility market to enhance the outcome of the treatments while saving money for the couples and improving their physiological and physical conditions. This technology is built through a great team effort over nearly a decade of fundamental and translational research."
In its earlier years, the project secured valuable financial support, totalling £351,000 from various scholarships, the Medical Research Council (MRC), Engineering and Physical Science Research Council (EPSRC), and ICURe (Innovate UK).