Anger at 'slap in the face' from Levelling Up Fund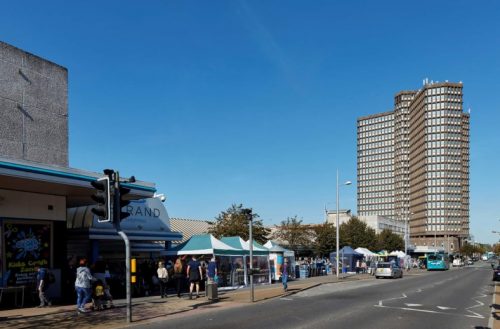 Civic and business leaders have been expressing their frustration and anger in the aftermath of the government's flurry of Levelling Up announcements yesterday.
As Prime minister Rishi Sunak and Levelling Up minister Michael Gove posed for pictures on Morecambe sea front, the leader of Sefton Council, in North Liverpool, has questioned whether the local authority should spend its "scarce resources in these incessant beauty contests" after being turned down for Levelling Up funds again.
The Department for Levelling Up has announced a raft of awards from its £2.1bn resources, notably in the North West a £50m fillip for Morecambe's tourist attraction, Eden Project Morecambe, as well as £40m for an Artificial Intelligence campus in Blackpool's new Multiversity.
Henri Murison, chief executive of the Northern Powerhouse Partnership told Channel 5 News that the process was crying out for decisions to be made locally: "For areas that Metro Mayors the money should just have gone to them to decide. We don't need a bunch of civil servants who often don't know where these places even are, to be making these decisions."
Andrew Carter, chief executive of the Centre for Cities think tank said the sums involved were small compared to the £70bn a year invested in East Germany after unification: "Local government funding has been hammered over the last 10 years and this doesn't in any way replace this funding. And who gets the money is still completely determined by central government based on a wasteful competitive bidding process."
Liverpool and Manchester were amongst the several authorities unsuccessful in their bids for funding, Liverpool had a £40m appeal and Manchester a £20m ask to regenerate Wythenshawe.
Sefton Council's Labour leader, Cllr Ian Maher, expressed his frustration at the authority failing yet again to secure investment for work in the Bootle and Crosby areas, and questioned the Government's commitment to the levelling up agenda.
The local authority had asked for £30.3m in Levelling Up funds, but Cllr Maher said: "By once again ignoring our bids that would have supported the revitalisation of Bootle and Crosby, the Government has confirmed it has no interest in real levelling up in this country.
"Despite us pointing out that these were areas which were hardest hit by COVID-19 and where some of the country's highest levels of deprivation are found, the Government's so-called Department of Levelling Up insisted on assessing our bids in the lowest category.
"This has meant deprived urban areas like Bootle and Crosby's needs have been assessed against places like the Royal Borough of Tunbridge Wells, Windsor where the Royal Family live, Cambridge and the City of London."
He added: "Sadly, this is yet another slap in the face for local people which represents neither a 'stepping up', 'gauging up' or 'enhancing communities' no matter what this government wants its MPs to call it.
"It's a setback to our ambitious plans, but we are determined to do what this government refuses to step up to deliver the boosts our local communities, economies and businesses deserve.
"However, if Sefton is to nonsensically remain in the lowest level of priority, we need to reflect on whether we should be continuing to invest our scarce resources in these incessant beauty contests, which this time has seen funding awarded for the Prime Minister's own constituency and for Rutland, one of the least deprived constituencies in the country."
In Bootle, Levelling Up funding would have helped underpin the major regeneration scheme to transform the town centre, focused on the iconic The Bootle Strand.
The plans will result in a more diverse and better quality town centre with new food and drink, culture, arts and entertainment space which will be branded Salt and Tar and will host Comedy and Music festivals later this year.
There will also be a new, hi-tech gigabyte fast digital hub, education and training, business support and a new integrated health and social care hub will all be available on the high street.
In Crosby, the funding would have underpinned a programme of regeneration that will enhance the viability and vitality of Crosby town centre and support local businesses by helping to attract more residents and visitors.
Among the elements of the plan are a new learning, skills, health and wellbeing hub housing a library, GP/community health care and a place for people to both work and develop skills.
A significant upgrade of the main gateways into Crosby town centre, better pedestrian and cycle access and new electric vehicle charging points in car parks, is also planned.