New £16m Cheshire business park already 30% pre-let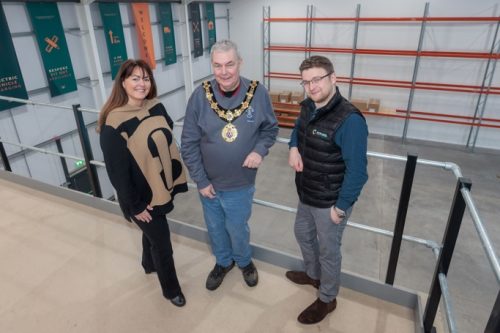 Chorley-based property company FI Real Estate Management (FIREM) has launched a new £16m business park, in Northwich, and confirmed 30% pre-lets, with key businesses signed up for space.
Winnington Business Park represents the developer's largest new build investment in the Cheshire commercial market to date.
The flagship 113,200 sq ft business park, located off Winnington Avenue, comprises eight blocks of high quality start-up, industrial and trade spaces with individual units ranging in size from 785 to 6,240 sq ft.
Pre-lets include Northwich Electrical Supplies, Autobodies Centre and Northwich-based Printer Maintenance, which has commissioned a bespoke fit-out through FIREM.
Winnington Business Park adds to FIREM's UK-wide industrial estate, which totals 91 sites.
The new park is set across 7.5 acres and brings to market 51 units for individual or combination leases, catering for growing demand for high quality commercial space locally and regionally.
Designed to complement the surrounding urban regeneration, Winnington Business Park is located adjacent to the 1,200-property Winnington Urban Village and a neighbouring retail and leisure scheme, which FIREM is currently developing on site.
Winnington Business Park's flexible industrial and warehouse units are finished to a shell specification, with the option to benefit from a range of bespoke fit-out and supplementary services and installations, including utilities connections and energy tariffs suited to business needs.
Located two miles from Northwich town centre, the new development provides good connectivity a short distance from the M6 and M56. Dedicated on-site parking is available for all units, in addition to EV charging and bike storage.
Building work began in early 2022 and has been delivered by FIREM's in-house construction division, FI Construction. Winnington Business Park forms part of FIREM's growing pipeline of new build projects across the UK, which will total five million sq ft over the next four years. The developer's current portfolio of established UK commercial property exceeds 10 million sq ft.
Tim Knowles, founder and managing director of FIREM, said: "The launch of Winnington Business Park is a proud moment for the whole team at FIREM – we went through an extensive design process for the site to ensure we created a product that is relevant for the market and maximises the level of commercial units to complement the Northwich area.
"Our vision was to create a development that sets the bar for industrial spaces in Cheshire, and our construction division has done an exceptional job in bringing those designs to life.
"Our investment in our new-build pipeline is primarily intended to serve increased market demand and offer new, expanding or relocating businesses high quality space in which they can succeed. This has a wider impact on the local economy and job market, making Winnington Business Park a key piece of the puzzle for the ongoing regeneration of Northwich."