Planning permission granted for 1.1m sq ft Carlisle industrial and logistics scheme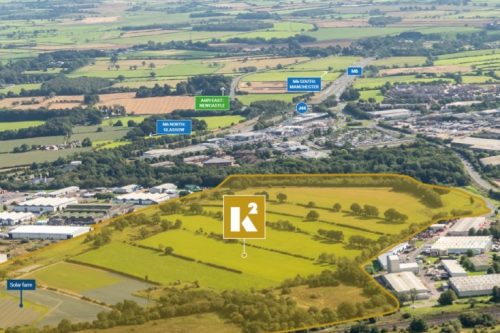 Carlisle City Council has given the green light for a 1,100,000 sq ft industrial and logistics scheme.
Kingmoor Park Properties, based in Carlisle, is behind the K2 Kingmoor Park scheme which can accommodate build to suit warehouses from 30,000 sq ft to 600,000 sq ft, specified to the occupiers' exact requirements, up to and including BREEAM Excellent and EPC A+.
The park offers easy access to the M6, at junction 44, providing HGV travel times of 3.5 hours to Birmingham, 1.5 hours to Glasgow and two hours to Edinburgh.
The numerous benefits of K2 persuaded third party logistics company DPD to take a 62,800 sq ft pre-let on a building designed to accommodate the company's specific mix of van and truck logistics. Caddick Construction is currently on site delivering the scheme and DPD is expected to take occupation of the new depot facility in August 2023.
Neil McIntyre, Kingmoor Park Properties managing director, said: "The outline consent on K2 will allow Kingmoor Park to deliver build to suit industrial and logistics opportunities.
"Its motorway access and excellent connectivity make it an ideal regional distribution hub – we have the land, the workforce and a supportive local council who back our plans to attract new businesses and create jobs."
He added: "When fully developed, K2 will provide over one million sq ft of new industrial/logistics space, on a site with its own solar farm that can provide up to 3.5MW to occupiers and their green energy needs. It's very much what the future of logistics development in this country will look like."
James Nicholson, managing director at Harlex Property, the development manager for the K2 scheme, said: "The wider 1,100,000 sq ft planning permission at K2 Kingmoor will allow us to quickly deliver modern industrial, logistics and manufacturing facilities to meet the high demand in the marketplace. The consent is a credit to the hard work and professionalism of the wider team and we are looking forward to working with Colliers and JLL to build on the success of the DPD letting."
Agents for K2 are John Sullivan and Nathan Khanverdi of Colliers and Andrew Pexton and Rob Kos at JLL.
The wider professional team includes Fletcher Rae Architect, G&T Project Management, Richard Boothroyd Associates, Ramboll, WSP, Sweco, Re-form and Multi Utility UK.