Healthcare 'flight simulator' company secures £3.5m seed funding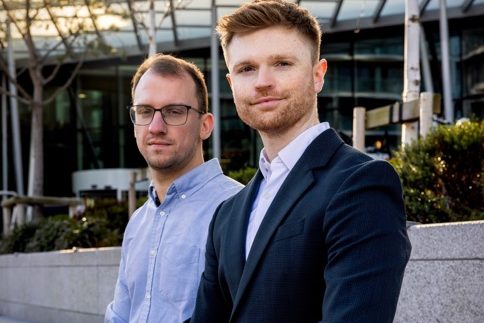 A Manchester-based business behind hi-tech healthcare training has secured £3.5m in seed funding.
Re:course AI is behind an artificial intelligence (AI) flight simulator for healthcare training and is looking to expand its engineering team, while at the same time entering new markets.
The funding round was led by Par Equity and included Northern Gritstone, the GMC Life Sciences Fund By Manchester-based Praetura, Rob Wood – founder of STEM Healthcare – and the founders of Current Health.
Already integrated into healthcare institutions in the US and UK, Re:course AI will develop the skills of doctors and nurses at scale, eventually producing new clinicians autonomously using generative AI models to give digital humans and virtual tutors the ability to hold natural conversations with healthcare professionals.
Aidan MacMillan, senior investment manager, Par Equity, said: "Re:course AI has the potential to disrupt how the healthcare professionals of the future are trained, as the demand for virtual AI-based training is growing.
"The medical and AI capability within Re:course AI has enabled a unique approach to training for healthcare and life sciences professionals which can handle a wide variety of real world scenarios. We are excited to be supporting Scott, Maksim and the rest of the Re:course AI team at this important step in their journey."
Re:course AI was founded by Dr Scott Martin, CEO and Dr Maksim Belousov, CTO, who describe the company as the "flight simulator for healthcare and life sciences."
It uses AI models and digital human avatars in virtual training exercises to provide hospital doctors, GPs, nurses and other healthcare professionals with realistic patient interactions and automatic feedback.
The AI-powered digital human platform can provide training on any scenario as Re:course AI has teamed up with clinical experts to build up a bank of dozens of avatars with different conditions covering every demographic, thus addressing issues around bias. Tutors can also support medical professionals examining multiple conditions, almost acting like a co-pilot to steer individuals through training.
Duncan Johnson, Northern Gritstone CEO, said: "The strength of Re:course AI's proposition and the interest it has attracted from the venture capital community underlines how dynamic the tech start-up scene is in the Manchester-Leeds-Sheffield region.
"Re:course AI builds on the strong tradition in artificial intelligence in Manchester that started with the 'Father of AI' Alan Turing. We are delighted to be supporting the company's ambition to fundamentally improve healthcare training and show the commercial potential of the North of England on the world stage."
Dr Scott Martin said: "The aviation industry is another sector where safety is of paramount importance, and it has led the way in demonstrating the value of simulated training to maintain and update the skills of pilots.
"We believe AI will augment, not replace, the healthcare workforce of the future and we have already demonstrated in our customer implementations that Re:course AI can be the flight simulator for medical training. We are delighted to receive the backing of our investors, as we are keen to expand our team to respond to growing global demand for our digital human platform."
Re:course AI has a joint collaboration with USC Keck School of Medicine, the prestigious US Medical Centre – home of the first 'Standardised Patient Actor' – which is exploring the use of its technology in medical training and the company has received $1.2m from NHS England SBRI Healthcare for cutting edge simulations to develop critical communication and decision making skills in healthcare professionals faster and at lower cost.
It is also conducting a pilot with the NHS in South Yorkshire across Primary Care clinicians and it has worked with the Ministry of Defence on medical training for clinicians to support mental health outcomes in military personnel and veterans.
In the US, Western Michigan University School of Medicine has integrated Re:course AI into its undergraduate and continuing medical education courses to provide anytime access to fully conversational, voice-interactive digital human patient avatars.
Sim Singh-Landa, head of the GMC Life Sciences Fund By Praetura, supported by GMCA, Cheshire & Warrington LEP and Bruntwood SciTech, said: "The Re:course AI team has proven that their digital human platform can help healthcare professionals maximise the time they spend on their clinical development.
"Re:course AI put safety and ethics at the heart of their development process and have been welcomed by the healthcare community. At Praetura, we will be offering our 'More Than Money' support as this exciting Manchester-based team now looks to scale, helping connect them with industry professionals who can support the company's growth."
The GMC Life Sciences Fund By Praetura is a new £20m investment fund by Greater Manchester Combined Authority, Cheshire and Warrington Local Enterprise Partnership, Bruntwood SciTech and Praetura Ventures. It was launched in May 2022 by the Mayor of Greater Manchester, Andy Burnham, and supports life sciences businesses based in the region or those who are committed to scaling here.