People: Kennedys; New Care; ONFAB; Stephensons; Stockport County FC; Quantum Science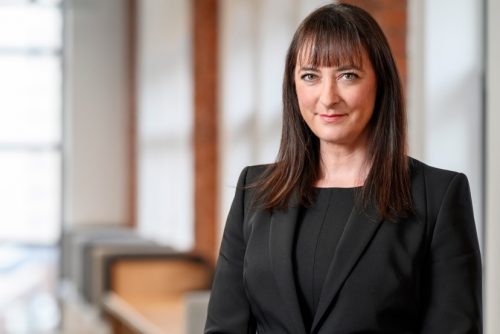 Global law firm Kennedys has added another experienced partner to its growing regulatory team.
Sally Hancock joins from Clyde & Co where she headed up the national safety, health and environment regulatory team. She held the same position at BLM where she worked for more than 20 years prior to the two firms merging in July last year.
She joins Kennedys' national regulatory team, which also welcomes Rekha Sharma, from Keoghs, a senior associate with particular experience in safeguarding and adult social care, taking the total headcount to 22.
Both will be based in the Manchester office on John Dalton Street in the city centre.
Sally is the second regulatory partner to leave Clyde & Co for Kennedys following the appointment of Nathan Buckley, along with now legal director Steven North, in 2021.
Recognised as a 'leading individual' in The Legal 500, her specialisms include advising and acting for companies and individuals in police and regulatory body investigations and prosecutions across a variety of different industries. Cases range from corporate and gross negligence manslaughter to complex health and safety cases, serious road traffic offences and coroners' inquests.
Sally regularly delivers training to clients and groups and is also often called upon to speak at industry events such as the Safety and Health Expo.
Danny McShee, partner and head of regulatory at Kennedys, said: "I am thrilled to start the new year with two such talented appointments to the team. We have worked hard to establish ourselves as a market leader in Manchester to work with our long established hubs in London and Sheffield, and with Sally and Rekha's experience, I know we will cement our reputation still further."
Claire Mulligan, partner and head of the firm's national liability defence group, said: "The calibre of these two new appointments reflects the high regard in which Danny's team and the firm are held among both clients and industry colleagues. They are rightly recognised, particularly in Manchester and the North, as among the very best in their field and, with the exciting addition of Sally and Rekha, I look forward to seeing them build on that success."
::
Sarah Wild, who lives in Wilmslow, has been appointed by New Care as the wellbeing co-ordinator at Wilmslow Manor Care Centre on Handforth Road.
In her new role, Sarah is responsible for creating a weekly person-centred activity programme for residents at Wilmslow Manor, to include both one-to-one and group sessions. She is also tasked with developing community links and organising enjoyable events with family participation.
Sarah's key objective the for next 12 months is to ensure Wilmslow Manor is very much integrated into the local community and that the care home is recognised for its varied and fulfilling activities programme.
Sarah said: "Wilmslow Manor is a beautiful care home with stunning gardens so it is a pleasure to work in such an environment and I am very much committed to ensuring a wellbeing activities plan is in place for each and every resident, appealing to their interests and hobbies. I hope to develop my team, not only providing supervision but coaching also."
Having worked in care homes previously, Sarah has vast experience. She is also a qualified mental health nurse and has gained a qualification in Namaste Care, a structured programme of sensory activities that aims to improve end-of-life care for people who have advanced dementia by giving them pleasure and helping them to connect with loved ones.
Chris McGoff, CEO at New Care, said: "It is great to welcome Sarah to the team. Her past experience and local knowledge of Wilmslow and the surrounding areas will no doubt ensure she excels as wellbeing co-ordinator at Wilmslow Manor."
Wilmslow Manor is a state-of-the-art 63-bed purpose-built care facility offering residential, dementia, 24-hour nursing and respite care services.
::
Middlewich-based flexible containment specialist ONFAB, part of the Envair Technology group, has appointed Francis Dechoux as its new European business lead.
Francis will support ONFAB's continuing growth within the pharmaceutical industry focusing on key European territories, including France, Germany, and Spain.
His role will see him take a strategic lead, helping to raise awareness and acceptance of ONFAB's transformational flexible containment technology within the industry.
Fluent in three languages, Francis has more than 30 years of experience working in business development roles with global manufacturers, mainly in the automotive industry at Mitras Automotive.
Francis said: "It's an exciting time to be joining ONFAB. The level of growth the business is experiencing across Europe is impressive. I'm looking forward to working with customers to help them take advantage of its innovative containment solutions."
Mark Arnold, ONFAB managing director, said: "With more pharmaceutical businesses using highly potent compounds, we're seeing a huge growth in demand for flexible containment that will protect operators and prevent cross-contamination. Francis's wealth of experience in supporting global manufacturers will be valuable as we look to onboard an increasing number of customers in Europe."
::
Wigan-based national law firm, Stephensons, has appointed four newly qualified solicitors following the successful completion of their training.
Having joined the firm as a vacation scheme student in 2018 before quickly progressing to be a paralegal, Cameron Stubbs qualifies as a solicitor in the regulatory department. Ella Chorlton joined Stephensons as a new business advisor in 2019 and now qualifies as a solicitor in the firm's crime department.
Elsewhere, Sophie Holmes and Megan Taylor both joined Stephensons in 2018 as paralegals, they both now become solicitors in the firm's Court of Protection department.
Three solicitors, Cameron, Sophie and Megan all qualified through Stephensons' two-year solicitor training programme. Ella Chorlton qualified as a solicitor through the new Solicitors Qualifying Examination (SQE) and using her work as a paralegal at Stephensons as qualifying work experience.
Louise Griffiths, partner and trainee principal at Stephensons, said: "Stephensons invests a great deal in training and development with many of our trainees going on to have hugely successful legal careers with the firm. In fact, a large proportion of our partners and equity partners began their careers here at Stephensons.
"All four of our newly qualified solicitors have shown a huge amount of determination and dedication throughout their training. I wish them all continued success as they start their legal careers with the firm."
::
Stockport County Football Club has appointed Tom Mahon as chief operating officer, which it says demonstrates continued investment into the growth and continued success of the club.
Mahon joins from Manchester City where he gained more than 14 years' experience rising through the ranks in sales and hospitality to finish as head of hospitality Relations.
A new role for the club, Mahon will oversee all aspects of the club's operations as it continues to develop its match day experience, wider commercial offering and invests into infrastructure, pushing for progression through the football pyramid.
Chief executive, Jonathan Vaughan, said: "Highly regarded within the industry, Tom brings a wealth of experience to the club gained at the very top flight. We're excited to draw on this valuable knowledge as we invest further into match days and the wider offering here at Edgeley Park.
"Tom joins at a great time, the guest experience has never been better, excelled by the superb food and drink available at the County Courtyard, and our wider programme of events and work within the community continues to grow. It's with Tom's help and the local community's support that this club will continue to go from strength-to-strength."
Tom Mahon said: "Stockport County's is one of the most exciting stories unfolding within professional football. The ambition, the investment, and the vision shared within the club, all make it an incredibly compelling narrative, one I'm proud to now be a part of. I'm excited to get started, building on the great foundations already laid, helping to take Stockport County onto the next level."
::
Nanomaterials innovator, Quantum Science, has appointed Simon Wallwork as its chief legal advisor.
Simon will offer strategic advice for Warrington-based Quantum Science on structuring commercial deals and will provide corporate governance and legal oversight.
With more than 30 years' experience advising UK and international clients on acquisitions, disposals, private equity and public market transactions, Simon's expertise will be instrumental to Quantum Science's development as it expands production of its INFIQ quantum dot technology.
Alongside continuing his role as partner and board member at Slater Heelis, Simon will also assist Quantum Science with project management and development of methods for employee retention and incentivisation.
Dr Hao Pang, CEO and founder of Quantum Science, said: "Simon joins us at a crucial point in our growth journey as we take the next steps in sharing INFIQ technology with multibillion-dollar global markets.
"His extensive legal expertise and proven track record in providing commercial advice, combined with his impressive experience in the tech sector, makes him the ideal person to help us take Quantum Science forward. We are delighted to welcome him to the team and look forward to working with him."
Simon has more than 30 years' experience providing advice on acquisitions, disposals, private equity and public market transactions for a wide array of UK and international clients.
He has worked in the technology sector for more than 25 years, assisting in excess of 35 companies in development capital deals in the past two years alone.
Key projects during this time have included giving strategic advice to a number of universities on their commercialisation strategies.
Simon is a member of the Strategic Advisory Board for BIONOW and a gold partner of Sci-Tech Daresbury Campus, where the Quantum Science headquarters are located.
He is widely recognised as one of the leading corporate lawyers in the North West of England, and the most active in the region in Experian transactions between 2018-20.
Simon said: "This is an exciting time to join Quantum Science. The company's growth over the last few years – from a small start-up to its position today signing deals on the international stage – shows its commitment to innovation and growth. I look forward to being part of the team on its growth journey."