People: Harrison Drury; CRM; Hawkshead Relish; FW Capital; DSW Business Planning; Clough & Willis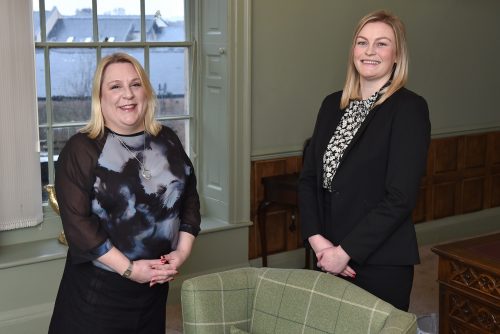 North West law firm Harrison Drury has appointed a new wills, inheritance and estate administration specialist to support clients in the Lancaster and Morecambe region.
Rebecca Mitchell-Smith joins the firm's Lancaster office as solicitor from another local firm, having worked in the locality for more than 10 years. Her appointment brings Harrison Drury's 'private client' team to 15 working across its six offices.
A graduate in law with first class honours from Lancaster University, Rebecca has more than seven years' experience as a practising solicitor.
She will provide Harrison Drury's clients with professional advice in areas such as the drafting of wills, inheritance tax planning, probate and estate administration, Lasting Powers of Attorney and Court of Protection applications.
Clare Fleming, head of the firm's private client team, said: "Rebecca is both an experienced and knowledgeable wills specialist who will make a great contribution to our team. Having lived in the Morecambe Bay area for over 20 years, she brings with her valuable local knowledge and has established herself in the local area as a specialist helping families plan for their future."
Harrison Drury continues to expand its team to meet the demands of its individual client services. Rebecca's appointment is the start of a period of growth for the firm's team dealing with private client matters with further solicitors expected to join the team in the spring.
Rebecca said: "Harrison Drury has an excellent reputation for its client service as well as being a strong advocate of ongoing professional development, which greatly attracted me to the firm. With the support from Harrison Drury, I am keen to focus on my professional development and work towards Solicitors for the Elderly (SFE) accreditation and hopefully the STEP accreditation in the future."
::
Salford-based Cerberus Receivables Management (CRM) has promoted Theresa Divers to the role of receivables executive after a successful two-year apprenticeship with the firm.
CRM is a UK debt collection and ledger management business which helps businesses, lenders and restructuring specialists to recover debt in both trading and distressed situations.
The announcement comes on the eve of this week's National Apprenticeship Week 2023 which aims to show how apprenticeships can help individuals to develop the skills required for a rewarding career and help businesses to develop a talented workforce for the future.
Theresa completed her Business Administration apprenticeship with The Growth Company, one of the largest providers of work-based learning for young people and adults.
She passed her course with distinction in all three parts – knowledge test, presentation and interview. Alongside this, she also completed the UK Finance IFABL foundation course with an impressive score of 86%.
She said: "Starting at CRM as an apprentice administrative assistant helped me build a good foundation and an excellent understanding of the processes and procedures of a case from beginning to end. This allowed me to make a smooth transition to my new role."
Katie Pomfret, head of lender services at CRM, said: "It has been great to watch Theresa grow throughout her apprenticeship and now start to excel in the role of receivables executive. She is an asset to the team and we look forward to helping develop her skills and knowledge in the future."
::
Almost 25 years after founding the business, husband and wife Mark and Maria Whitehead have decided to entrust the running of their award winning preserves company to a new generation.
The couple behind the Hawkshead Relish brand have been working to implement a succession plan to ensure the future of the company.
Current general manager, Jonathan Robb, has been appointed as the new managing director. Jonathan will continue to work closely with both Mark and Maria alongside their daughter, Izzy Whitehead, who is the brand manager and a fellow director of the business.
Maria Whitehead said: "Since Jonathan joined the business eight years ago, he's really embraced it and has become one of the family. He completely understands our vision and where we want the business to go.
"Jonathan's step up was a natural progression and part of our longer term plan, allowing Mark and I to step away from the day to day running of the business. Since the pandemic, both Jonathan and Izzy have taken on more responsibility and been heavily involved in strategic decision making. Working as a team of four has proved to be a great success, and we decided the time was right to formalise our plans."
She added: "We're really proud of the great team we have at Hawkshead Relish, and with Jonathan at the helm, we know they'll be in capable hands. We'd like to congratulate Jonathan and we look forward to watching him grow the business working alongside the next generation."
::
FW Capital's Manchester office is celebrating the promotion of Adam Husband and Laura Rees.
Adam and Laura have been promoted to senior investment executive, following FW Capital's 'career path' programme which delivers a structured approach for staff to gain relevant experience and future progression. In their roles they are focused on the delivery of working capital and growth loans loans of £100,000 to £750,000 to SMEs in the North West through the Northern Powerhouse Investment Fund.
Both Adam and Laura come from strong banking and finance backgrounds. Adam joined FW Capital in 2017 as an investment executive and prior to this worked at NatWest. Laura has worked at FW Capital since 2020 as an investment executive after previous roles at Catalyst Finance, NatWest and RBS Invoice Finance. Their promotions mirror areas of growth for FW Capital and supports the demand for investment by businesses across the region.
Gary Guest, North West FW Capital fund director, said: "I would like to congratulate Adam and Laura on their promotions which are testament to their hard work and significant achievements over the past few years.
"We have a dynamic and ambitious team at FW Capital who are committed to supporting growing North West SMEs access funding. Ensuring we continue to develop future leaders and invest in our people is an important part of this."
Adam Husband said: "Career path is a great initiative and is a tangible demonstration of FW Capital's commitment to developing and rewarding its people. I'm delighted to be promoted and look forward to providing further flexible finance to dynamic businesses in the North West."
Laura Rees said: "The FW Capital team is going from strength to strength as we concentrate all our efforts on helping businesses across the North, for the life of the investment. This culture is embedded in the way we work and my role at FW Capital puts me in a great position to help make things happen."
Sean Hutchinson, at British Business Bank, said: "With the recent appointment of Junior Bent, these new promotions are a positive indication that investment in the North West is active and continues to reach fast growing companies. Laura and Adam will no doubt continue to bring transformational access to finance opportunities from the Northern Powerhouse Investment Fund to enterprises in their new roles."
::
DSW Business Planning, which is part of the Dow Schofield Watts network and specialises in forecasting and financial modelling, has appointed Lesley Hill as senior manager.
Lesley has more than 30 years' experience in business and finance, having started her career at Shell before qualifying as an accountant and going on to work in the business modelling team at Ernst & Young. Since 2004 she has run her own accountancy practice working with small companies on VAT, payroll, financial accounts and taxation.
DSW Business Planning, which is based in Stockport, develops financial forecasting models, business plans and investment cases for businesses and public sector bodies.
Rebecca Judson, co-founder of DSW Business Planning, said: "In the current climate, financial pressures facing businesses make business planning more important than ever.
"Lesley's skills in planning and forecasting, data analysis and her understanding of management information and corporate finance models, make her a welcome addition to our team."
::
Bolton and Bury-based law firm Clough & Willis has added to its growing property team following the appointment of John Parker who is the department's newest residential conveyancing solicitor.
John has joined from Linder Myers where he worked for five years. He trained at Woodcock & Sons and has also worked at Eversheds and Countrywide Conveyancing. He studied Law at the University of Newcastle upon Tyne and completed his LPC at the College of Law in York.
John covers all areas of conveyancing and has particular expertise in new builds, shared ownership, lease extensions/variations and adverse possession applications. He will be reporting to Lorraine Stratton-Webb who is a partner and head of the residential property team.
Lorraine said: "Over the past 20 years John has built up an impressive track record and reputation in the conveyancing sector so we are delighted that he has joined Clough & Willis. He brings with him a wealth of experience and knowledge that I know will add value to our clients."
John said: "I started my career and trained in Bury so it feels like I've come home. After years working for large corporate firms in Manchester, I knew the time was right to move on and try something different. Clough & Willis offers a unique mix of being traditional but still forward thinking. That really appealed to me and I'm looking forward to making my mark."