Manchester Unspun by Andy Spinoza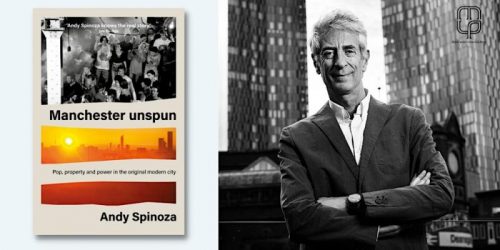 Andy Spinoza's book Manchester Unspun has been launched this week to critical acclaim.
At a launch in Dukes 92 in Castlefield last night the author was introduced by political broadcaster Michael Crick before a packed audience of Manchester cultural, media and business personalities.
It's a personal account of the rise of Manchester, quite literally, as the high rise towers of Deansgate cast shadows over the regenerated Hulme area of the city, where Spinoza lived as a student and aspiring journalist in the early 1980s.
Published by Manchester University Press, the book will be of particular interest to anyone in the business world who has been on the remarkable Manchester journey. But also to anyone who wants to understand the debt the modern city owes to Factory Records, the Hacienda and Granada TV. In different ways they symbolised an ambition for an intellectually and commercially more successful city than the crumbling post-industrial dirty old town Manchester was in danger of becoming. 
What gives the book real edge is the access and proximity that Spinoza enjoyed – endured – as a journalist and then a PR man during the 1990s and the first decade of the new millennium in particular. There were highs and lows, such as the failed bid for the Olympics (a high), the Commonwealth Games (another high) then the divisive referendum on a congestion charge (a low).
From his ringside seat he also observes how civic leaders like Sir Richard Leese and Sir Howard Bernstein wield their extraordinary power, both in the Town Hall and in the business world, notably at the property showcase of MIPIM. The chapter on MIPIM is a particular highlight, Manc Mafia on the Med it is called, and reveals the intimate connections between senior figures in the media, inward investment and the way Manchester does its business.
As books about Manchester go, there are plenty to choose from, but there are few as well sourced, well written and expansive as this one.