People: Bentley Motors; Blume; CBI; Cheshire Business School; Cynergy Business Finance; Squire Patton Boggs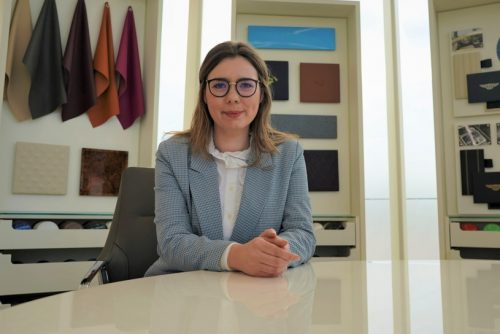 Bentley Motors has appointed Stefanie Lackner as its new head of sustainability communications, reporting directly to Wayne Bruce, director of communications.
Joining the Crewe-based motor manufacturer from Audi AG, she will work closely with the Bentley board of management, the leadership team and regional networks to shape communications around environmental, economic and social sustainability, as well as helping to increase understanding of the value of diversity and inclusion across the company.
Stefanie is an experienced communications expert, skilled in executive speech writing, social media and strategic planning. She has a strong expertise in C-suite communications and was previously responsible for internal management communications at Audi AG.
Wayne Bruce, said: "Our Beyond100 strategic ambitions transform our company with the electrification of our entire model range, increasing the amount of diversity and feeling of inclusion amongst our colleagues, and becoming a fully carbon neutral business by 2030. Telling the story of this transformation and updating our internal and external audiences on our progress towards these goals is a wonderful challenge for Stefanie and the team."
Stefanie, said: "The Bentley story began over 100 years ago with bold pioneers pushing boundaries to set the pace on the racetrack. Now the brand is once again setting the pace in the transition to sustainable luxury mobility, driven by the forward-thinking Beyond100 strategy, the boldest plan in the luxury automotive sector. For me it is not just one of the most exciting, but also the most important job I have yet undertaken, helping to define Bentley's path towards a more sustainable, diverse and inclusive future for generations to come."
Stefanie replaces Jo O'Brien who left the business last year to pursue other opportunities.
::
Customer acquisition specialists for the legal sector, Blume, has appointed Brionie Cook-Scowen as a new business development manager.
The new appointment comes as the Didsbury-based business launches a recruitment drive as it continues to enjoy strong growth followings its acquisition by Sun European Partners in November 2022.
With over 10 years' experience in the medico-legal sector, Cook-Scowen will help Blume to pursue new opportunities to expand the business while delivering exceptional service and support to the existing panel of firms.
Her extensive business development background will enable her to build and maintain strong relationships with clients and stakeholders, while maximising Blume's long-established reputation and track record of success.
Previously, Cook-Scowen led the business development function at e-medicals UK where she also held the position of medco responsible officer. Prior to this she was at Mobile Doctors.
Dez Derry, founder and CEO at Blume, said: "Brionie joins us at an exciting time as Blume embarks on another important year of growth by offering more choice and flexibility to law firms through an expansion of our panel offerings. Her background in medical negligence, coupled with her outstanding commitment to customer relations makes her a great fit for the business."
Cook-Scowen said: "Blume has a focused and clear strategy for the future with a great proposition which I can't wait to share with clients. A big part of what attracted me to the role was the scale of Blume's ambitions, drive for innovation and growth and the passion of its people."
::
The CBI has appointed temporary labour market expert, Julia Kermode, to its North West Council as the organisation continues to step up its efforts to support the flexible workforce – a key component in the future of work and also crucial to solving the UK's labour shortages.
Julia Kermode holds the position of Regional Council Member for the North West and will play a central role in the CBI's formal governance for the region and ensuring action taken by the CBI represents the best interests of flexible working.
The appointment coincided with CBI Director-General Tony Danker's speech at the Future of Work conference, in which flexible working was identified as mainstream practice. Citing research from Timewise, Tony Danker referenced that nine in 10 people want flexible and part-time work, but not enough businesses support this shift.
Julia Kermode has wide experience in championing the temporary workforce and lobbying the Government, having single-handedly grown the Freelancer and Contractor Services Association (FCSA) – the leading membership body committed to raising standards and setting best practices in the temporary employment sector.
Having departed the FCSA in 2020, Julia now holds multiple roles and is a non executive director of specialist payroll auditor, PayePass, which exists to ensure umbrella companies compliantly engage flexible workers. She is also the founder of IWORK, which is an organisation set up to support all forms of independent and temporary work.
Damian Waters, CBI's regional director for the North West, said: "Julia brings a wealth of experience with her and I am sure she will be a powerful voice advocating for businesses across the region. Regional Council plays an important role in amplifying the business voice and I am looking forward to Julia's support."
Julia Kermode said: "The North West is a fantastic place to do business and I'll do everything in my power to champion this region, which has so much to offer and contributes enormously to the UK economy.
"Having worked closely with the CBI in the past, I've been involved in numerous tax and employment policy consultations, striving to protect the best interests of flexible workers and the many businesses which benefit from this vital resource."
She added: "Having specialised in key issues impacting the flexible workforce for a number of years, I'm confident that I can contribute to positive change and support the CBI on its mission to make flexible working the norm. Key to this is ensuring that flexible working is fair, compliant and sustainable for all parties – principles that PayePass was founded upon."
::
Cheshire Business School has recruited a sales and marketing manager to boost its aim of levelling up access to world class speakers.
Victoria Case has worked in multiple marketing roles across industries including FMCC, financial services and education. She joins Cheshire Business School as its first sales and marketing manager.
She will be responsible for bolstering engagement with current members and increasing its membership base.
Victoria said: "I'm excited to join Cheshire Business School at such a crucial period in its evolution. The standard of keynotes and training delivered so far has been incredible. It's going to be exciting to see our membership database grow over the coming months and years and I can't wait to meet more people as we spread the word about the unique coaching benefits that we offer here in the North of England."
Cheshire Business School was launched in 2021 by Macclesfield College principal and CEO, Rachel Kay, and has attracted members including North Cheshire Chamber of Commerce, East Cheshire NHS Trust, Everybody Leisure, Josolyne LLP Accountants, Lifestyle Fitness, Marton Meadows Golf Course and WR Partners Accountants.
Rachel Kay said: "Victoria joins us at the perfect time. The experience Victoria has will further strengthen our ties with current members while creating new relationships with potential members throughout the North of England."
::
Asset-based lending specialist, Cynergy Business Finance (CBF), has appointed Lorraine Udale as head of operations to its fast growing team.
Lorraine will bring nearly 30 years' experience within the asset-based lending, invoice discounting and factoring sectors to the team. She joins the Manchester-based business from Praetura Invoice Finance, where she had previously worked as operations director since August 2021.
With CBF's customer base continuing to grow rapidly, Lorraine will be leading on the operations side of the business, ensuring the continued success of client relationships through comprehensive relationship and risk management.
This latest appointment also marks the strong growth of the CBF team, with a 74% increase in headcount over the past year.
Recent CBF deals include a £1m facility to seafood distributor Southern Aqua Seafood, and a £2.5m facility to home furnishings firm Esselle Retail.
Lorraine said: "It's an exciting time to be joining the experienced management team at CBF during a period of such significant growth. I look forward to playing my part in the future development of its business and staff.
"With such a wealth of expertise and connections across the asset-based lending sector, CBF are in an excellent position to utilise a range of products to create unique solutions to each of its clients. This ultimately helps to assist the growth and working capital of the commercial and corporate markets."
Mark Simpson, CBF operations director, said: "As CBF continues to grow the loan book and operational support to service increased client numbers, I am really pleased to welcome Lorraine into the team.
"A key hire for the business, Lorraine has significant experience in the ABL market and will be responsible for ensuring best-in-market customer service, allied with prudent risk management controls within the operations team."
::
Squire Patton Boggs has promoted senior employment lawyer James Pike to partner.
James is resident in the Manchester office primarily focused on large scale change projects, conducting complex employment tribunal litigation and general employment law advisory matters. He also specialises in advising businesses in relation to National Minimum Wage compliance, industrial relations/trade union matters and is part of the firm's investigations team.
Alison Treliving, Manchester partner and global head of the firm's labour and employment practice, said: "James is an exceptionally talented lawyer, with knowledge and expertise that is valued highly by clients and colleagues alike.
"His promotion underlines the strength of our top-ranked practice in the city and our investment in its continued growth."
Rob Elvin, managing partner of the Manchester office, said: "We are very pleased to welcome James into the partnership. James has made a significant contribution to the office and to the wider firm and we are delighted to recognise his achievements and also the leadership role he will now play."