Partnership revealed for £450m regeneration of Ardwick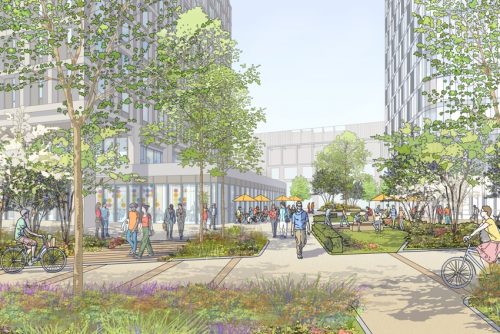 New £450m plans for Ardwick, in Manchester, involving life sciences space and purpose-built student accommodation, could deliver 1,900 jobs and apprenticeships and £138m of economic benefit.
A collaboration of McLaren Property, Property Alliance Group, Moda Living and Kadans Science Partner is working to deliver a masterplan vision for Upper Brook Street, Ardwick. They are working with Manchester City Council, to transform the suite of sites and deliver an exemplary new neighbourhood for the city with more than two acres of outstanding public realm and community facilities.
The consortium has launched a public consultation with plans unveiled online. An in-person exhibition is taking place on March 23, which will be open to the public to view the plans.
The public consultation reveals the integrated masterplan vision, by architects Hawkins Brown, Sheppard Robson and SimpsonHaugh.
The plans would bring forward a new purpose-built development, providing much needed life sciences space and purpose-built student accommodation. This will be complemented by a mix of ground floor uses and enhanced public realm, including green space and pocket parks, improved pedestrian and cycling routes and opportunities for community, retail and other locally beneficial uses.
Construction of the masterplan is also anticipated to deliver community facilities and public uses, which could include uses such as a GP surgery, a new community centre, retail and cafes.
When operational the neighbourhood will continue to deliver value to the immediate area and wider Manchester region, providing 3,600 permanent operational jobs, and anticipated spending of £24m from residents every year in addition to significant spend locally from new workers.
Overall, the new masterplan represents an initial investment of £450m into the Ardwick area.
The plans will open up Upper Brook Street, connecting the separate sites, to create a new district with a new public square at its heart, providing new public realm and vital green amenity space, designed by Reform, for residents, workers and the local community.
The plans also include improvements to key pedestrian routes and cycle connections and will ensure the new neighbourhood is connected to the wider area, and the city.
McLaren Property, working alongside Kadans, will deliver 740 student bedspaces and 218,556 sq ft of purpose-built technical real estate respectively.
The new sci tech floor space will be developed by Kadans' in-house team while the student accommodation will be developed by McLaren Property. McLaren Property has delivered £1.5bn developments to date and 6,500 beds with circa 8,000 beds in the pipeline, corresponding to a development value of £1.4bn.
Moda Living and Alliance will deliver 470,000 sq ft of life sciences and around 1,100 student accommodation beds, including 200 affordable, along with complementary mixed-use space. The student beds are the first to be announced in Moda Living's 4,000-bed student accommodation pipeline. Operated by Moda for the long term, the communities will have a strong focus on health, wellbeing and resident experience.
The integrated masterplan uses the key themes and design principles expressed within the Oxford Road Corridor Strategic Regeneration Framework (ORSRF), to deliver on the council's vision for this important strategic site. Avison Young is working alongside the parties as planning consultant on the Upper Brook Street masterplan.
David Atherton, development director, McLaren Property, said: "We are excited to be part of a collective effort to regenerate this suite of disused sites. It is a fantastic opportunity to reimagine this area of Ardwick working with local people, to help set a new direction of positive change.
"The delivery of new sci-tech led workspaces, student homes, green spaces and jobs can together transform the way in which these sites contribute to the local area and help support its future economic growth. We are excited to progress discussions with local stakeholders and the community as the plans continue to evolve."
James Sheppard, managing director, Kadans Science Partner, said: "The plans are a result of a collaborative vision to transform and create a new mixed-use neighbourhood. The Manchester science and technology market is growing significantly and desperately requires more highly technical real estate to meet the demand. To address the ever-changing sci-tech landscape, robustness and adaptability continue drive and inform our industry-leading spaces to promote collaboration and innovation."
Alex Russell, of Property Alliance Group, said: "This masterplan provides an exciting opportunity to unlock and breathe new life into what is a historically rich and vibrant inner-city neighbourhood."
Oscar Brooks, co-founder and director at Moda Living, said: "Upper Brook Street is an extremely exciting masterplan that will completely transform this key central site into a thriving new urban community in the heart of the city."
The public consultation will take place on March 23, between 3pm-8pm, at Brunswick Village Extra Care, 50 Brunswick Street, Manchester M13 9PE.