BGF makes £5m minority investment into fast-growing tech company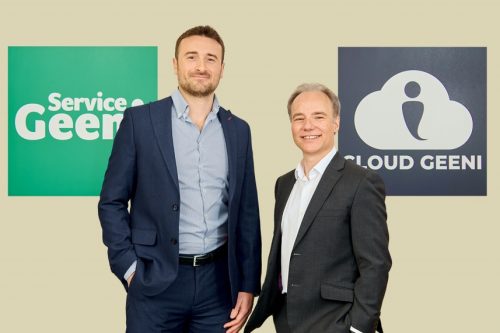 A fast-growing technology group based in Leigh, Greater Manchester, has received a £5.3m minority investment to accelerate its software services and exploit its substantial market potential and growth opportunities.
KCA Holdings offers its Service Geeni tech as a service and workforce management software platform, as well as Cloud Geeni, its growing Cloud IT service.
Growth capital investor, BGF, has provided the funding to maintain KCA's momentum which has seen it grow significantly over the past three years, employing 95 people across its head office in Leigh, and its development hub in Bengaluru, India.
Service Geeni helps medium to large service management companies maximise efficiency and service delivery through its software platform which streamlines processes, optimises inventory control, applies intelligent multi-variable scheduling and resourcing, and visualises meaningful data.
Cloud Geeni is a Microsoft Gold Partner, supporting UK SMEs with private cloud-based IT infrastructure solutions.
BGF's investment will help KCA, led by CEO Jonathan Heaton, to increase the ongoing investment in software design and development, including continued enhancement of the user interface and experience, and enable more investment in cloud infrastructure and technology to accelerate delivery of more benefits to both existing and new customers.
The deal was led by Harry Jones and Josh Bean, investors in BGF's Manchester team.
As part of the deal, technology entrepreneur, Arlene Adams, will join the board as non-executive chair. Arlene is best known as the founder of Peppermint Technology, a customer and business management platform used by law firms around the world.
KCA CEO, Jonathan Heaton, said: "I had known of BGF for some time as they are very successful and active in fast-paced technology sectors. When they approached us I was pleased that Harry, Josh and Arlene took the time to really get to know our management team and our business – they understand how we have successfully grown organically and can see how we can further accelerate customer efficiencies and benefits with additional investment.
"It was also important to me to engage with partners who will work alongside our team and recognise the value in preserving our ethos and company culture, particularly around listening to customers, understanding their sectors and delivering new product developments."
He added: "BGF will help us build on these foundations, enhancing what we do, delivering more benefits to more customers as we increase the pace of our next phase of growth. We're looking forward to working with Arlene and the BGF team."
BGF's Harry Jones, who will join the board as non-executive director, said: "KCA is an exciting and fast-growth technology company in a sector that is growing rapidly.
"As we continue to adapt in a post-pandemic world, and workplaces evolve and investment in cutting-edge technology increases, Jonathan and his team have a crucial part to play in meeting the needs of companies across a diverse range of sectors. We're delighted to be joining them on their growth journey and helping them realise their strategic objectives."
Advisors to BGF on the transaction were Mills & Reeves (legal), Hurst (tax) and Vim Vithaldas (FDD).
Advisors to KCA were MHA Moore and Smalley (corporate finance and tax) and Butcher and Barlow (legal).