Six deals done at Altrincham office site undergoing £3m refurbishment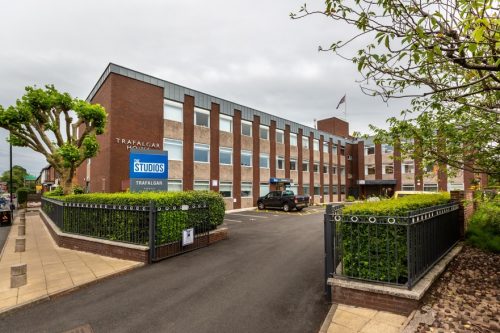 Six new deals have been sealed with both existing and new tenants at Trafalgar House, in Altrincham.
Property management and development company, Selbourne Group, is midway through a £3m refurbishment at the site and the newly remodeled office space has led to Canning O'Neill and Regional Property Solutions securing the latest contracts.
Located on Manchester Road, Trafalgar House comprises 36,000 sq ft of high quality contemporary working environment, including a new café on the ground floor, secure bike storage and lockers as well as upgraded shower facilities.
Life insurance company That's Life, has expanded its occupational requirement within the building to 2,000 sq ft taking Suite 9 on the first floor, while Rullion, a recruitment company, has also taken 2,000 sq ft on a three-year lease.
The all-inclusive rental package has attracted E M Accountancy to expand into 403 sq ft in Suite 5 moving from 284 sq ft. New start-up companies have also taken space on the first floor – Flumlite Technologies takes 403 sq ft, Brook Meade Insolvency takes 415 sq ft and Money Worries takes 815 sq ft.
The second floor is currently being renovated to offer larger spaces of 1,995, 4,000 and 5,500 sq ft. The first suite on the second floor has already been let to Spatial Developments, which moved from 911 sq ft to 1,995 sq ft. Renovations to the ground floor will also provide three suites of between 2,000 sq ft and 1,450 sq ft.
The deals come after the newly created 'The Studios' earlier this year welcomed a mixture of medical and fitness businesses which include Dental Scan, Cheshire Yoga, Flawless Skin Clinic as well as a newly completed letting to physiotherapist Helen Roberts.
Michael de Massey, MD of Selbourne Group, said: "Following the completion of these deals, we will have successfully let 18,000 sq ft at Trafalgar House in 12 months. We see this as a big vote of confidence for the building and for Broadheath as a place to do business."
James Dickinson, director at Canning O'Neill, said: "Businesses are very excited about the new offering here at Trafalgar House – there is a real buzz thanks to the mix of organisations that have decided to move here. There is a wide range of options available and it's fantastic to see existing businesses expand here without having to relocate."