People: MLP Law; JV North; Cassidy + Ashton; Matillion; Magenta Living; Vincents Solicitors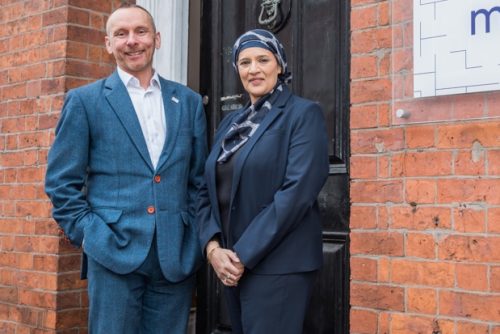 Boutique multi-service law firm, MLP Law, has appointed a new litigation partner as part of ongoing growth plans.
The Altrincham-based firm has appointed Shaista Kauser to lead its litigation department, with a brief to grow the team. Shaista has a 23-year career in commercial litigation and worked in numerous large firms before setting up her own practice in 2006.
With extensive experience in litigation, including experience as an advocate in the County Courts and in advising on high value complex contractual disputes, property litigation, debt recovery, professional negligence and more, Shaista brings a valuable skillset to MLP Law.
She said: "MLP Law is on an exciting journey of growth and I am looking forward to building its litigation department in the coming years. MLP is a forward thinking, proactive firm with an excellent reputation for achieving successful outcomes for clients, employees, the environment and the community.
"The practice has adopted strong diversity and inclusion initiatives within the workplace which I believe is essential and key to its continued progression."
Shaista was the youngest member to be appointed as chair at Rochdale Law Centre, participating in arranging clinics and approval of budgets to various sectors. As part of her commitment to the profession, she also delivers training to newly qualified lawyers, as well as clients. She will be based at the firm's Altrincham office, with access to its new Manchester city centre base as needed.
Stephen Attree, managing partner at MLP Law, has run the firm's litigation work in recent years. Shaista's appointment will allow him to return to a purely corporate and commercial focus. He said: "Shaista represents a very exciting addition to MLP Law as the firm develops its litigation department – something which forms a key part of our growth plans over the coming years.
"She has an impressive career history and track record in delivering successful litigation outcomes for her clients – including using alternative dispute resolution methods, and I am delighted to welcome her to the team."
::
North West social house building consortium JV North has appointed its new chair.
John Bowker, who is executive director of operations at Stockport Homes Group, takes over from Wayne Gales who has been in the post since 2018.
Mr Bowker starts on April 1, after being appointed to the role at JV North's last board meeting. Executive director of development at Wythenshawe Community Housing Group, Andrea Lowman, was appointed vice chair.
John Bowker said: "I'm really proud to have been appointed JV North chair and have big shoes to fill following on from Wayne who safely guided the consortium through the pandemic and the creation of a £560m framework.
"The consortium is in a very good place in terms of having a strong development pipeline of c.4,000 homes to deliver in the current Affordable Homes Programme and procedural systems encouraging the sharing of knowledge and mitigating risk.
"I'm now looking forward to the challenges ahead and JV North will continue working closely with Homes England to explore ways we can do more together to help address the housing crisis."
Wayne Gales, who is chief executive of Weaver Vale Housing Trust, said: "I would like to thank members and all our stakeholders for their hard work and support during my tenure.
"JV North is in very safe hands with John and Andrea taking over and as a founding member, we at Weaver Vale will continue supporting the consortium to help us, and other members, deliver high quality affordable homes across the North West."
JV North members are Bury Council, Johnnie Johnson Housing, One Manchester, Peaks & Plains Housing Trust, Muir Group, Plus Dane Housing, Sovini, Stockport Homes, Torus, Trafford Housing Trust, Weaver Vale Housing Trust and Wythenshawe Community Housing Group.
::
Cassidy + Ashton has appointed assistant architect Samuel Okoh to its architecture and design team in Preston.
Samuel joins the practice from Manchester Metropolitan University (MMU) where he played a key role in its revenue projects team, managing building refurbishments and working on MMU's strategy to improve accessibility across its campus.
As an architectural assistant Samuel will work on a mixed range of projects creating design concepts and building drawings as well as getting involved in project management.
Lawrence McBurney, director, said: "Samuel was part of the MMU team managing the refurbishment of its Grosvenor West building. He worked closely with our team who were lead and heritage architects on the project.
"It is a pleasure to now welcome him to the team. He joins us at a busy time of growth for the practice and his creative vision and international experience will be a great asset to the team."
Samuel has a Masters in Architecture from Manchester University, and now aims to complete his RIBA course and qualify as a Chartered Architect. Before his studies in the UK, he worked on several architectural projects abroad, including in Mexico and his homeland, Nigeria.
Samuel said: "Having worked with Cassidy + Ashton on a client basis I gained valuable insight into the practice's detail-oriented approach to service delivery, and the excellent way the team look after clients.
"I am delighted to now join the team and continue to build on this brilliant reputation. I also look forward to being involved in a practice with mixed disciplines, offering a rounded service that includes not just architecture and design but planning, technical drawing and building surveying – this will ensure my progress as an architect includes a wider knowledge base of the construction industry."
::
Manchester-based data productivity business, Matillion, has appointed Narayan Menon as its chief financial officer and chief operating officer.
Mr. Menon brings more than 25 years of experience in finance and operations, having held key positions in various high growth companies, including Microsoft, Skype, Cisco, Intuit, Prezi, and Vimeo.
Menon joins Matillion during an exciting time of impressive growth and momentum. The company secured three strategic investments last year to accelerate its Data Productivity Cloud roadmap and enable enterprises to get data business-ready faster.
CEO and co-founder, Matthew Scullion, said: "We're thrilled to have Narayan join our executive leadership team to drive execution across Matillion and accelerate our business performance. His proven track record of scaling financial and operational functions at leading technology companies will be instrumental in guiding Matillion through our next phase of growth."
Most recently, Menon served as CFO of Vimeo Inc, where he oversaw significant growth in the business, helped raise multiple rounds of funding, and took the company public in 2021. He's also held senior executive roles at Prezi, Intuit, and Microsoft. Menon also served as an advisory board member for the Rutgers University Big Data programme.
Menon said: "As someone who uses data and analytics in almost everything I do at work, I am keenly aware of the importance of data – as well as how the lack of business-ready data can hamper an organisation.
"Matillion is uniquely positioned to help organisations get data business-ready, faster — accelerating time-to-value and increasing the impact data can have on growth and success. I am excited to be part of a fantastic team and to help expand upon Matillion's success."
::
Magenta Living has appointed Andy Lomas as its new executive director, customer and communities.
Andy has nearly 30 years' experience in the housing sector, with more than 10 years at director and managing director level with organisations such as Plus Dane Housing Group, The Guinness Partnership and The Places for People Group. Andy has a strong track record of successfully designing, developing and transforming housing, care and support services.
He said: "I am ready to take the next step in my career and excited to be joining Magenta Living at a pivotal moment in its transformation as it looks to strengthen its contribution, presence and impact across its communities and, above all, deliver brilliant services for its customers."
He added: "Thirty years ago, I chose a career in the housing sector because I was passionate about the delivery of homes and services that make a positive difference to people's lives. I was committed to creating better places for people to live and work and I was driven by a deeply held belief that services should enable and empower customers and communities. Thirty years on, I remain motivated by the same drivers and I remain proud to be part of a sector that plays a key role in creating social value and impact for people and communities."
Debi Marriott-Lavery, Magenta Living's chief executive, said: "For the housing sector right now it is all about listening to our customers. Andy has a strong track record and is the perfect candidate to be joining us at a pivotal time. I couldn't be happier to be welcoming him to Magenta Living and I know he will make a real impact as we look to deliver ambitious new plans whilst always ensuring our customers are at the heart of everything we do."
Andy will join Magenta Living in early April.
::
A further six new starters have arrived at Vincent Solicitors in Lytham. They will join five recent senior appointments in the firm's newly launched office at 21-23 Park Street.
The new recruits are all experienced legal assistants and paralegals who had worked at Linder Myers Solicitors in Lytham until its closure in December. Each has returned to work for their former managers who took up new positions with Vincents in December.
With more than two decades' experience in private client work, paralegal Joanne Vickers will support clients with wills, probate, lasting power of attorney, trusts and estate planning. Legal assistant Adrian Stephenson also joins the private client team and will be working for STEP qualified senior solicitor Patricia Prescott, who was among the first to accept a new role with Vincents in December.
David Hinchliffe has recruited his two former assistants, Susan Walker, who will provide support for his private client cases, and assistant conveyancer, Claire Goodson, who will work on his residential property portfolio.
Family law expert Sarah McCarthy has brought in assistant Catherine Harrison to support her clients in divorce, relationship, inheritance, child care and estate administration cases.
And Lynn Salisbury will provide a warm welcome as receptionist at the new Park Street office.
The expansion is part of Vincents' strategic growth plan which it says has seen the firm become the largest full service practice on the Fylde Coast having grown from a team of six in 2019 to a total of 36 staff now based in Lytham across three offices. This includes the boutique family law and private client practice, Mary E Lowe @ Vincents Solicitors, which will remain in the existing premises at 25 Park Street, and director Craig Aikman's commercial and residential property hub based at Jubilee House.
Add to this the nine-strong property and private client team at the recently launched office in Poulton, and the company now has 45 staff supporting clients across the Fylde Coast.
Phillip Gilmore, Vincents managing director, said: "The success of our business is a combined effort and our support staff are absolutely integral to that, we are very fortunate to welcome these highly experienced, well-respected practitioners to support the new team in Lytham."
Senior solicitor Patricia Prescott, added: "We are grateful for the warm welcome we've received from everyone at Vincents and pleased the firm's growth ambitions have allowed us to keep our strong team together. It's great to see everyone has arrived ready to hit the ground running which will benefit our clients enormously, and we are looking forward to getting to know our new colleagues across the wider Vincents team better."