Renewables projects feed into Stockport's 2038 carbon neutral target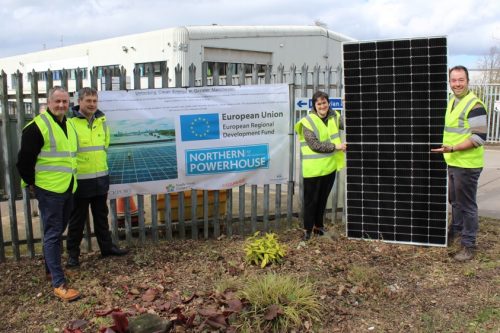 Work is under way on the installation of roof-mounted solar panels at a site in Stockport linked to the council's target of becoming a carbon neutral city region by 2038.
Grand Central Leisure Centre will have its power fed directly into the leisure centre, helping to make the centre greener. It will produce around 300kWp and avoid more than 46,500kg of CO2 emissions per year. The appointed contractor CorEnergy is leading on the installation.
Endeavour House, in Bredbury, will also benefit from EV charging points, battery storage and a new sub-station as part of the upgrade.
These renewables will produce an output of around 230kWp and will avoid more than 34,500kg of CO2 emissions each year. The energy generated will power Endeavour House directly, with any excess in summer transferred to the battery. Work will be undertaken by Atherton-based ASH Integrated Services.
Both projects will complete by June 2023 and will be the blueprint that will help the council to learn how best to retrofit renewables onto existing buildings, using the latest technology, building expertise and learning.
Supported by a capital grant from the European Regional Development Funding (ERDF), as part of the European Structural and Investment Funds Growth Programme 2014-2020, this funding has come about by working jointly as a consortium with five Greater Manchester authorities under the Unlocking Clean Energy in Greater Manchester (UCEGM) programme.
There are currently 11 projects in the GM programme, collectively generating around 10MW pa of clean energy and saving an estimated 3,008t CO2 per annum.
Cllr Mark Roberts, cabinet member for climate change and environment at Stockport Council, said: "In March 2019 Stockport Council declared a climate emergency and pledged support for the Greater Manchester Five Year Environment Plan.
"These two projects are just the start of fulfilling that commitment and this is a fantastic example of one of the many solutions available to organisations and businesses in the borough to decarbonise our society."
Cllr Grace Baynham, cabinet member for highways, parks and leisure services, said: "This is very welcome news and it is so important that we make provision to decarbonise in order to future proof our services. This is another big step forward in our commitment to become a carbon neutral borough."
David Hughes CEO at Totally Local Company said: "The introduction of solar panels at TLC's site in Bredbury is a great step forward in our target to decarbonise our operations and, by adopting the latest technologies, builds on our current green agenda. We're proud to support Stockport Council's target to be carbon neutral by 2038."
Co-founder and co-director at Ash Integrated Services, Antony Grace, said: "This complex scheme is ideal for our skillset and builds on our previous renewables projects on live sites.
"We will have a team of six, including an apprentice, working on the electricals side, with another five delivering the civils to lay cables.
"With the installation of the car ports as well as liaising closely with Electricity North West on the substation, there are many layers to this development, and we're excited to have started on site."