NW business briefs: Stagecoach; CRJ Services; Eurovision; Phillips & Cohen; Creative Marketing; Mersey Maritime
Nine new double-decker buses, which represent an investment by Stagecoach of £3m, are being introduced this week in Cumbria, boasting significantly cleaner engines which will help cut carbon emissions throughout the county.
The new buses were launched by Stagecoach at Low Wood Bay hotel at Windermere and invited guests got to see how the new buses benefit from tables on the top deck, USB charging ports at every seat and next stop announcements. Westmorland MP Tim Farron helped launch the buses and praised Stagecoach's investment, adding: "These buses are comfortable and environmentally friendly and should help boost confidence in public transport in Cumbria, helping us get towards net zero."
Rob Jones, managing director for Stagecoach Cumbria and North Lancashire, said: "These nine new low-emission vehicles represent a significant investment in our services for the local community. We are also pleased to have had a really good year of progress against our sustainability strategy, in particular the order for our new low emission buses in Kendal.
"Despite the challenging macroeconomic environment, and the specific pressures that are being faced in the public transport sector, as the country's biggest bus and coach operator, Stagecoach is continuing to play a leading role in decarbonising the sector and we are working hard towards our target to become a net zero business by 2050 with a zero-emission bus fleet by 2035."
Gill Haigh, managing director of Cumbria Tourism, said: "It's brilliant to see this significant investment in our public transport services – it's really important that families and people visiting the Lakes use public transport and these buses with their tables and comfortable seats will give them the experience to encourage them to do that."
::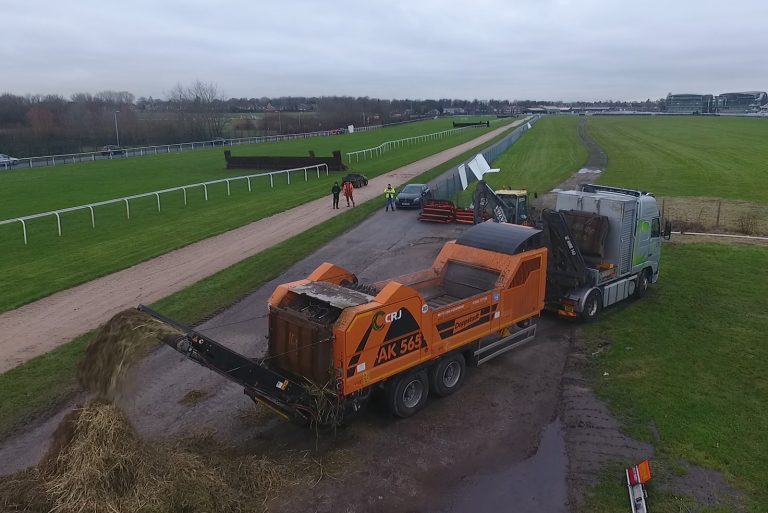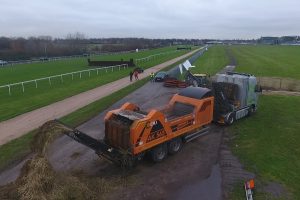 The Jockey Club, which owns 15 racecourses across the UK, has appointed Knutsford-based CRJ Services to shred 20 tonnes of old spruce that tops the fences used on the Grand National course at Aintree.
The spruce is used to give the horses and jockeys some leniency when clearing the fences at the world famous racecourse, and with the material replaced each year, the Jockey Club now has a large collection of waste brash to be shredded and utilised as mulch across the racecourse.
Aintree approached CRJ Services for a solution, with the firm's high speed shredders able to be hired with an operator. Rob Symons, operations director at CRJ Services, said: "Having initially been appointed by The Jockey Club after last year's Grand National festival, we are delighted to partner once again with Aintree to support the racecourse in the aftermath of their showpiece event.
"Whilst the excitement of the Grand National itself draws to a conclusion, there is now lots of work to be done and the shredding of the spruce from these famous fences is an important part of this – with the machine able to produce a material that can be used for other purposes around the Aintree estate, maximising efficiency and sustainability at the course."
::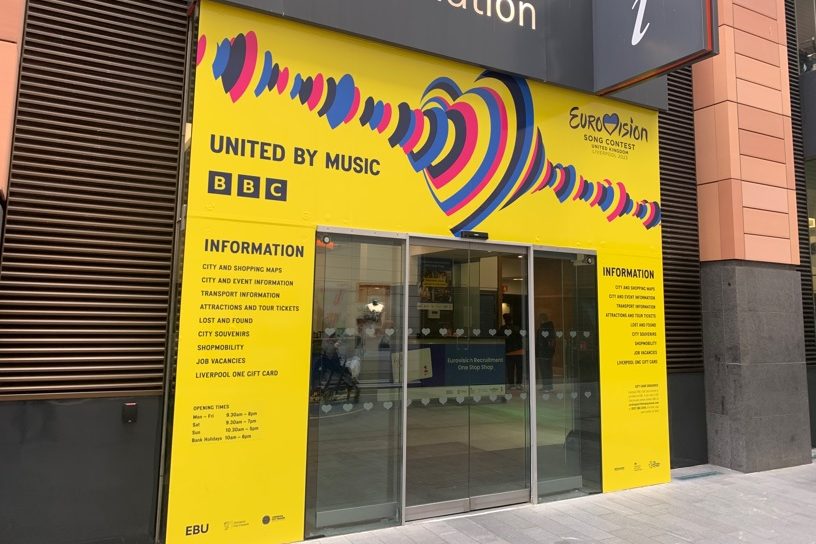 A pop-up Eurovision job centre has opened in the Liverpool One retail centre as the city region looks to fill hundreds of vacancies ahead of the Eurovision Song Contest next month. Based in the Tourist Information Centre on Wall Street, the Eurovision and Beyond one-stop shop is open from 10am to 4pm, Monday to Saturday until the end of May.
Hundreds of jobs are available in the hospitality and visitor economy sectors as well as security, logistics and retail as the city region gears up to welcome an estimated 100,000 extra visitors in May for the world-famous music competition.
Vacancies include supervisor/team leader roles along with specific trades such as baristas, food and beverage operators, chefs, porters, security guards and retail assistants/leaders and many of the positions on offer are permanent too. Department for Work and Pensions (DWP) employment advisors will be on hand to support job seekers who will also be able to sign up for training courses to improve their chances of finding work in the sectors.
The Liverpool City Region Combined Authority has joined forces with the DWP, Liverpool One, Liverpool City Council and Growth Platform to open the one-stop shop. The initiative builds on a highly successful Eurovision jobs fair held at the ACC Liverpool in March that attracted 43 employers and more than 1,500 job seekers. An estimated 65 positions were filled on the day with more than 1,500 work trials and secondary interviews offered as a result of the fair.
Liverpool City Region Combined Authority executive director for investment and delivery, Aileen Jones, said: "Eurovision is massively important for the Liverpool City Region and will give a huge boost to our visitor economy, creating real opportunities for local people. With 100,000 extra visitors expected and a global TV audience of more than 160 million viewers last year we know the eyes of the world will be on us, and we are determined to do the city region and Ukraine proud."
::
Phillips & Cohen Associates (UK), the Manchester-based deceased account management business, has completed the acquisition of Ardent Credit Services, the Liverpool-based debt recovery and credit management services provider, for an undisclosed sum, following approval from the Financial Conduct Authority (FCA). Ardent will now formally become a wholly owned subsidiary of PCA's UK business.
Adam Cohen, co-founder and chief executive of Phillips & Cohen Associates, says the announcement will help accelerate plans for integrating the two companies, adding: "An approval process that we expected to take months has been completed in weeks. In our view, this reflects the confidence the FCA has in the credibility, professionalism, and senior leadership of our two organisations.
"We can now move quickly with our plans for closer collaboration, building on our long term strategy to further extend the range of services we can deliver to our clients in the UK and internationally."
Plans for the intended acquisition were announced in February and were subject to FCA approval. Steve Murray, the founder and CEO of Ardent Credit Services, will stay in an advisory capacity in the short term to ensure a smooth transition of the business. John Ricketts continues as managing director, reporting to the chief operating officer at Phillips & Cohen Associates, Nick Cherry.
Nick Cherry says the ambition now is to grow: "It's an exciting time for the business, our people, and the local community as we have the 'green light' from the FCA to write the next chapter in the PCA/Ardent history."
::
Full-service marketing firm Creative Marketing (NW) has acquired Wirral-based website design and development agency, Autus, for an undisclosed sum.
Autus has been run by David Clough for around 20 years, supporting more than 100 local businesses around Essex, London and beyond, with website design, development and SEO services. Due to personal reasons, David decided to retire and find a new home for his clients. After numerous meetings with Kasim Javed, David decided to sell Autus to Creative Marketing.
Kasim has been running Creative Marketing since 2017, supporting some eCommerce brands online such as Premier Inn at home, I-Sells, Love2Laundry, Bespoke Plates, Official Rapid Tests, and Kiddies Kingdom.
Creative Marketing provides a range of services including website design, development, paid advertising management, email marketing services and search engine optimisation.
Kasim Javed said: "Since COVID and the recent cost of living crisis escalating, we have identified that Brits are looking to generate new income streams by setting up their own online businesses. As a result, our digital skills, including developing online experiences and solutions, have become more required. Our acquisition of Autus is designed to help companies broaden their digital marketing experiences by offering them more than just a website, including paid advertising campaigns, social media marketing, email marketing and more."
::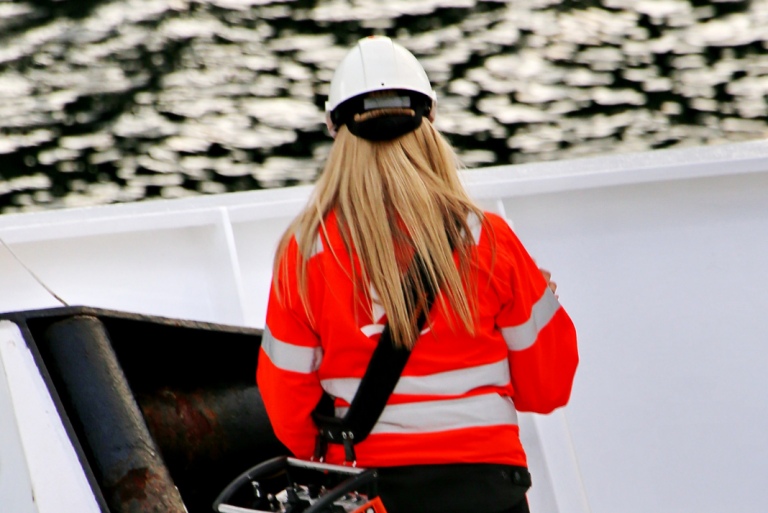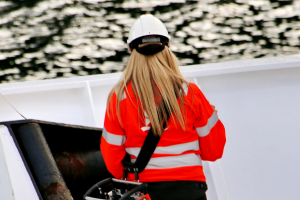 North West regional cluster organisation, Mersey Maritime, is partnering with global trade union and professional organisation, Nautilus International, on its mentoring scheme, Sea to City. The initiative has been developed to support seafarers who are looking to make the transition landwards and are exploring their career opportunities ashore.
Having previously partnered with Maritime London to successfully launch the Sea to City project in the capital, Nautilus International has now decided to bring the initiative to the North West through its partnership with Mersey Maritime. With the maritime industry being worth more than £5bn to the Liverpool City Region economy, the North West is perfectly positioned for seafarers to take advantage and bring their skills from the sea to shore-based positions.
This project will highlight the job opportunities in the sector and the skills and qualifications needed to take advantage of them. It will do this by developing a mentoring scheme for seafarers considering a move ashore, pairing them with relevant Mersey Maritime members or stakeholders who will be able to offer guidance and support throughout the process.
Chris Shirling-Rooke, chief executive at Mersey Maritime, said: "Promoting our people and businesses across our thriving industry sits at the heart of what Mersey Maritime does. We work closely with all our members to ensure they have access to the latest skills and training opportunities to help our industry succeed and prosper."
Mark Dickinson, Nautilus International general secretary, said: "Seafaring skills are in constant and high demand across the maritime professional services sector. But a Nautilus International survey in 2019 found that many seafarers do not get much information from their employers on the opportunities that exist ashore, and most are unaware of what additional qualifications or training they might need to make the most of a career move, particularly during the transition to a more sustainable maritime industry. Nautilus International is proud to be supporting members to fulfil their long term career ambitions through this partnership with Mersey Maritime in the North West."