Gordon Ramsay's Lucky Cat restaurant set to open next month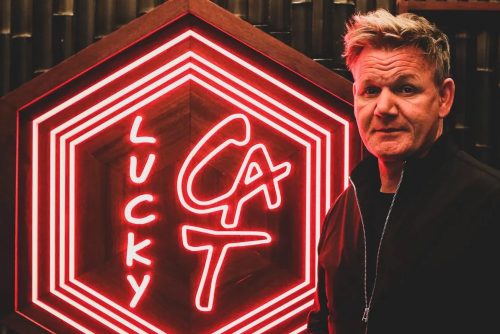 Michelin-starred chef and restaurateur Gordon Ramsay is opening his Lucky Cat Manchester restaurant on June 1.
The King Street site marks the first major opening for Ramsay in the city and the second Lucky Cat worldwide.
Situated at the top of King Street, the Manchester venue occupies a breathtaking Art Deco building, standing alongside the iconic Gotham Hotel.
The restaurant spans three floors and features opulent dining vaults, paying homage to the building's heritage. In addition to the main restaurant there are also extensive private dining spaces and private bars.
Lucky Cat's Manchester location will offer a culinary narrative from Gordon Ramsay and Lucky Cat executive head chef Andre Camilo who have crafted each dish with sharing and excellence in mind.
An innovative cocktail list includes the one-of-a-kind Lucky Negroni, where the gin in the drink is determined by a game of chance. With three dice hidden inside a mysterious box, the numbers rolled will unlock the perfect combination of gins, vermouths, and bitters. With a staggering 216 possible combinations, the Lucky Negroni is a personalised experience, crafted by fate.
Gordon Ramsay said he shares his unbridled enthusiasm for the project, with a nod to Manchester's vibrant dining scene: "I've toured and worked in much of Asia over the years, and the culture, the flavours, and the incredible cooking truly inspire me.
"Manchester is renowned for its thriving culinary landscape, and I'm thrilled to be a part of it.
"We're fired up to build on the phenomenal success of our Mayfair restaurant and bring something truly exceptional to the people of Manchester this summer."