American-themed 'dive bar' set to add to Southport's Northern Quarter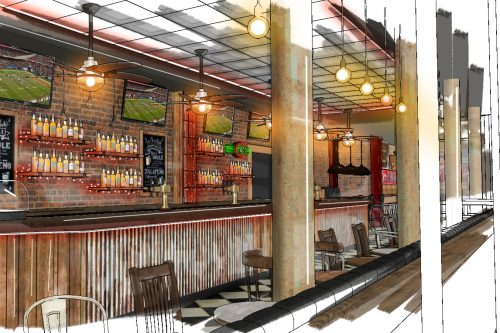 An American-themed bar is set to open in Southport this month, developed by the St Helens-based Mikhail Group.
Situated on the corner of Lord Street and Leicester Street, the group said the opening of Maverick's will be a huge boost to Southport's Northern Quarter.
It said the 'Top Gun' inspired venue has been obsessively curated to mimic life in an American dive bar, featuring American cuisine washed down with a Citywide Special – lingo for a beer and a shot of bourbon.
The new bar will offer a relaxed vibe, frank and friendly service and an authentic experience, including vintage neon signs, a Statue of Liberty and an original Wurlitzer juke box.
The building, formerly a Pizza Express, has been empty for several years and is being brought back to life by Mikhail Hotel and Leisure Group with its latest investment in Southport's hospitality scene following its multimillion-pound restoration of The Grand in July last year, opening phase one of the venue with a brasserie, piano bar and function suite.
Restoration work is still in progress at the historic building which will see golf simulators, a roof terrace and sky lounge which will have fabulous views of the Sefton coastline.
The opening of the latest bar will be the group's sixth venue in Southport with five of those located in The Northern Quarter, with The Bold Hotel, Lord Street Hotel & Sports Bar, Punch Tarmey's and The Grand, with the group also operating the bar at Southport Market.
Group chairman, Andrew Mikhail, said: "I am determined to bring The Northern Quarter back to its best, how I remember it when I came for nights out when I was younger, the place to be. I want every empty unit filled with bustling independent businesses for locals and tourists alike to enjoy."
Referring to Maverick's, he said: "We wanted to create a venue that people could enjoy socially with friends. We developed the idea of an 'American style' bar which focuses on the social aspect of enjoying the company of friends and strangers, bringing something different to Southport.
"Top Gun is my favourite film of all time and so the bar just had to have a nod to the iconic Tom Cruise film."
He added: "There's one thing that holds true for all American dive bars – if you visit one, you're always going to have a story to tell later, and that is what we want to achieve with Maverick's. This bar is so different to any of our other venues, and we are so excited to bring a new concept to The Northern Quarter on Lord Street."