People: Harrison Drury; STFC; GC Angels; KBL Solicitors; DB3 Group; MC Construction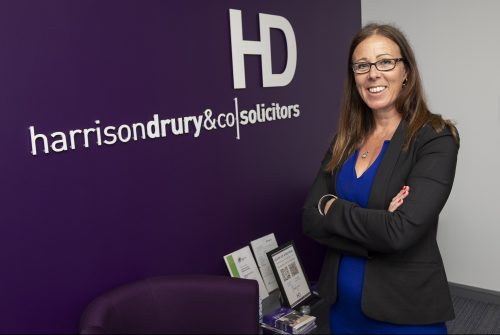 North West law firm Harrison Drury has appointed highly experienced construction lawyer Katherine Sibley as a partner and head of its specialist construction law team.
Katherine will support Harrison Drury's clients on both contentious and non-contentious matters, advising developers, contractors, subcontractors, engineers and other construction professionals.
Joining the firm from Brabners, Katherine will work across Harrison Drury's Cumbria and Lancashire regions, supporting clients operating regionally, nationally and internationally.
Colin Fenny, partner and head of property dispute resolution at Harrison Drury, said: "We've spent the last few years developing a pure construction offering to complement our well established property dispute resolution team.
"Katherine is a hugely experienced construction lawyer who will play a vital role in leading the team and helping our clients overcome a wide range of disputes, including breach of contract and professional negligence claims, delay and disruption disputes, payment issues and termination rights."
Alex Walmsley, associate solicitor in Harrison Drury's property and construction litigation team, said: "Katherine is renowned for her dispute resolution experience and can support clients with dispute avoidance and alternative dispute resolution, services that are of massive benefit to clients."
Katherine said: "I'm looking forward to supporting our clients, making it possible for them to overcome challenges and reach their goals."
Katherine, who is from Ulverston, has enjoyed an almost 25-year career in the legal sector. She completed her training with DLA Piper in Leeds, going on to work for several large firms, as well as an in-house legal role with Capita Legal Services.
A committee member for Women in Property Lancashire and Cumbria Branch, Katherine is also a Legal 500 Recommended Lawyer.
::
The Science and Technology Facilities Council (STFC) has appointed Prof Stewart Boogert as the new Director of the Cockcroft Institute.
As director, Prof Boogert will drive the continued growth and development of the Cockcroft Institute of Accelerator Science and Technology ,located at the Science and Technology Facilities Council's (STFC) Daresbury Laboratory, at Sci-Tech Daresbury.
Prof Boogert is a Professor of Accelerator Physics at the University of Manchester. Most recently, he was Professor of Accelerator Physics at the Royal Holloway, University of London, where he was also Head of the Department of Physics and Head of the School of Engineering, Physical and Mathematical Science and had been an academic staff member since 2005.
The Cockcroft institute is a partnership between STFC and the universities of Lancaster, Liverpool, Manchester and Strathclyde.
It enables the UK to play a major role in the design, construction and use of the world's leading research particle accelerators for the future, providing real economic and societal benefits to the UK.
Prof Boogert said: "I am incredibly excited at this opportunity to lead the exceptionally talented and internationally recognised team at the Cockcroft Institute and to strengthen collaboration with colleagues at the partner and regional universities. Accelerator science is instrumental in solving some of the most important challenges we face as a society and benefits nearly every sector of our economy."
Prof Jim Clarke, director of STFC's Accelerator Science and Technology Centre, said: "I congratulate Prof Boogert wholeheartedly on his appointment and I look forward to collaborating and welcoming him to Daresbury Laboratory.
"Through Prof Boogert's leadership, experience and commitment, the Cockcroft Institute will continue to be a global leader in the design and development of new technologies that will deliver game changing benefits, both to our economy and society."
Prof Boogert takes over from Prof Peter Ratoff, Distinguished Professor of Physics at Lancaster University. His presence at Daresbury Laboratory continues as he now takes up the position of Director of Daresbury APA Operations for the DUNE neutrino physics collaboration.
::
The GM LEP backed GC Angels, an early-stage investor, has appointed Marc Shirman as head of equity investments to lead a new vision for the service and will be instrumental in a scaled investment partner-focused strategy going forwards.
Marc brings more than 20 years' experience to the team, having previously managed equity funds as co-head of Muzinich Private Capital Strategies where he raised their maiden UK fund and in launching the Manchester office of transatlantic venture capital investor Beringea. Marc also acts as an advisor to Northern Gritstone helping build a more integrated and effective northern start up ecosystem.
He said: "From its inception, GC Angels has worked to reduce the inequality and disparity faced by founders in the North. Now eight years in, the group has ambitions to build on the success of the portfolio and broaden the investment strategy to provide further support to early stage companies in the North."
He added: "As economic uncertainty remains for many businesses, the support of early-stage businesses is crucial in helping to bolster UK innovation. We're poised to continue our work in the market, and I look forward to building out our portfolio, supporting ambitious entrepreneurs in scaling up their businesses."
::
Insolvency and restructuring specialist Kathryn Maclennan is the latest addition to join the KBL Solicitors partnership as the practice recruits corporate and commercial expert, Gareth Brewerton to join the growing team.
Since joining KBL four years ago, Kathryn has been instrumental in establishing the firm's insolvency offering and now heads up an experienced team of five who advise on a broad range of corporate restructuring and recovery issues providing strategic advice and advisory support to creditors and debtors. Kathryn has more than 20 years' experience in the insolvency arena and is an associate member of R3 – the Association of Business Recovery Professionals.
She said: "I look forward to continuing to contribute to the success of our clients and supporting future growth of the firm."
Gareth Brewerton is KBL's latest recruit. He is an experienced solicitor whose expertise will strengthen the firm's existing commercial offering across the region. Prior to joining KBL, Gareth was head of legal at the UK's largest plant hire specialists, Sunbelt Rentals, the UK & EU trading arm of FTSE Top 20, Ashtead Group.
He said: "I'm looking forward to working alongside the team across both the Bolton and Backburn office which includes some of the region's highest regarded commercial solicitors."
Kathryn said: "It's great to have Gareth on board, we are confident that Gareth's experience, expertise and proactive approach aligns with our commitment to provide the highest standards of service for our clients. Gareth is the latest recruit as part of the firm's continued growth strategy to meet client demands which is testament to the high quality work delivered with intent to go above and beyond."
::
DB3 Group, the architecture, engineering and building solutions consultancy, has announced some significant operational changes to the company following a restructuring of the business to include key promotions and repositioning of business leaders.
Since the transition to an employee-owned model in December 2022, DB3 has been working on structuring the business for future expansion. To achieve its growth targets and focus the business's ambitions, two of the company's directors will take on new managing director roles from this month.
Tom Hill and Julius Steinert have been promoted to these roles, with Tom acting as MD for the North and Julius acting as MD for the South. DB3 has seven studios across England, Scotland and Wales.
Tom's remit will cover Leeds, which is the firm's HQ, Manchester, and Glasgow. He said: "I am excited to become managing director for the North. As we advance the business and work to achieve our 2030 objectives, I feel really positive about the opportunities we have and the team we've built to support our growth."
Julius will be responsible for London and Birmingham.
DB3 has focused on succession planning. A pivotal change sees David Hooley take on the position of head of sports and leisure. The role, formerly undertaken by Jon Mawson, is one of significance as the team at DB3 has provided design advice to Sport England, Swim England and British Cycling for more than 30 years. Jon remains an employee of DB3, providing support for key clients and major projects.
He said: "I am very happy to pass on the reins to Dave. I believe he will flourish in his new role and will guide the sports and leisure team in their future opportunities."
To bolster DB3's growing engineering business, Simon Taafe has been promoted to associate, providing strength to the team run by Matt Ganley. Simon is an experienced electrical engineer and has been part of this team for the past 10 years. DB3's building services engineering team is based in the Manchester studio at One Balloon Street.
DB3 Group CEO, Nathan McNamara, said: "Being in a position to make these strategic changes gives us confidence in the future of DB3."
::
Family-owned MC Construction has made an historic change by promoting group operations director Russ Forshaw to managing director as successor to David Lowe, who has become the company's executive chairman.
It is the first time in the Salford-based company's 51-year history that a non-family member has held the managing director role. Russ, 37, joined the company in June 2017. Initially he was the head of a new facilities services division before being promoted to group operations director.
He moved to MC Construction from Manchester Central, where he was director of facilities management. Earlier in his career he spent eight years at Shepherd Construction.
David has served as MC Construction's managing director for more than 11 years. He joined the business in 1981 as an apprentice bricklayer. His father, Charlie Lowe, founded the business with John Purcell in 1971. John's sons, Mike and Chris, alongside David, are the current owners.
Russ said: "I am proud and excited to be given this opportunity to become managing director and look forward to continuing the work of my predecessors to drive positive change within our business and to see our brilliant team develop further in the years to come."
David Lowe said: "Russ has been an integral part of our senior team for a number of years, showing great leadership qualities, a deep understanding of the business to grow our capabilities, and working extremely well with colleagues, clients and suppliers. This has been a planned succession and we know Russ is the right person to step into the managing director's role, building on the founding families' legacy to take the business forward."