People: Code Computerlove; Blume; Leonard Curtis; MCR Property Group; Glenbrook; HF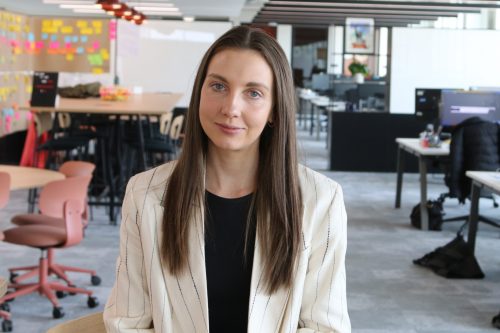 Manchester-based digital product and service company, Code Computerlove, has appointed Hannah Pickford as people and culture lead.
Joining from Social Chain, where she was happiness manager, Hannah's appointment comes at an exciting time for Code after its recent move into WPP's new Manchester Campus. More than 550 staff across several agencies, including EssenceMediacom and Wavemaker, will now be based at the new site in Enterprise City to drive growth and creativity.
Hannah's role will focus on overseeing Code's overall employee experience, enhancing culture through onboarding, recruitment, benefits, events and supporting learning and development.
She said: "It's been fantastic to get stuck in at the new Campus and look at our people experience across the different stages and delve into how we can promote Code's unique culture. I really want people to walk in and love their job, carrying that feeling of excitement through their time with us."
Managing director, Gemma Handley, said: "Hannah's already made a big impact by suggesting ways we can enhance our culture and her experience in making people happy and motivated is going to be so valuable. We've recently moved into our new home at WPP Campus which is an amazing social space, and we look forward to spending more time together as a team, with Hannah at the helm of our events."
::
Blume has expanded its management team with the appointment of Andrew Chadwick as business development manager.
This is the first of a number of senior appointments the Didsbury-based customer acquisition specialists will be making in the coming weeks, it said.
Chadwick brings more than 18 years of legal sector experience to the team, most recently with Fletchers Solicitors as head of costs. Prior to this, he was a director at Ultimate Costs where he had sole responsibility for business development and bringing new clients on board.
In his new role, Chadwick will be the first point of contact for law firm clients seeking new cases. He will work with the wider business development team to deliver ambitious growth objectives for Blume Group in existing areas of work including personal injury, medical negligence and housing disrepair. He will also be responsible for identifying and developing new opportunities within the market.
Founder and CEO, Dez Derry, said: "Andrew brings a wealth of experience in winning new clients and a deep understanding of the legal services market. He is a very strong addition to our business development team and will play an important role in developing and driving our group's growth strategy moving forward."
Andrew Chadwick said: "Within my role, I can provide added value through my past experience in the costs arena, adding to the existing high quality service and support that clients already get. I'm excited to get started and with the help of the rest of the BD team, continue to grow and enhance our service and offering to clients."
::
Leonard Curtis has appointed a relationship manager to its growing debt advisory team as the brand continues to enrich its funding services offering in 2023.
Sarah Gaskin, who has almost a decade of experience in client relations, has taken up the post and will offer personalised assistance with attrition and client management goals.
Sarah has worked at Leonard Curtis with the Lifecycle network business development team since 2020, drawing on professional services and finance experience acquired from her early career in management.
As part of the debt advisory team, she will be working alongside associate director, Ric Miller, on creating and strengthening relationships with asset-based lenders and other funders.
Sarah said: "As a relationship manager I can continue to work with our clients on resolving all manner of problems and provide guidance and advice for them wherever they need."
Ric Miller said: "Sarah has an excellent understanding of the group model and brings energy and enthusiasm to the team. Developing relationships at all levels with funder teams is a pivotal strand to our plan and we look forward to further adding value in the way we advise and support this market."
::
MCR Property Group has appointed David Tracey to chief operating officer.
With 16 years of service, David began working with the Manchester-based real estate and development company as an accounts assistant at 23.
Bury-born David will take on an operational leadership role across the group, collaborating with decision makers within the asset and finance teams, alongside his role as group board member.
David has led more than £2bn of transactions for the company during his time in senior leadership roles, acquiring key developments such as the 1,200 homes planned for Gould St, Manchester and MCR's uptake in its industrial portfolio in recent years.
He said: "I am honoured to take on this new role. I have had the privilege of working with this talented team for many years, and for the majority of my career, from a young age. I am excited about what this new role represents and the incredible opportunities that we have in front of us."
Aneel Mussarat, founder of MCR Property Group, said: "David has shown exceptional leadership and expertise across our acquisitions and disposals in recent years and we are confident in his ability to bring that same level of dedication and expertise to this new role."
::
Glenbrook has continued to expand its team with the senior appointments of Mark Edwards as the company's inaugural land and property director and Sunny Johal as development director.
Mark moves from a major role as investment director at HSPG having delivered £300m of housing in three years. He joins Glenbrook in what is a newly created role for the development company, to source new land and development opportunities particularly across the south of the UK using a well-established network.
Sunny joins Manchester-based Glenbrook after spending eight years as a key figure on the £1.2bn Paradise Birmingham development, five years of which were at Argent. At Glenbrook, Sunny will be responsible for helping to further grow the company nationally with a focus on the Midlands and the South East regions. With 20 years' experience in construction and real estate, Sunny has previously held senior positions within the construction industry before moving over to a more development and investment focussed position.
Mark Edwards said: "Glenbrook has an excellent reputation in the market and I'm hugely excited about the prospect of expanding the company's reach across the UK in delivering exceptional residential-led projects."
Sunny said: "I look forward to help fulfilling the company's ambition to expand its presence in new territories – we are already under way with some exciting projects which we look forward to bringing forward over the next 12 months."
Director, Guy Butler, said: "Mark and Sunny are fantastic additions to the team and provide us with additional experience and resource at a strategic level. With schemes already live in the North West and in Yorkshire, we see the Midlands and the South East as a key area of growth for both our investment and development portfolios."
::
HF, legal advisers to the insurance and commercial sectors, has onboarded 21 new people to its rapidly growing recoveries department based in its flagship head office in MediaCity, Manchester.
The announcement takes HF's total number of people in that specialist area to more than 100 people – making it one of the largest teams in the field.
The HF recoveries team works for several large insurers and has seen consistent and increasing success for their clients, recovering more than £14.4m during the first quarter of 2023 alone, and taking in excess of 57,000 instructions during the past year.
Ronan McCann, CEO and managing partner of HF, said: "We're very pleased to welcome so many new colleagues to HF.
"The success of our recoveries team means we're always looking to recruit new talent and the addition of their skills will support our growth plans and help us continue to deliver the excellent levels of service our clients expect."