Royal Mail commissions True North to create Blackadder stamp collection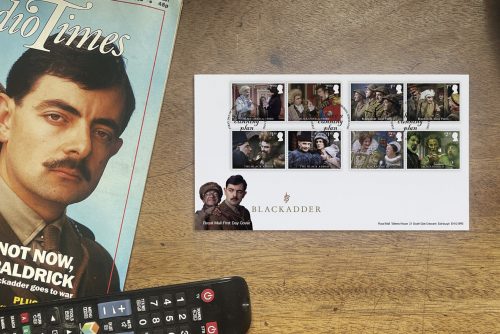 Manchester-based brand and design consultancy, True North, has been commissioned by Royal Mail to create a set of 12 stamps, miniature sheet and collectibles celebrating iconic moments from the iconic Blackadder TV series.
The programmes starred Rowan Atkinson as the anti-hero Edmund Blackadder and Tony Robinson as Blackadder's sidekick, Baldrick.
Eight stamps in the main set capture moments spanning four series of the classic British sitcom and feature some of the show's best-loved characters, played by familiar names including Tony Robinson, Hugh Laurie, Stephen Fry, Tim McInnerny, Miranda Richardson, Brian Blessed, and the late Patsy Byrne.
In addition, a further four stamps, presented in a miniature sheet, celebrate the main character, Edmund Blackadder, in his various guises over each of the four series of the popular sitcom.
Steve Royle, creative director at True North, said: "One of the critical challenges to the project was to bring a connection to each of the scenes whilst still allowing the distinct personality of each series to shine through."
Each series was set in a different historical period – from the mists of medieval England to the court of Queen Elizabeth I, from the glamour of the Georgian era to the grim trenches of the First World War.
Steve added: "The subtle introduction of different typefaces to caption each stamp allows a distinct sense of personality within a unified structure."
Screenwriter, producer, film director and Blackadder co-writer, Richard Curtis, said: "We're very amused and delighted. It's a great relief for Blackadder to have his head on a stamp, instead of on a stake."
And Blackadder producer, John Lloyd sais: "The entire team behind Britain's leading situation tragedy is deeply honoured by Royal Mail's magnificent stamps of approval. In the words of General Sir Anthony Cecil Hogmanay Melchett, VC KCB; 'Let's give them a damn good licking'."