Merseyside Pension Fund backs Legacie Developments with £60m in largest funding deal to date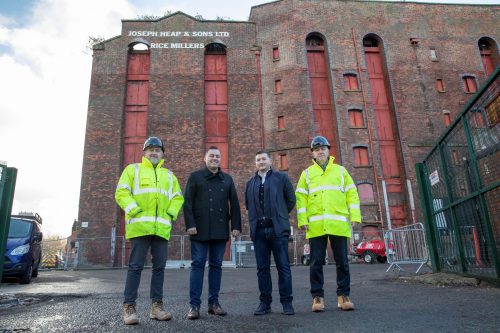 Liverpool developer, Legacie Developments is claiming a big vote of confidence in its ability to deliver property deals after securing a two-phase £60 million development loan from the Merseyside Pension Fund's 'Catalyst' vehicle to help deliver the redevelopment of Heap's Rice Mill in the city centre.
The developer is planning to bring forward a mixed-use scheme of residential apartments and commercial space on the old mill site. 
The project has a gross development value of circa £140m and is expected to create 200 local jobs and training opportunities, aligning with the Fund's objective to aid economic growth in Liverpool city centre. The Merseyside Pension 'Catalyst' Fund is advised by CBRE's Lending team within its Capital Advisors business.
Legacie Developments will build 620 units on the site across five phases. Permission has also been secured for a luxury underground spa inside the mill. 
Previously used by Joseph Heap & Sons Ltd – which once ground rice for Kellogg's Rice Krispies – the Grade II listed building is one of the last surviving warehouse complexes in the area. 
The development funding is the Merseyside Pension Fund and CBRE Lending's first loan with Legacie Developments and is the largest funding deal the developer has struck in Liverpool to date. This loan takes Legacie's institutional finance to over £120 million in the first four months of 2023. 
Legacie Developments has partnered with international sales agent RWinvest, who are promoting the scheme. It has attracted strong demand with 85% of units pre-sold.
TheBusinessDesk.com reported in December that work had started on the mill site, with John Morley, founder and CEO of Legacie Developments describing it as a sensitive and iconic site.
Morley described the backing from the pension fund as a vote of confidence in Legacie, and said: "This is the start of an exciting new lending relationship with the Merseyside Pension Fund. The investment will help us bring to life an historic Liverpool landmark – unlocking local jobs, training opportunities and economic growth.
"Having the support of such a prestigious pension fund is a big vote of confidence in our company and the largest funding deal in Legacie's 10-year history. I'm really looking forward to delivering hundreds of much-needed new homes and amenity for the city."
Henry Randolph, Senior Director, CBRE Capital Advisors commented:  "It is a great example of how a local authority pension fund can invest in their own region while maintaining strict risk controls and achieving a commercial return.  With existing schemes like Parliament Square, Legacie has proven they are capable of successfully developing large placemaking schemes to a high standard.  At Heaps Mill, the quality of design, provision of amenity and proximity to the best areas of the city will help to make this an attractive scheme for residents.".
Chairman of the Merseyside Pension Fund's Committee, Councillor Pat Cleary, added: "Despite Liverpool being an increasingly attractive city to live and work in, housing completions have remained a fraction of their pre-financial crisis levels, especially for quality schemes with strong environmental credentials, such as Heaps Mill. As well as helping to alleviate the housing crisis in Liverpool, the units will be far more environmentally friendly than existing stock, utilising air-source heat pumps, MVHR systems and retaining the historic Heaps Mill building fabric in the redevelopment."
Hill Dickinson advised Legacie Developments on the deal and CBRE is a retained advisor to Merseyside Pension Fund.