Stockport pop stars Blossoms invest in home town boom as Town of Culture title lands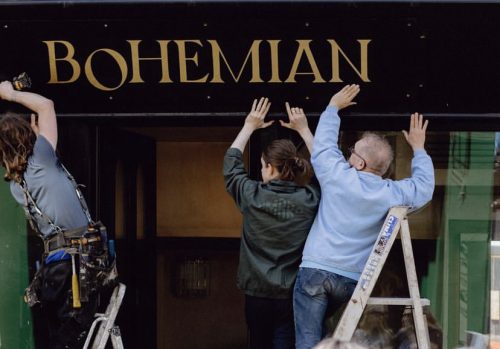 Tom Ogden, lead singer and musician with Stockport's Mercury Prize nominees Blossoms is opening a new bar just off Underbanks in the Old Town.
He shared pictures on his Instagram of the sign going up at Bohemian and bookings are being taken for an opening on Saturday (27 May 2023).
Bohemian Arts Club is located on the cobbled back streets of Cooper's Brow in Stockport's Underbanks has been created and designed by Katie and Tom Ogden. 
"Inspired by their love of speakeasies around the world, it's a place where the spirit of bohemian culture thrives, offering a unique and captivating experience," says the blurb.
Other Blossoms band members and their families have also invested in businesses in the town, including Top of the Town Vintage opposite the Bohemian salon and club.
The band were also on hand at a ceremony this week at Stockport's Hat Museum as Mayor of Greater Manchester Andy Burnham awarded the title of Greater Manchester's Town of Culture for 2023, to Stockport securing £50,000 to support arts and creativity in the borough.
In recent years Stockport has been widely celebrated as an emerging hub of creative activity in Greater Manchester, and last year was dubbed the 'new Berlin' by DJ Luke Unabomber.
The town's bid was centred around the One Stockport vision to support the local economy, connect communities and promote health and wellbeing. It will be underpinned by four elements that celebrate arts and creativity in the broadest sense, as well as the town's diverse cultural heritage: Stockport Makes, Stockport Moves, Stockport Sounds and Stockport Tastes.
Stockport's year as Town of Culture coincides with a number of major public redevelopments and investment in the town, including the Town Centre West regeneration, the refurbishment of the iconic Hat Works museum, cutting edge digital arts opportunities to be opened up through the £2.6m Stockport Creative Campus Cultural Fund, and the development of the £14m Future High Street Stockroom discovery centre.
Mayor of Greater Manchester Andy Burnham said: "It's a real pleasure to be able to announce Stockport as our third ever Town of Culture for 2023. The town put forward a strong case for the accolade, backed up by some really exciting plans for events and activities that celebrate Stockport's identity, its history, but also shine a spotlight on everything that's happening right now.
"I think the fact that we've got Blossoms coming out to support us today just goes to show the talent that is coming out of this place and the pride they have in their hometown. I'm pleased to see so many cultural organisations and community groups already engaging with the Town of Culture project, because they're the ones that will really bring this together. There's a real buzz about the place at the moment – the regeneration taking place through the Mayoral Development Corporation is transforming the town centre, and now this recognition and the funding that comes with it will help Stockport capitalise on all of that."
The borough boasts a rich cultural history. It's home to Strawberry Studios, which was co-founded in 1968 by Eric Stewart – later of 10cc – and saw artists including Joy Division, The Smiths, The Stone Roses, and Paul McCartney record there. It's also the birthplace of leading lights including broadcaster Dame Joan Bakewell, a host of film and TV actors such as Claire Foy, Sally Lindsay and Sacha Dhawan, and Wayne McGregor CBE, currently Resident Choreographer at The Royal Ballet.
None of them, as far as TheBusinessDesk.com is aware, has invested in a speakeasy bar in Stockport.
Stockport's Town of Culture Programme will be announced throughout the year as the programme is developed with residents, local artists, creative businesses and partners.