Gone Dining: Thom Hetherington at the Edinburgh Castle
The Edinburgh Castle, Blossom St, Manchester, M4 5AN
"I remember once in here", my dad recalled, "a colleague came back from the toilets and said to the landlord, 'Excuse me, it's pitch black in there, and someone just urinated down the back of my leg.'" He grinned at the memory. We're in the Edinburgh Castle pub, which was a den of iniquity for journalists back in the 1970s, a time when there was still a 'Fleet Street of the North' and he was still a Sub Editor on various nationals. Times have changed for all concerned.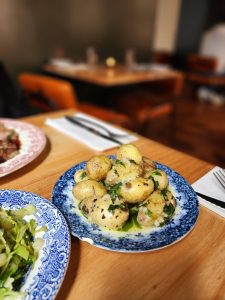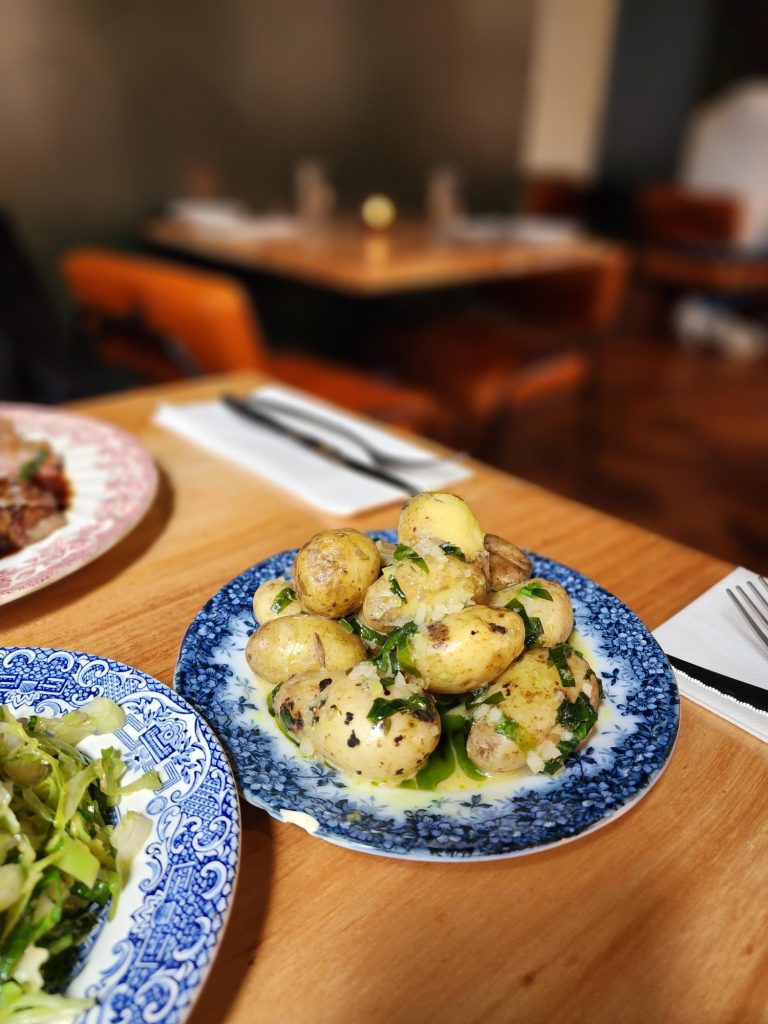 The Edinburgh Castle, nestled in the heart of Ancoats, is now gloriously revitalised, burnished and buffed. It was rescued by architects Nick and Hayley Muir, whose foray into hospitality began with Cottonopolis in the Northern Quarter. The pub's interior previously displayed all the charm of a burnt out fuse box, but is now beautifully lit, warmly textured, and coloured with woody oranges and browns. Sat within, one feels like a primeval insect preserved in amber. 
Since reopening in 2019, with a kitchen briefly run by Julian Pizer, now at the excellent Another Hand, the Edinburgh Castle had rather lost its way. Enter Shaun Moffat, from South Africa by way of London. Although the name was new to me the notches on his cheffing CV were not: Berber & Q, The Conduit members club, the fabulous Manteca. These were places built around the right kind of values, standards and passions. Curiosity was piqued, hopes raised.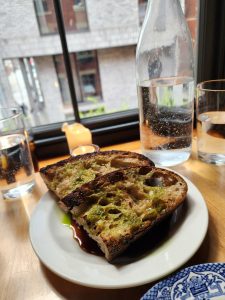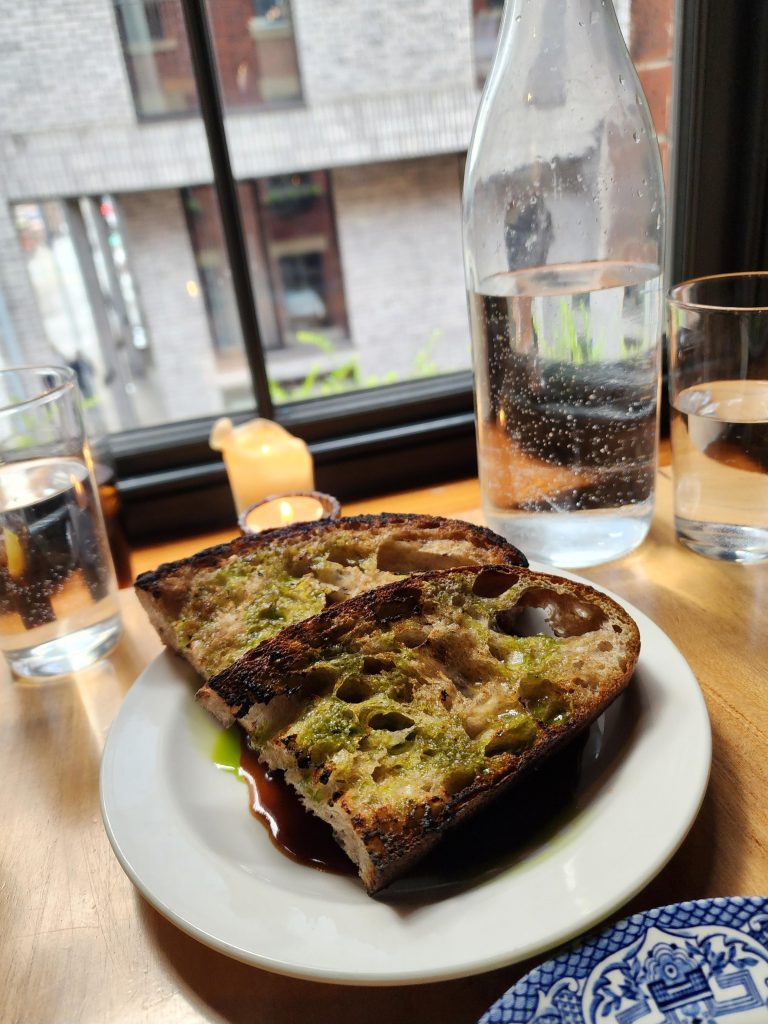 My dad and I were there to celebrate his retirement from the business he founded, post-journalism, over 30 years ago. Self-taught and tenacious, he built Hetherington Newman up into a period architectural joinery business of international repute, with clients including royalty, titans of business and, of course, footballers. His approach was based around simplicity, brilliance and elegance, so he nodded approvingly at a seasonal menu which was undeniably short, but confidently so.
It was a bingo card of artisan suppliers to thrill those napkin sniffers amongst us: Pollen for the bread; Cinderwood and Organic North for the veg; fish from Henderson's in Brixham. Our nostrils flared in anticipation. We started with crab doughnuts, crisped balls of dough topped with gossamer threads of the freshest crustacea, and Cherry Belle radishes (an unannounced freebie), as crunchy and red as cartoon apples, dragged through wild garlic mayo.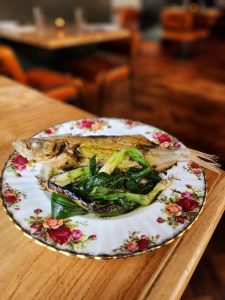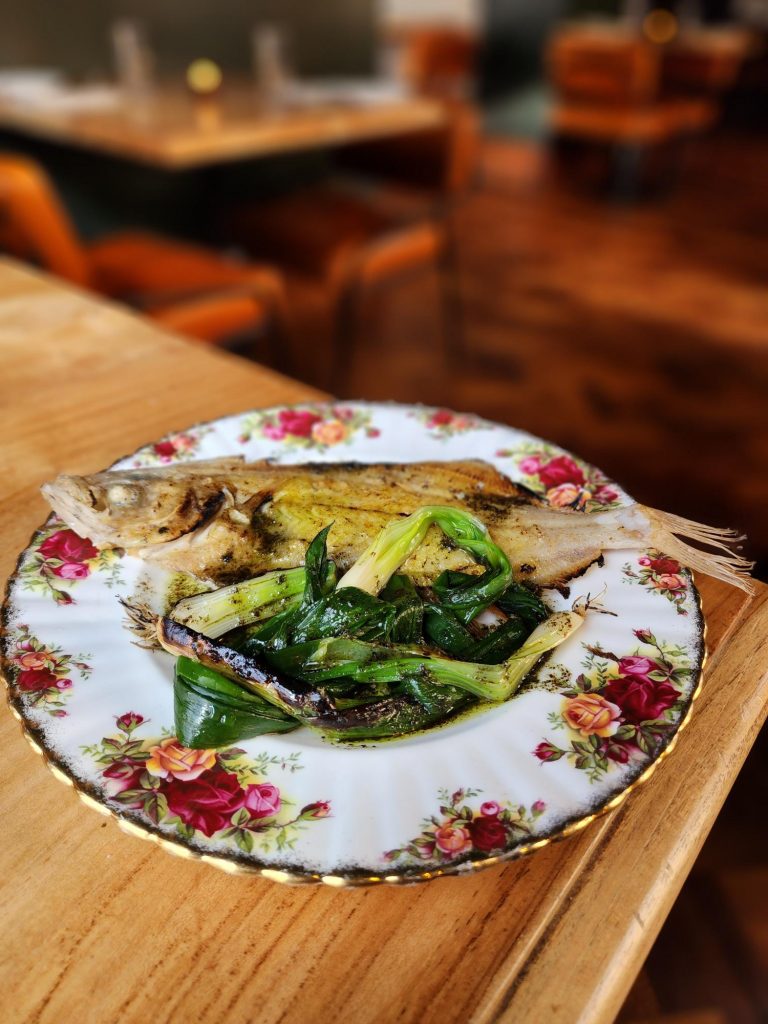 Round two was a megrim sole with scorched Cinderwood spring onions, a dish which rocked us back in our chairs like punch-drunk boxers attempting to slip a ramrod jab. "I think… that is the best sole I've ever had", muttered my dad. It was firm and pearlescent, and although not as delicate as a Dover it reminded us that sole is an actual flavour, a little stronger and sweeter than anonymous 'white fish', not merely a generic texture to mop up a buttery sauce.
Next up an outstanding loin chop of James Hall's rose veal, and a memorable Ryeland's lamb saddle chop served with a slump of aubergine sweetened with long-cooked onions. Each came with a rich jus just begging to have a finger run through it – as satisfying as touching the surface next to a 'wet paint' sign. A bowl of Jersey Royals made an argument for terroir as loudly as any Burgundian winemaker; whilst New Farm spring greens supplied crunch and chlorophyll.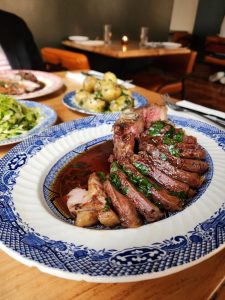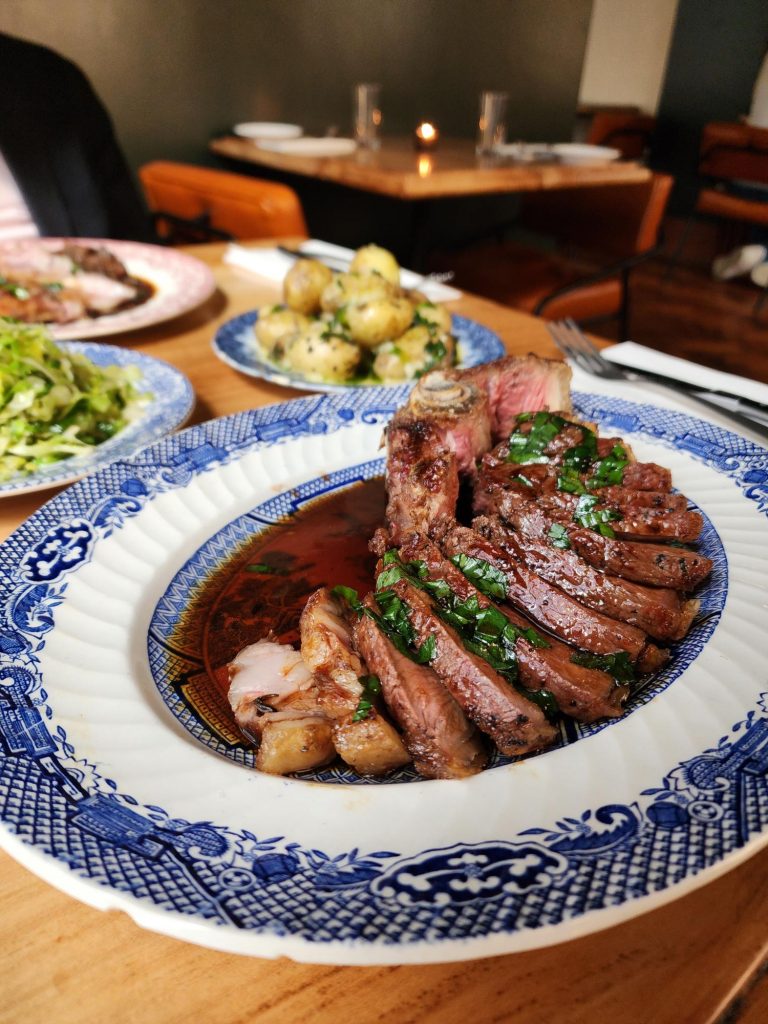 But also, unexpectedly, a clock-stopping 'trencher' of stale Pollen sourdough, griddled and anointed with the dripping and resting juices from the aforementioned chops, and served as an unannounced accoutrement to the meat itself. The mere spoken description took our breath away, which handily loosened our waistbands before we troughed the sodden but still crispy bread in a manner which would have shamed pelicans.
And finally, desserts. For me, a sizable slab of Pollen bread and butter pudding, jutting above what turned out to be a dreamily slurpable crème anglaise. It was surprisingly light, and the scorched edges of the bread added deeply caramelised notes. I'd previously believed that, outside of soldering, blowtorches should be used in very few situations: A crème brulee; maybe the skin of an oily fish; perhaps Joe Pesci's head. BBP is now added to that select list. 
We splashed out on a 2018 Père & Fils Chassagne Montrachet, lightly marked up at £87, but reds, whites and rosés started at an accessible £24 on this short, well-balanced and diverting list. At this point I realised that the selection had, until recently, been limited but a little uninspiring, so this demonstrated pleasing kaizen on the part of the team. (Though the first world perfectionist in me would like more refined stemware to match.) 
A second observation struck, the old one-two: Every single ingredient on the menu was British. Acidity came from cider vinegar for example, not lemon juice, and preserved wild garlic flowers and buds will be used in place of capers. Shaun is clearly a thoughtful, intelligent chef who wears his philosophy lightly and cooks beautifully. Salford has The Black Friar, and now Manchester city centre may finally have the elite gastropub it has long craved.
My dad has no intention of easing off in his retirement, planning to teach himself drystone walling, and to take up design projects for private clients and heritage architects. Fittingly, as we clinked glasses in a final toast of the night, I sensed the Edinburgh Castle is of similar mindset – simple, brilliant and elegant, it's a gastropub with no intention of standing still.
Petit Fours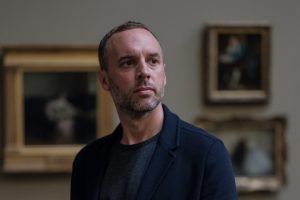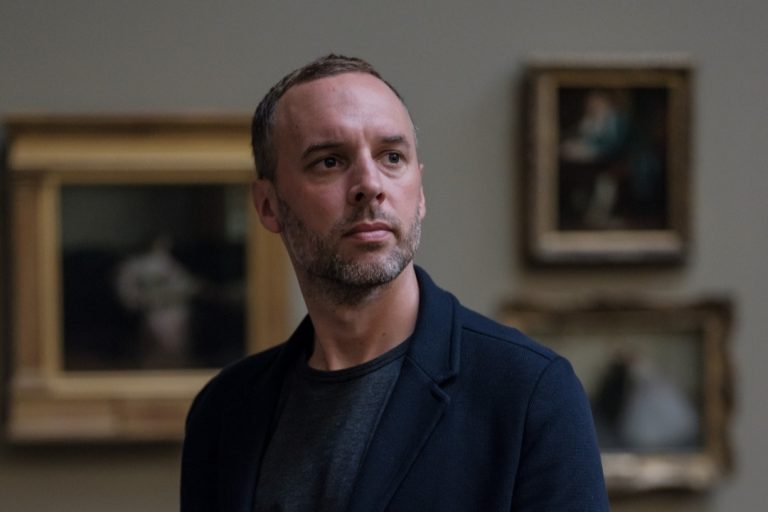 Thom Hetherington: 
twitter @thomhetheringto
instagram @thomhetherington

TheBusinessDesk.com Wine Club, in partnership with Barrique Wines, pairs exclusive offers with enjoyable networking events – next up are Birmingham on June 14 then Leeds on June 28.