Football's fragile finances under the spotlight as play off weekend approaches

The high stakes English Football League play off finals this weekend highlight the precarious nature of the football business in the North West.
Far away from the £5billion takeover of Manchester United and the riches of Manchester City, the two clubs from opposite ends of the North West contesting the League Two final at Wembley, Stockport County and Carlisle United, have also experienced their fair share of financial and footballing trauma over recent seasons.
County, now owned and backed by Select Property and Vita chairman Mark Stott, plunged to National League North in 2013 where they spent six seasons. 
It followed a painful period where rugby club Sale Sharks shared their Edgeley Park stadium, when both were owned by double-glazing tycoon Brian Kennedy. A situation that proved disastrous as County slipped out of the Football League.
Carlisle were owned for a decade by the maverick ball-juggling property developer Michael Knighton, once unveiled in 1989 as a Manchester United purchaser. Local housebuilder Fred Story owned it for a while, and the club is now controlled by local businessmen John Nixon, Andrew Jenkins and Steven Pattison. They have been subjected to the now almost obligatory long running ownership saga where Edinburgh Woollen Mills nearly bought the club before themselves collapsing into administration after the pandemic.
Compared to the leap between Championship and Premier League, a promotion for League Two clubs isn't massive, clubs are believed to pocket around £900,000 per season, and that could go up to £1.3 million or more after earning their promotion bonus of around £400,000.
To put that in context, in their National League winning season County's revenue was £4.8m, the losses £4.9m.
But Stockport's Stott isn't in it for a quick turn, his seven year mission at the start of his journey in 2020 is to get the club up to Championship level with a 20,000 seater stadium, incrementally redeveloped at its present site, with strong links to the community and to be part of the Stockport re-invention story.
Ken Knott, County's non-executive chairman, said last year: "With our ambition to play Championship football once again, we've got a real opportunity to invest in the stadium and create not just the sporting facilities we need, but to create a ripple effect reaching further into Stockport itself, boosting the town and its economy.
"We know promotion to the Championship will take some time and delivering the emerging plans will also take time; by proposing to deliver new stands in phases, culminating in a final capacity of approximately 20,000 seats, we can reduce the impact on the Club and our neighbours, while still playing at home."
Stott nearly bought Macclesfield Town before it went bust, but was persuaded to buy County by his close friend and former football star Matt Jansen, now head of recruitment at Edgeley Park.
But even at the level to which County and presumably Carlisle United would reasonably aspire, financial stability and sustainability isn't a guarantee. 
Around the EFL clubs in the North West the common financial pressure is competing with relegated Premier League clubs enjoying parachute payments, or wealthy owners prepared to take a financial hit and fund a loss making business. Or in the case of Burnley, Championship winners in 2023, both. 
Preston North End require regular cash injections from the family of its late owner Trevor Hemmings. Blackburn Rovers have now been supported by their Indian owners Venky's with loans and equity to fund a wage bill in excess of turnover.
League One Fleetwood Town have put a brave face on their plight, claiming all is as normal, despite owner and benefactor Andy Pilley currently on remand, having been convicted of fraud.
Morecambe are supposedly under offer from a 20-year old drinks tycoon from Birmingham. 
Wigan Athletic, owned by Abdulrahman Al Jasmi, relegated to League One this season, will start the 2023/2024 season with a points dedication after failing to pay wages. 
Further sanctions could follow if Al Jasmi has failed to deposit an amount equal to 125% of the club's forecast monthly wage bill in a designated club account this week or if the club fails to pay its players on time between now and the end of June 2024.
Al Jasmi has also been charged by the EFL with misconduct and fined £10,000 for failing to comply with the terms of an agreed decision reached between the EFL and the club in January this year.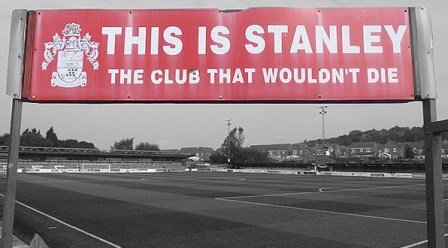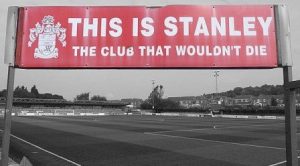 One of the most consistent and straight talking club owners in the North West is Accrington Stanley's Andy Holt who's side were relegated this season for the first time since he took them over in 2015, but he's relaxed about that.
Speaking to the club's YouTube channel, Holt said it's a time to reset.
"Now we are in League Two, we can reset everything, and we are doing. The fear of relegation has gone.
"We should define winning," he said. "Winning is not going up like Wigan did, losing £7.5 million, coming down from the Championship and not paying the players' wages.
"That is not winning. We're avoiding that, we want to keep a sustainable club. This is a fantastic club. It does loads in the community. We've got everything going for us. Every club comes to copy us now, and we're Accrington Stanley."