Hurstwood funding buses to new industrial site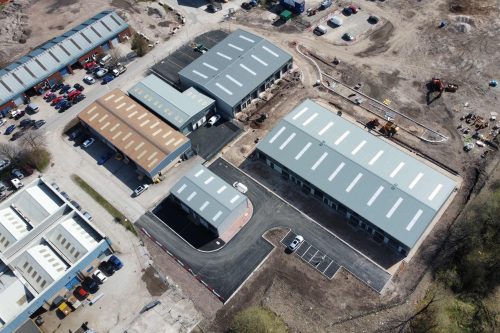 Hurstwood has completed the first phase of its £40 million business park scheme in Lancaster on time with work being undertaken by the Group's in house construction team.
The new scheme will offer floorplates from 1,000 sq ft up to 100,000 sq ft with design and build opportunities also available. As part of the plans, Hurstwood will also be contributing to a new bus service connecting the business park to Lancaster city centre and surrounding areas.
Planning for the 200,000 sq ft scheme was granted in 2021 with work starting at the beginning of last year. The new business park will also see the inclusion of an on-site café, pharmacy, convenience store and a nursery, which are currently under construction.
Comprising three blocks of speculative, high-quality industrial units totalling 34,000 sq ft, the buildings range in size from 1,150 sq ft to 2,900 sq ft with the possibility to accommodate immediate requirements up to 20,000 sq ft.
Hurstwood Holdings acquired Lune Business Park more than 15 years ago and has successfully managed the established scheme since. Lune has proven to be popular with both existing tenants taking additional space and new occupiers relocating to the site. Quoting rental levels for the new units are from £12 per sq ft and £5 per sq ft for the mezzanine levels.
Sam Ashworth, Project Director at Hurstwood Holdings, comments: "The completion of this first phase marks an exciting milestone in this scheme and we look forward to welcoming the first new tenants to the Park. The exceptionally high standard of industrial units that we have created at Lune can accommodate multiple uses and importantly, address the lack of available product in the area.
"The new scheme will continue to be developed on both a speculative and design and build basis offering accommodation up to 100,00 sq ft over the next four years. We are now in the process of planning the second phase, which will start on site the coming months."
Chloe Ellerby, Associate Director at Hurstwood is managing the letting of the units for the scheme with Taylor Weaver and Savills retained as joint letting agents.
Based in Manchester, Hurstwood Holdings is a commercial investment and residential group with over £300m of commercial and residential assets on 150 sites nationwide housing over 1,000 occupier clients.