Manchester 'UK's leading growth city' – CBRE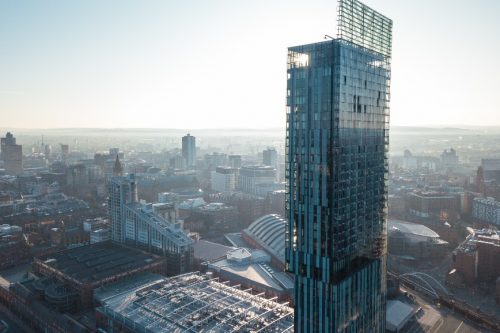 Manchester takes the top spot as the UK's leading growth city across multiple sectors according to a report which looks into growth prospects for a range of real estate sectors across the 50 largest regional towns and cities in the UK.
In CBRE's 'Which City? Which Sector? Real estate prospects over the next decade' report, the city was ranked first in offices, urban logistics and self storage, student accommodation, multi family housing, single family housing and was second only to Oxford and Cambridge in life sciences.
Findings were informed by economic drivers (including GDP, employment and income growth), demographic trends and property market data such as supply pipeline, local universities and housing affordability. The top 10 performing cities and growth sectors were identified.
John Ogden, managing director – North at CBRE, said: "When identifying key growth markets for office real estate, economic and demographic factors are fundamental.  Manchester features top in CBRE's rankings, partly because it is expected to benefit from the strongest GDP growth. The size of the talent pool is another key factor used when forecasting office demand and Manchester is ranked first for growth in working age population and office employment."
Supply factors are also key when considering a market's ability to support future demand.  In the flight to quality office space, CBRE expects pre-letting of development space to continue. 29% of space under construction is already pre-let or under offer in eight of the top ten markets where CBRE tracks pipeline data.
Manchester was also ranked first ahead of Nottingham and Edinburgh in the purpose-built student accommodation (PBSA) sector.
Ogden said: "The success of the UK PBSA sector is intricately linked to the demand for higher education, so it is easy to see how Manchester would rise to the top spot as home to The University of Manchester which is the largest and most applied to university in the UK. The UK PBSA sector is characterised by an imbalance in demand supply and we anticipate this imbalance will remain a feature of the sector as demand for PBSA continues to outstrip the pace of development."
With ongoing growth in online shopping a major driver in the demand for urban logistics space, CBRE identified locations with a high online penetration percentage, access to high-speed internet and a forecasted growth in population by age groups with online spend propensity.  Manchester was ranked number one, ahead of Bristol and Sheffield, with 10.63% growth of 34-49 year olds. Labour availability for future urban logistics facilities was considered with Manchester having large available labour pools which future logistics occupiers could access. Additionally, urbanisation and lifestyle changes are driving self storage demand particularly in cities which are forecast to experience strong GDP and disposable income growth such as Manchester.
Manchester was ranked third in the life sciences sector with Cambridge and Oxford claiming first and second spots respectively.  London, Oxford and Cambridge are widely acknowledged as the traditional epicentres of the UK life sciences sector and have continually evolved.  Despite already being established as hubs for innovation, the future trajectory of both Oxford and Cambridge remains strong.   Manchester has circa 2million square foot of lab space coming online by the end of the decade making it the regional centre of excellence.