Liverpool One challenges retailers' 'open door' policy

Liverpool One aims to slam the door on energy wastage and carbon emissions in a pioneering scheme this winter.
The retail and leisure centre is working with its tenants on proposals to get them to close their doors to reduce heat and energy loss.
Estate director, Iain Finlayson, said most retailers operate with their doors open for customers to walk in and out, meaning expensively-generated heat is constantly lost.
He told TheBusinessDesk.com: "Liverpool One are looking at a raft of environmental initiatives, both our own and those of our tenants.
"One such initiative launching later this year will challenge the 'open door' policy implemented by many retail tenants across the UK.
"This currently results in air-conditioned heat spilling out into our outdoor environment. Keep an eye out for more on this as the impact will be significant."
He acknowledged that one of their biggest tenants, JD Sports, has no doors, but added: "We're working on it with them."
The £1bn estate is celebrating its 15th year since opening to coincide with Liverpool's iconic status as European Capital of Culture 2008.
In the intervening years the centre has grown in popularity and established itself as one of the UK's key retail locations – as well as home to 900 residents.
It attracts 29 million visitors a year, and boasts a 97% occupancy rate, with a 70% retail and 30% leisure ratio, supported by 3,000 car parking spaces.
Its development comprised 36 buildings, by 25 different architects, in an open-air format – one which turned into a blessing for owner, property giant Grosvenor, as the UK emerged from the COVID-19 pandemic.
With no doors, or roofs, it was easier to accommodate visitors and the complicated restrictions governing public gatherings.
In a recent panel discussion on Liverpool's regeneration, Mark Preston, executive trustee and chief executive of Grosvenor, said: "I am proud we didn't deliver a shopping centre in Liverpool with a hermetically sealed roof. We delivered a heart of the city through that approach."
When the initiative was mooted in the late 1990s it drew the same alarmist reaction that Peel's proposals for a plot of land in Dumplington did, earlier that decade, with fears that its Trafford Centre scheme would kill retail in the heart of Manchester.
In the same way, Liverpool One has complemented the existing retail landscape. It sits alongside the city's traditional Church Street and Lord Street shopping thoroughfares, but Iain Finlayson said Church street footfall is now the highest it has ever been.
He also cites the statistic that, pre-Liverpool One, the city languished at 17th in UK retail spend, and is now within the top five.
Shopping habits have also drastically changed since the opening, when Grosvenor boasted John Lewis and Debenhams as its two flagship stores.
Debenhams' demise is well documented and its Liverpool One store closed on May 12, 2021. It is now occupied by leisure giant Gravity MAX, which invested £10m in the refurbishment, and high street icon, Marks & Spencer, which relocated from its Church Street home last month.
Industry sources claim its former Grade II-listed Compton House site will be a new home for a residential development on the upper floors and a major sports retailer on the ground floor.
But, despite a cost-of-living crisis, Mr Finlayson said a new generation of retail brands are beginning to usurp the likes of John Lewis, attracting hordes of shoppers. He said: "We're picking up big market changes in Liverpool, with local designers selling a lot of niche stuff."
These include clothing brands RedRun, and Montirex, which have established themselves as firm favourites with the younger generation, and are rubbing shoulders with established names, like Ted Baker, Swarovski and Ralph Lauren within Liverpool One.
Other retailers attracting huge traffic in a new age of retail are Sweaty Betty, Apple, JD Sports and Zara.
Mr Finlayson revealed: "Queueing time for the till in Zara at the weekend can be up to an hour."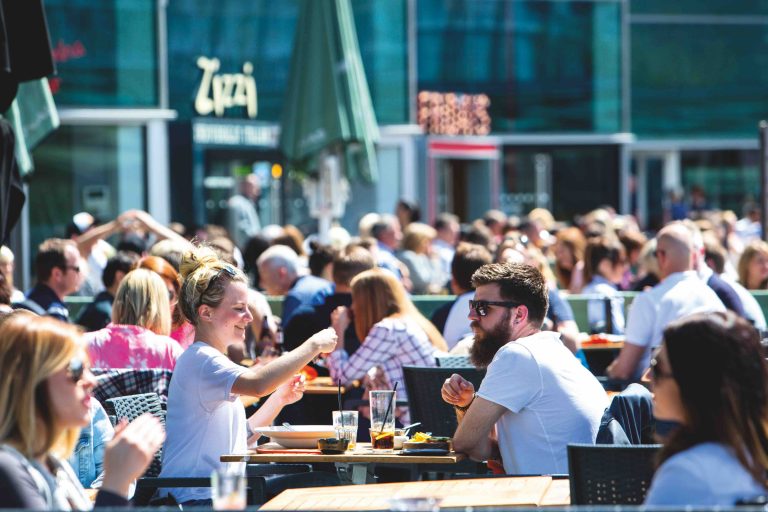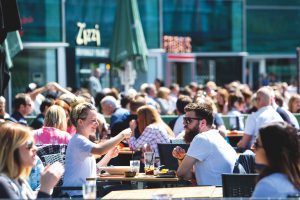 It's a similar picture on Liverpool One's Terrace, home to its dining offer, including operators such as Pizza Express, Nando's Five Guys, Zizzi and Wagamama. Mr Finlayson said: "At weekends they hit capacity by 11:30am, and stay that way throughout the day."
He said all city's claim to have their own culture and USP – but then there's Liverpool: "Liverpool has its own culture – what you wear, what you eat and drink."
He recounted discussing with one formal clothing retailer the micro economy that exists around the annual April Grand National meeting at Aintree, advising them to stock their summer lines much earlier in Liverpool.
"They were skeptical and resisted, but then got their stock in in February, and they smashed it."