Baltic Ventures reveals nine tech game-changers in first start-up accelerator programme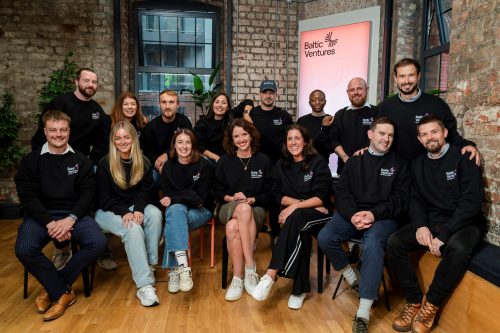 Baltic Ventures, the startup accelerator based in Liverpool, has revealed nine 'game-changing' businesses from across the fintech, AI, edtech, digital health and beauty sectors to be hothoused in their first accelerator programme.

The nine companies will be supported via the accelerator's inaugural 4-month programme through a £50k equity investment, weekly masterclasses and workshops, expert mentorship and access to investors.
The cohort is to be unveiled today (14 September) at Slush'D – Liverpool's largest ever start-up conference with a mission to build a vibrant tech start-up ecosystem in the city with Mayor Steve Rotheram claiming Liverpool can be "the Silicon Valley of the North".
The successful companies were selected from over 200 applications in a highly competitive process that attracted founders from across the UK and beyond. 
The launch of the Baltic Ventures Accelerator 2023 programme underscores the growing momentum behind the vision of Slush'D conference attendees to cultivate a world-class start-up ecosystem in Liverpool.
Over the next five years Baltic Ventures aims to build a flagship national accelerator – a mission backed by a £4.1 million investment from Mayor Steve Rotheram and the Liverpool City Region Combined Authority.
By providing start-ups with unparalleled access to resources, mentorship, and funding, Baltic Ventures aims to foster an environment where ground breaking ideas can flourish and thrive.
Claire Lewis, chief executive of Baltic Ventures told TheBusinessDesk.com that the project is linked to the Liverpool City Region's own industrial strategy and looks to "work with talented people who get it".
The nine start-ups that have secured their place in Baltic Ventures' accelerator program are:
    Financielle – an app that helps women to take back control of their money via a combination of useful tools, engaging content and a supportive community. 

    Hexis – an AI-powered personalised nutrition app, that enhances your performance at sports by tailoring nutrition recommendations to your lifestyle, workouts and goals. 

    Heatio – a cleantech start-up that analyses energy use in your home to enable you to optimise the way you use devices such as heat pumps, electric batteries and solar panels to cut your bills and carbon footprint. 

    Gaia Learning – a global online school that supports neurodiverse children through personalised education, which parents and educators can monitor via a dashboard that provides insights into a child's learning experience. The model leads to reduced anxiety, more personalised learning, and better overall learner experience. 

    Birl – with 75% of used clothes sent to landfill, this platform aims to tackle the environmental impact of the fashion industry by allowing customers to trade in used clothing for credit on their favourite brand's websites – in turn reducing waste and promoting a circular economy – 

    IttyBit – an API that simplifies the handling of rich media in applications, providing developers with easy ways to upload, store, transform, and extract data from video, audio, and image files, while ensuring compatibility across different formats and browsers. 

    Cubode – a platform that aims to make coding more accessible than the current no-code and generative AI solutions on offer by enabling users to accurately fine-tune code through a combination of no-code, AI, and data analytics. 

    February –  a platform that uses AI to read and understand tickets in a product development backlog, convert them into accurately coded features, and then safely deploy the changes.

    Yuty – an AI-powered platform that enables brands and retailers the ability to offer customers hyper-personalised product recommendations that drive engagement and build customer loyalty. 
Claire Lewis said: "The strength of applications for Baltic Ventures' first cohort has been impressive. It has been so exciting to see the quality of founder talent attracted to our Liverpool based programme and the businesses of tomorrow they are building. The team and I are looking forward to working with this ambitious cohort over the coming months to help them optimise their success."
Steve Rotheram, Mayor of Liverpool City Region, said: "SMEs account for 99% of all businesses in the Liverpool City Region – and I want to put them in the best position to succeed.
"I launched the Baltic Ventures programme with more than £4m of funding to do just that by unlocking the potential of early-stage companies and backing them with the equity and mentoring they need to succeed.
"The launch of Baltic Ventures first accelerator cohort today, and the arrival of Slush'D in the Liverpool City Region are just the beginning of my ambitions. There's no reason our area shouldn't one day be able to stake its claim as a Silicon Valley of the North – and attract the many thousands of jobs and training opportunities it will create in a key industry of the future. If anywhere is capable of it, it's the Liverpool City Region."
Mo Aldalou, programme director, pointed to the diversity of the cohort and said the lonely and challenging journey would not be without its pitfalls. However, he said the network of peers, coaches, mentors, investors and later-stage founders can be "transformational" to a company's prospects. "That is what this accelerator offers and I can't wait to see the impact."
Jonny Clark, Director of Liverpool Slush'D, described the cohort as "breathtaking" and "impressive" and said "we are laying foundations that will drive innovation, economic growth, and jobs for years to come."
Liverpool Slush'D, being held in the city's Baltic Triangle, marks the UK debut of Europe's foremost tech conference, Slush. Founded in Helsinki 15 years ago as a grassroots meetup for early-stage tech founders, Slush has evolved into a prestigious tech conference renowned for attracting the biggest names in the start-up and investment community. 
The conference aims to secure economic benefits for the region, providing start-ups with funding opportunities and access to a network of expert mentors.