What chance for proposed Everton FC takeover succeeding?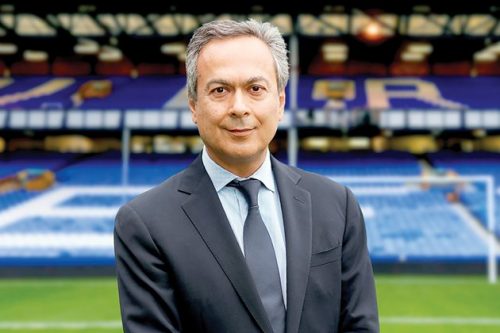 Everton FC owner, Farhad Moshiri, announced a deal to sell the club to Miami investment outfit 777 Partners today (September 15).
But how straightforward is a sale process?
Doubts have already been raised over 777's ability to afford a full takeover – Moshiri is understood to be seeking £500m for his shareholding, while the club has debts of around £225m, and millions more pounds will be needed to complete the new stadium – but there are also regulatory hurdles to clear.
The Premier League's 'fit and proper owner's' test is one, as well as scrutiny by the Football Association and the Financial Conduct Authority.
Everton also has to appear before a Premier League inquiry on October 25, regarding Financial Fair Play allegations, which the club strenuously denies.
Josh Wander, 777 co-founder, has a colourful history, with three arrests between 2003 and 2018, although only the first of these resulted in charges, and a history of court hearings into unpaid debts.
Finance specialist, Paul Quinn, a regular contributor to Everton podcasts, is sceptical the deal will conclude.
He said: "My understanding is that little or no cash will change hands initially and that the final price paid for Farhad Moshiri's shares will be subject to several conditions including the result of the Premier League's independent commission enquiry and Everton's performance on the pitch, including survival in the Premier League in season 2023/24.
"All of this is subject to the conditions within the statement and further conditions not in the public domain."
He said: "Clearly, regulatory approval is an issue known to all, and has been the subject of much speculation in the media and elsewhere. Despite winning regulatory approval in several European Leagues, will 777 Partners, collectively and individually meet the more stringent 'fit and proper owners' test applied by the Premier League?
"Questions remain as to Josh Wander's previous – but now spent – conviction and as to the financial resources 777 have to (i) meet their obligations to Farhad Moshiri and (ii) the very significant future capital requirements of Everton Football Club.
"Whilst requiring approval from the Football Association and Premier League is self evident, the FCA were added by clubs as a necessary regulatory authority in March of this year."
He also highlights the influence that current Everton investors, MSP Sport Capital and Rights and Media Funding, may have on any deal.
"As was seen just recently, Rights and Media Funding had the authority and right to block MSP's partial ownership of Everton through rejecting the 25% ownership stake offered to MSP. For 777 Partners' acquisition of Everton, they would require the approval of not only Rights and Media Funding but also now, MSP – lenders to the Everton Stadium Development Company. I can say with some certainty that that approval is not a given.
"In the event of not getting the approval of both creditors, the deal fails, or the creditors need to be re-paid.
"That would require 777 partners to find in the region of £350m to repay Everton's main creditors. Is that possible? There's nothing to suggest on top of the price of Moshiri's equity, 777 partners have access to that level of funding."
In addition to this, Everton still requires further working capital to meet its operating costs and future financial commitments to Laing O'Rourke, construction partner of its new ground currently being built at Bramley-Moore Dock, and which has spiralled in cost from £500m to £760m..
Additionally, the club continues to have negative cash flow and without additional capital or funding cannot meet its future obligations, said Mr Quinn.
He concluded: "I can see the potential attractions of the announcement today to both Farhad Moshiri and 777 Partners.
"For Moshiri, if concluded, it would end what has become a nightmare association for all parties, huge losses for him and the near destruction of a proud football club. For 777 Partners it promotes the image of a successful multi-club model, still in its acquisition and growth stages.
"The reality, in my opinion is far from this. The club clearly needs new ownership both for financial reasons and for leadership, direction and, frankly, its surivival prospects.
"The city of Liverpool needs a successful Everton Football Club, it needs the successful completion of the Everton stadium at Bramley-Moore, not only for the cash spend during construction but as a catalyst for economic redevelopment and growth in North Liverpool and beyond."
He said: "There is nothing to suggest that 777 Partners are the solution to Everton's ownership or financial difficulties.
"I don't believe they will overcome the regulatory and other hurdles to acquire the club. That leaves Everton facing a hugely uncertain future.
"Without a committed owner – Moshiri has shown his hand to that effect – and without immediate cash injections the existential threat Moshiri spoke of, perhaps his only accurate statement in seven years, is very real."
He said he sees 777 as an unnecessary distraction in the club's fight for survival and that Moshiri, the board, and fans, have to recognise that and focus on short term survival and long term solutions including the right owners, adding a warning that, otherwise, Everton "will become a large footnote in history".
Henry Winter, chief football writer for The Times, has also called for any deal to undergo proper scrutiny.
In a post on X, formerly Twitter, he said: "777 or 999? Moshiri says new #EFC owners are "right fit" for club. @premierleague need to clear 777 via OADT, check background and resources. Proper communication with fans, please. 777 may well be fine but, generally for good of the game, the regulator can't start soon enough."
The Everton FC Shareholders Association also expressed its concerns, again on X, saying: "We note the intention of the largest shareholder Farhad Moshiri to sell his shares to 777 Partners.
"Receiving only a few minutes warning of this proposed change of ownership is disappointing and yet again, the poor timing of club announcements before important games is baffling."
Everton face high-flying Arsenal at Goodison Park this Sunday.