£45m loan enables Canadian property firm's entry into North West market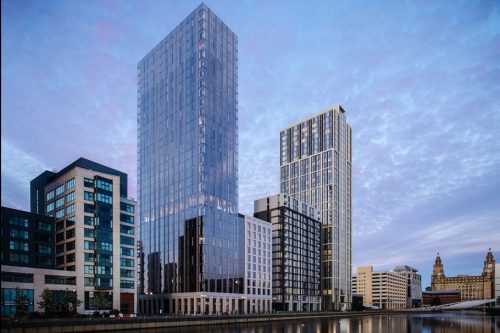 A property firm targeting a build to rent (BTR) scheme on Liverpool's Princes Dock, has received a £45m loan.
Maslow Capital is supporting Starlight Investments, a global real estate investment and asset management firm.
The scheme, part of the wider £5.5bn Liverpool Waters regeneration project, will see the construction of 278 high quality residential units, ranging from studios to three-bedroom apartments. Peel L&P is behind the Patagonia Place development.
The BTR scheme is set to be acquired by a Starlight-led institutional partnership as part of a forward purchase agreement.
The purchase along with two other projects in Manchester and Ashford, represents a pivotal element of Starlight's long term UK strategy, which aims to target BTR projects across major UK cities and London commuter belt markets, with an initial goal of acquiring approximately £600m-worth of assets.
Starlight Investments, a Canadian firm, owns and manages an expansive portfolio of $28bn Candian Dollar assets under management (AUM) across North America, with more than 66,000 multi-family residential units and in excess of nine million sq ft of commercial property.
The completion of this £45m financing package from Maslow will help facilitate its entry into the UK's BTR market.
This endeavour is further bolstered by the extensive local expertise of Maslow which has supported the development of more than £5.1bn of real estate projects, helping to deliver in excess of 17,000 units, including a significant number of landmark residential developments in the North West.
Positioned within the ambitious Liverpool Waters regeneration area, the waterfront location of Starlight Investment's 31-storey BTR scheme is set to deliver significant value to its residents.
The project encompasses a versatile range of units, from modern studios to expansive three-bedroom apartments. The ground floor will be dedicated for commercial and leisure use, catering to the evolving demands of urban professionals.
The inclusion of a residents' amenity space and a roof terrace overlooking the Mersey River demonstrates a forward thinking approach to modern living, ensuring high living standards for its residents.
James Henry, director, deal origination at Maslow Capital, said: "Our partnership with Starlight Investments stems from a shared ambition to alleviate the UK's structural undersupply of housing and Maslow's continued commitment to funding high quality living sector assets.
"We are delighted to support another top-tier institutional partner on an exceptional project that will help address Liverpool's housing needs. Furthermore, this project marks one of the first steps of Starlight Investments' ambitious plan to harness its vast scale and North American expertise to significantly contribute to the UK's housing supply."
Daniel Drimmer, founder and CEO at Starlight Investments, said: "Our venture into the UK's dynamic build to rent market, commencing with this landmark project at Princes Dock, Liverpool, signifies a strategic expansion backed by our robust North American portfolio.
"Securing support from a trusted partner like Maslow is a testament to the alignment between our shared goals. The £45m financing not only accelerates our initial expansion into the UK housing market but also strengthens our commitment to addressing the pressing housing needs in the region.
"This collaboration with Maslow is central to our long term vision in the region and represents an important step in the delivery of our UK BTR strategy. We look forward to the positive impact this relationship will have on the UK's residential housing market in the coming years."