Manchester developer hit with £4m legal claim by project partner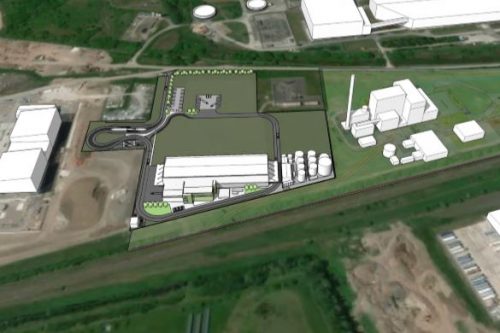 A Manchester developments firm, which numbers former England and Lancashire cricketer, Andrew 'Freddie' Flintoff, among its directors, is being sued for £4m by one of its development partners.
EQTEC, an Irish-based bioscience energy company, has issued proceedings against Logik Developments over a waste processing facility project in Deeside, next to a Toyota engine plant.
It has accused Logik of "going it alone" and refusing to cooperate.
EQTEC is a co-developer and gasification technology provider of the project and was working in partnership with Logik Developments.
The action is to recover payments made by EQTEC to Logik, or on its behalf, relating to the project.
It said it has made numerous attempts to engage with Logik, since January this year to discuss a resolution, but claims in response to every invitation, Logik either rejected the offer or failed to follow through on its agreements to meet with the group.
And it alleges that Logik has entered into an agreement to sell the Deeside site, without the involvement of EQTEC or the approval of stakeholders.
David Palumbo, CEO of EQTEC, said: "We have consistently reiterated our dedication to the Deeside Project and to Toyota, whose strategic ambitions for carbon-neutrality have required timely progress by us and our partners.
"It has been frustrating to have to direct our energies this year toward resolution of issues with Logik, rather than toward further progressing the Project.
"It is also disappointing to find ourselves in a position where we are forced to take legal action against one of our partners for attempting to go it alone whilst ignoring our common commitments to the Project.
"The company has consistently supported the Project and our partners by amending agreements to adapt to evolving commercial realities, and we have made investment after investment to keep the Project moving forward.
"This was in the interest of developing the site for Toyota and for Flintshire with the goal of demonstrating EQTEC's advanced syngas technology for an industrial client."
He added: "Logik's unwillingness since the start of the year to engage in discussions with us has jeopardised the Project and leaves us with no choice now but to protect the company from bearing the cost of Logik's actions."
A statement from Logik Developments said: "At present, no such claim has been served on either Logik Developments Limited or Logik WTE Limited and we cannot, therefore, comment on the precise nature of EQTEC's claim.
"It is correct that we have been in discussions with EQTEC in recent months about their alleged claims and such discussions have been conducted through legal channels via our respective solicitors.
"We note from EQTEC's announcement that the total amount claimed is circa £4m. This is surprising to us given that all pre-action correspondence to date has been limited in value to claims amounting to circa £2.9m. It therefore appears that EQTEC have acted prematurely in issuing Court proceedings against Logik in circumstances where they have not provided any details about the balance of their alleged claim (totaling £1.1m) as they are specifically required to do as part of any legal process before Court proceedings are issued."
The statement added: "We refute EQTEC's allegations entirely and in the event that any claim is served on Logik, this will be defended to the fullest extent.
"We also note that EQTEC claim that they have made numerous attempts to engage with us towards a resolution of these matters more recently through legal counsel. EQTEC also claim that we have rejected invitations to work through the issues constructively or failed to follow through on an agreement to meet with them.
"This is, quite simply, incorrect and as part of the recent correspondence passing between our respective solicitors, it was actually us who offered to meet with EQTEC's representatives to try and engage in commercial discussions with them in an attempt to resolve matters; however no response at all has been received from EQTEC or their solicitors to this offer of a meeting and that was where matters stood prior to EQTEC's recent announcement that it has issued a claim against Logik.
"In the event that EQTEC consider that they have a claim against Logik for any alleged breach of the SPA or the Deeside Project, then that is a matter for them and this will present them with a damages claim; however, as explained, we refute EQTEC's allegations entirely and consider that there is no legal basis to their claims. We will have no hesitation in defending our position through the Courts if that is what is ultimately required."
A former international cricketer for Lancashire and England, Flintoff is a director of the business and is described on the Logik website as having "a deep understanding of the property industry."
It goes on to say: "Although enjoying a busy career in media, Andrew remains involved in Logik's business on a day to day basis, with a particular focus on relations with our funding partners and other institutional and high net worth investors."