Property round-up: Legacie; Capital&Centric; FIREM; Hexagon Tower; Armtrong Watson; Butcher & Barlow; GMPM; Annie Kenney Mill

Developers Nexus Residential and Legacie Developments have reached practical completion on their £45m Liverpool eco-development, with the apartments now fully occupied by students.
Element – The Quarter, on Low Hill, just north of the city centre, boasts a range of sophisticated eco-friendly features and low-carbon technologies, including solar panels, e-car charging points, air-source heat pumps, rainwater recycling system and a smart system to reduce electricity consumption within apartments.
A joint venture between Nexus Residential and Legacie Developments, earlier this year they announced a commitment to plant almost 50,000 trees in the Amazon Rainforest as part of their work to help build a sustainable future in the construction industry.
Investment house, RWinvest, which specialises in buy-to-let investments on prominent residential developments, has led the international sales drive on the project comprising 316 residential apartments plus purpose-built accommodation for 141 students and commercial units.
John Morley, CEO of Legacie Developments, said: "It is another landmark moment to be handing over keys to residents at Element – The Quarter, a first-class development with state-of-the-art facilities.
"The site was an eyesore before we took over and had sat derelict for many years. However, it is now an eco-development Liverpool can champion, and underlines our commitment to a sustainable future within the construction and development industry."
Michael Gledhill, managing director of Nexus Residential, said: "This is another scheme which further demonstrates our commitment to Liverpool's ongoing regeneration, successfully delivering another landmark development with eco-friendly features at its heart. Our partnership with Legacie Developments continues to create new homes and thousands of jobs, as well as bringing in ongoing revenue streams."
::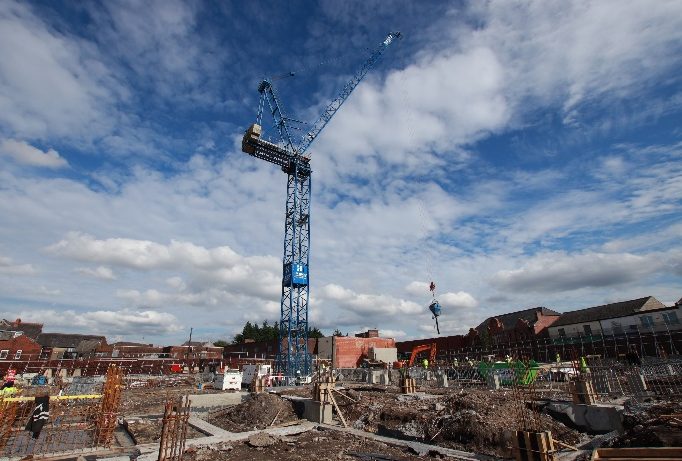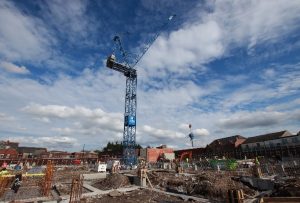 A tower crane has appeared on the Bolton skyline as Capital&Centric's project to reboot Farnworth's town centre hits a key milestone.
Work is under way to take down the outdated precinct and deliver Farnworth Green, a new town centre neighbourhood featuring an eclectic mix of family homes, independent retailers, café bars and green outdoor hangout spaces.
With remediation of the sprawling site now complete, the concrete frame for the main buildings is starting to rise out the ground with a tower crane in place to aid construction.
Once complete, the social impact developer's £24m Farnworth Green will feature 97 rental homes with a design edge, including a mix of one- and two-bed apartments, as well as contemporary two- and three-bed family townhouses.
Work on the scheme – backed in part by the Government's Future High Street Fund, the Greater Manchester Combined Authority's Brownfield Housing Fund and Bolton Council's District Centres Fund – started last December. Since then, many of the tired, original buildings have been dismantled, with contractors Vermont Construction appointed for the build.
Tim Heatley, Capital&Centric co-founder, said: "The scale of change has been rapid over the last six months in Farnworth, the precinct is looking unrecognisable from this time last year. The coming months will see tonnes of activity on site. The skeleton of the new neighbourhood will start to take shape and, for the first time, visitors will get a real feel for what the next chapter for Farnworth has in store.
"The progress is a testament to what can happen when the private sector works with ambitious, proactive public sector partners like in Bolton and Greater Manchester."
As well as homes, the neighbourhood will also boast a roof terrace and lounge for residents, co-working spaces, 20,000 sq ft of commercial space for independent businesses and a ground floor community hub.
Bolton Council's deputy leader, Cllr Akhtar Zaman, said: "Farnworth Green is a perfect example of what our regeneration agenda is achieving right across the borough. By partnering with a developer with an outstanding reputation, we are transforming an under-used brownfield site into a vibrant, modern, and exciting new neighbourhood."
Farnworth is one of several town centre reboots that Capital&Centric is delivering. Plans are in the works to transform Wigan's former civic centre into creative new workspaces, while the overhaul of Weir Mill in Stockport is powering ahead.
::
FI Real Estate Management (FIREM), the Chorley-based developer behind the £25m Winnington Business Park, has unveiled new retail space, complementing the growing commercial hub where occupiers have committed to take more than 60% of the industrial space.
Enquiries are now being taken for the retail space, which comprises three new glazed-fronted retail units sized at 6,200, 3,412 and 1,722 sq ft, with optional flexibility to be split across four units depending on occupier requirements.
Complete with 60 customer car parking spaces, the new retail outlet is strategically placed between the 1,200-property Winnington Urban Village and Winnington Business Park, which FIREM launched in January this year.
As space continues to be taken during the course of this year, the 126,958 sq ft Winnington Business Park offers eight blocks of high quality start-up, warehousing, manufacturing and trade spaces with individual units ranging in size from 821 to 6,858 sq ft.
Winnington Business Park offers shorter-term lease arrangements from 12 months that recognises the ever-changing demand for growing businesses and those that need short-term storage.
The units provide a blank canvas, being finished to a shell specification, with a range of bespoke fit-out and supplementary services and installations to be explored, including mezzanine installations, internet services and signage installations suited to business needs.
The new development is prominently located on Winnington Avenue, next to continued residential development, and provides good connectivity being a short distance from the M6 and M56 motorways. Dedicated on-site parking, EV charging and bike storage are all available.
FIREM founder and MD, Tim Knowles, said: "Since launching Winnington Business Park in January this year we've had an incredible response from businesses of all shapes and sizes, from local SMEs to start-ups to bigger businesses looking to expand from a prime well-connected base.
"Launching a retail development alongside the industrial and commercial units has always been part of our wider strategy to create a thriving hub alongside the neighbouring Winnington Urban Village. Not only does Winnington Business Park elevate the area and local market, giving businesses more variety, but it is also becoming an important catalyst for the local economy and job market."
::
The landmark Hexagon Tower in Manchester is celebrating its 50th anniversary with the announcement that owner, Pioneer Group, is launching 15,000 sq ft of high quality life science space at the facility for local start-ups and scale-ups.
The 165,000 sq ft 11-storey building has been home to some of the world's most advanced science and technology companies since its completion in 1973, including the likes of FTSE 100-listed pharmaceuticals giant AstraZeneca and Fujifilm, the Japanese conglomerate.
Designed by Richard Seifert, one of Britain's foremost modernist architects, Hexagon Tower has become one of Manchester's premier incubators for growing life science businesses, recognised for its sense of community and collaboration opportunities. The facility, which currently counts companies like Intertek as tenants, is estimated to support more than 300 highly skilled local jobs.
For the past year Pioneer Group has been carrying out an extensive £10m refurbishment of the building to provide much-needed lab space for Manchester's fast-growing science and technology sectors. It will provide CL1/2 labs split across 12 units, meaning the facility will be capable of supporting a range of businesses.
Jeroen Houtzager, Pioneer Group director, said: "Today's milestone demonstrates the strength of our retrofit-first approach, by where we ensure that the carbon emissions related to providing new critical research space are kept to a minimum. As a company, we take pride in providing the places for ground-breaking, world-class discovery to happen, helping to maximise the impact of our partners while minisiming our collective environmental footprint."
::
Cumbrian accountancy and business advisory firm, Armstrong Watson, has brought together its three Carlisle offices, including the firm's main headquarters, to a new purpose-built home.
James Watson House, in the heart of Rosehill, Carlisle, pays homage to the firm's 156-year heritage, having been named after the company's founder, James Watson.
It's a major investment for the long standing firm, which brings together more than 180 colleagues who were based at its three former offices in the city – on two sites in Victoria Place and one at Rosehill. The latter was closed in 2018 to allow work to begin on the site, which formed the basis for the reconstruction to create the new head office.
The 13,600 sq ft building, in Montgomery Way, is easily accessed from the M6 motorway and there is ample parking for visitors. It offers two floors of open-plan offices, a host of 20 meeting rooms, conference facilities, a bistro and social space, spread over three floors. The office also has four electric car charging points and 89 solar panels on the roof which produce the majority of the power needed and will have a major effect on the firm's net zero strategy.
The move to James Watson House comes after Armstrong Watson brought together its Newcastle team under one roof in the city's multimillion-pound smart office One Strawberry Lane, following the acquisition of Joseph Miller in early 2023.
Armstrong Watson CEO and managing partner, Paul Dickson, said: "James Watson House has been a vision for many years and I am incredibly proud of what we have achieved. We have invested significantly to provide great facilities for our people and our clients in Carlisle and the surrounding areas.
"Our new office will support Armstrong Watson's growth for years to come, providing space for many more colleagues to join us."
::
Prime Land, a property investment company, has, with the advice of law firm Butcher & Barlow, purchased a promising nine-apartment development in a highly sought-after location in Lytham St Annes.
Prior to completion of the purchase, Prime Land secured full planning permission for the development of two-and-three-bedroom apartments. Now, the company is seeking to sell the site to a property developer.
The property, a late Victorian building, is in the affluent Fairhaven and Ansdell area, fronting Marine Drive on the corner with Clifton Drive. Prime Land, which launched just over 12 months ago, is led by Chartered Town Planner, Carol Clarke and commercial and residential property investor, Anna Wren.
Anna said: "Prime Land's main focus is gaining planning permission for sites and then offering the land or property to developers, thus reducing the developer's risk. When a developer buys a property from Prime Land with planning in place, it increases their funding options, as lenders are more willing to lend against a property or piece of land with planning permission in place."
The company's model is to secure options on properties and land, achieve a suitable planning permission, and then offer sites for sale to developers. Prime Land is also keen to invest in similar style buildings to St George's, as they are often considered to be of interest from a heritage perspective, and councils are keen to reinvigorate them to enhance the cultural aspect of an area.
Butcher & Barlow's commercial property team, led by partner Daniel Woodcock, assisted by associate Tom Newman in the firm's commercial team, has played a crucial role in the success of the partnership.
::
A fifth-generation family business from Leigh has launched a new property and asset management company.
The 100-year-old family business, George Moss & Sons, has transferred its property management activities into new entity, GM Property Management, which has taken over the management of Moss Industrial Estate on St Helens Road in Leigh, and will now assist other landlords with commercial assets in the area with its hands-on approach.
Neill Wood, managing director of GM Property Management, said: "As a long running and well respected industrial property business, we have solid foundations and a huge amount of expertise in this sector.
"At Moss Industrial Estate we actively manage over 600,000 sq ft of commercial property, consistently updating and improving the site to serve 108 commercial tenants. Our building expertise allows us to manage a constant refurbishment programme which, coupled with our security and landscaping services, maximises the sites appeal."
Sebastian Moss, fifth generation owner of Moss Industrial Estate, said: "My great great grandfather, George Moss, would have been incredibly proud to see the business today, and how it has evolved over the last 100 years.
"The separation and professionalisation of our asset management activities has already improved the look and feel of the estate, the satisfaction of our customers and, ultimately, the return on our investment."
::
New offices next to Hollinwood Metrolink Station are now complete and ready to let.
The offices amount to 17,664 sq ft and provide office accommodation in Oldham.
The leader of Oldham MBC, Arooj Shah, was on site last Friday with Jim McMahon, the Labour MP for Oldham West and Royton, together with deputy leader of the council, and Cllr for Chadderton, Elaine Taylor.
They were welcomed by the owner/developers of the building, Frank and Luke Rothwell.
Paul Nolan, from Nolan Redshaw, who have acted as development consultants and agents was also in attendance, and said: "It was good to meet the MP and the leader and deputy leader of the council to show the finished product – the best offices, North of Manchester.
"Interest has been encouraging and we are expecting to announce the first letting soon."
Annie Kenney Mill is adjacent to Hollinwood Metrolink Station; fronts onto the A62 Manchester Road and is adjacent to junction 22 of the M60 motorway.