City round-up: HSS Hire; Science in Sport; NWF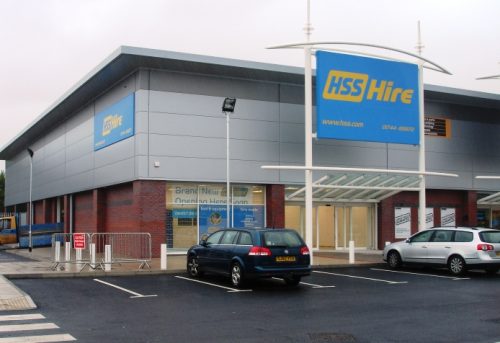 Interim sales rose, but profits declined at Manchester-based tool and equipment hire business, HSS Hire, but it said it is well placed for future growth.
Sales in the 26 weeks to July 1, 2023, were 6.3% better at £170.1m, although pre-tax profits of £5.5m were down from the previous year's £6.5m level.
The group described its performance as "solid" and said it has a "robust" balance sheet with material liquidity headroom to support ongoing strategic investment.
It said the weak macro environment has caused trading in the first 12 weeks of the second half to slow considerably to two per cent (H1 23: 6.3%), albeit with significant week on week variation.
While the group's services segment has continued to deliver double-digit growth, rental has been impacted by demand softness across certain customer segments including RMI and fit-out, exacerbated by seasonal product weakness.
However, management has responded quickly with targeted action to minimise costs. This is expected to deliver benefits of approximately £6m in the second half, including accelerating the branch migration to the builders merchant model.
The board currently expects full year adjusted EBITA to be in the range of £23m to £30m. Even at the lower end of this range, the group will deliver the second highest adjusted profit before tax in its listed history.
The board said it remains very confident in its transformation strategy to evolve HSS into a leading marketplace for equipment services.
Chief executive, Steve Ashmore, said: "I am pleased to report another consecutive period of growth with strong underlying performance driven by continued double-digit growth in our capital-light services segment. We have made great strides delivering our strategy in the first half of 2023 as our marketplace proposition continues to develop for our customers and suppliers.
"The early results underpin our confidence in our transformational strategy to be the leading marketplace for equipment services and as such we will continue to invest in the balance of 2023 to build upon this success.
"The macro environment has become more challenging from July – we have experienced significant volatility of demand in our rental segment over the last few weeks which has widened the range of possible performance outcomes for the balance of the year.
"However, this will be temporary, and we, therefore, plan to leverage our robust balance sheet to sustain investment in the business, implementing our strategy to ensure that HSS can take full advantage of the market when it recovers."
The board has decided to continue with a progressive dividend policy and an interim dividend of 0.18p per share was approved on September 27, 2023.
::
Sports nutrition firm, Science in Sport (SiS), halved its pre-tax losses for the six months to June 30, 2023, it announced today.
Revenues rose from £32.279m the previous year to £34.436m, and a pre-tax loss of £7.2m in 2022 was transformed into a £3.26m pre-tax loss for the reporting period.
SiS enjoyed a record trading month in March, with April, May, and June all setting records for the respective months, with Q2 delivering 11% growth versus Q2 2022.
Overheads were reduced by £0.3m year-on-year, with the most significant contributor being people costs.
These efficiencies resulted in an adjusted first half EBITDA of £1.1m (H1 2022: loss of £2.8m).
Cash generated in the period of £0.3m, compared with an outflow of £3.5m in H1 2022.
Chief executive, Stephen Moon, said: "We are seeing the results from our year-long contribution margin enhancement activity reflected in a £3.9m positive movement in EBITDA. Our investment in the Blackburn site and technology are critical enablers in this. Overall growth of seven per cent is encouraging, but there is no doubt that consumer confidence is fragile and trading is volatile.
"Whilst we expect H2 to broadly reflect H1, the full year outcome is always heavily influenced by Q4. Provided there is no material deterioration in consumer confidence, the improved and ongoing margin improvements give upside potential with a strong finish to the year."
He added: "We remain committed to our long term strategy with our premium brand equities in good health and efficiencies from our strategic capital investment delivering on track."
::
Nantwich-based food, feed and fuel distributor, NWF Group, is holding its annual general meeting today, where chair, Philip Acton, will deliver a trading update to shareholders on the first quarter period.
He will say that overall trading in the period, typically the group's quietest, has been in line with expectations.
His statement to shareholders says: "In Fuels, volumes increased year-on-year with the expected normalisation of margins reflecting the stable supply conditions as well as competitive pricing of diesel and gas oil, with demand for heating oil low over the summer.
"The price of Brent crude oil increased from $74 to $86 per barrel over the period. Following the acquisition in the period of Geoff Boorman Fuels, which expanded our coverage and customer base in the South East, the board continues to pursue acquisition opportunities in Fuels in line with our stated strategy.
"The Food division traded in line with expectations and the comparative prior year period. Storage volumes reached a peak of just over 140,000 pallet spaces (capacity 135,000 pallet spaces) with the business efficiently utilising overflow storage facilities as planned. The group continues to investigate opportunities to support the increased customer demand for its services through the addition of a new warehouse.
"In the Feeds division, volume and margin remained stable across the summer, relative to the first quarter of the prior year which saw very significant volatility in raw material and farmers input costs and consequently higher milk prices.
"The business has just welcomed its latest group of eight trainees to the NWF Academy to commence their structured programme to become future NWF nutritionists. The NWF Academy is now in its fifth year."
He says: "With the seasonally busier winter months to come, which are the most material to the group's performance, the board's outlook for the financial year remains unchanged. We remain confident in the group's prospects and continue to target development opportunities supported by our strong balance sheet."
Shareholders will be told that Dawn Moore has informed the board she does not wish to stand for re-election at the AGM and will step down from the board effective immediately to focus on her executive responsibilities. The board said it would like to thank Dawn for her contribution since joining the group and wishes her well for the future.
A process to recruit a new non-executive director and chair of the remuneration committee will now commence.