Bristol City Council accused of 'rewarding failure' as salaries soar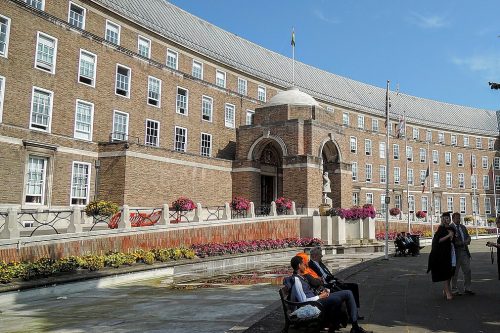 Bristol City Council has been accused of "rewarding failure" after accounts showed the number of employees earning at least £50,000 has risen by 35%.
The authority's accounts show that 363 employees earned at least that much in 2022/23, compared with 268 the year before – a rise of 95, or 35%.
The council said it was down to a pay award linked to the cost-of-living crisis.
Cllr David Wilcox asked at a meeting of the council's audit committee: "Why is there such a massive increase, and was that pay increase in line with other employees?
"Considering some of the things we've had before us at audit today to say we have not met our targets for savings, are we rewarding failure rather than success in terms of our higher management?"
Bristol City Council principal accountant Tony Whitlock said: "From a purely financial point of view it's mainly in the lower bands above £50,000, so it's where people have slipped just into the £50,000 band.
"We have a pay award and we have also got a competency award. So it's largely in the first three bandings – £50,000 to £54,999, £55,000 to £59,999, and £60,000 to £64,999 – where that number has increased.
"It's purely down to the pay award slipping into that banding now."
A report to the committee on Tuesday, May 30, said: "The number of non-school employees earning more than £50,000 has increased by 95, from 268 in 2021/22 to 363 in 22/23.
"Of this increase, 74 are in the first three bands over £50,000. The majority of these were service managers and relates to an increase in the cost-of-living pay award applied during the year."