Somerset manufacturer announces £8.9m acquisition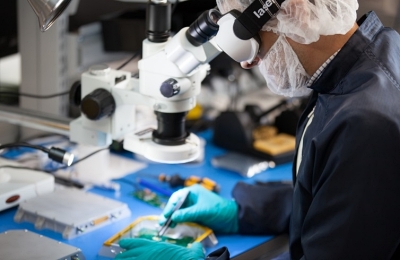 Somerset engineering firm Gooch & Housego has acquired a rival firm for £8.9m.
The specialist manufacturer of optical components and systems has entered into a conditional agreement to acquire the entire issued share capital of Artemis Optical Holdings.
The company said the acquisition further improves its product portfolio and creates new opportunities for vertical integration and the cross selling of combined capabilities.
Artemis is a thin-film coating company known for its expertise in a variety of cutting-edge applications.
It is recognised as a global leader in designing advanced optical filters for tailored electro-optical systems and laser protection, as well as bespoke head-up display combiners.
Artemis also works with its customers to develop customised, system-enabling optical filters, mirrors and pioneering helmet mounted display patches.
Its products cater to a range of customers primarily in aerospace and defence as well as in the industrial and life sciences markets.
Artemis operates from a modern facility near Plymouth and employs around 40 people.
The newly acquired site will serve as a centre of excellence to coordinate the  development of new coatings across G&H and a hugely complementary fit to the group's existing extensive coating capabilities.
This acquisition, which is part of G&H's new strategy, provides the group the opportunity to offer both substrates and coating materials of the highest quality that perfectly align with their application or product requirements.
By applying G&H's resources, expertise, and worldwide reach Artemis will be able to access new customers and territories for its capabilities.
Charlie Peppiatt, chief executive of Gooch & Housego, said: "The addition of Artemis' coatings expertise to G&H's capabilities was identified in our new strategy as one of the opportunities to deliver sustainable margin growth for the company.
"Artemis' renowned excellence in thin-film coatings complements our existing capabilities to enable us to deliver advanced photonics technology and unparalleled value for our customers. Together, we are well-positioned to accelerate our customer focused innovation plans and create a better world with photonics."
The total consideration payable for Artemis by G&H is up to £8.9m.
This is made up of an initial cash consideration of £4.5m, funded from existing resources, together with £2.4 million of new G&H ordinary shares to be satisfied by the issue of 412,088 new G&H ordinary shares.
There is a deferred contingent cash payment of up to £2m, payable based upon Artemis' performance in the next two years.
In its financial year ended 31 March 2023 Artemis' revenue was £4.3m and adjusted EBITDA was £700,000.