Aviation giant Airbus announces two new orders
Aviation giant Airbus has announced two new orders from two airlines.
The orders will add to the workload at the group's wing-making plant at Broughton, near Chester, which employs around 5,000 staff and at Filton in South Gloucestershire where it employs 3,000 staff.
Delta Air Lines has firmed up an order for a dozen more A220-300 aircraft, while Uzbekistan Airways, the national carrier of the Republic of Uzbekistan, has placed a firm order for 12 A320neo Family aircraft.
The Delta order brings the airline's total firm order for A220s to 119 aircraft – 45 A220-100s and 74 A220-300s
Throughout the years, Delta has reordered the A220 four times and is today the largest A220 customer and operator.
Kristen Bojko, vice president of fleet, Delta Air Lines, said: "These 12 additional A220 aircraft will help power our increasingly streamlined fleet while also providing our customers with the elevated in-flight experience they've come to expect from Delta."
Christian Scherer, Airbus chief commercial officer and head of international, said: "Delta Air Lines was the US launch customer for the A220 and this fourth reorder in just four years by a leading carrier as Delta is a most gratifying endorsement.
"The aircraft is currently connecting Delta passengers on more than 100 routes at 25% less fuel and CO2 emissions. If you want to connect today and tomorrow, you can't do any better."
Delta took delivery of its first Airbus A220 in October 2018, and was the first US carrier to operate the aircraft type. Delta currently owns a fleet of 415 Airbus aircraft, including 59 A220 aircraft, 266 A320 Family aircraft, 62 A330s and 28 A350-900 aircraft.
The A220 is the only aircraft purpose-built for the 100-150 seat market, bringing together state-of-the-art aerodynamics, advanced materials and Pratt & Whitney's latest-generation GTF engines. The A220 brings customers a 50% reduced noise footprint as well as around 50% lower NOx emissions than industry standards.
With 246 A220s delivered to 16 airlines operating on four continents, the A220 is the optimal aircraft to offer operational flexibility for both regional as well as long distance routes. To date, more than 70 million passengers have enjoyed the A220. The fleet is currently flying on more than 825 routes and 325 destinations worldwide. As of the end of December 2022, some 30 customers have ordered close to 800 A220 aircraft – confirming its leading position in the small single aisle market.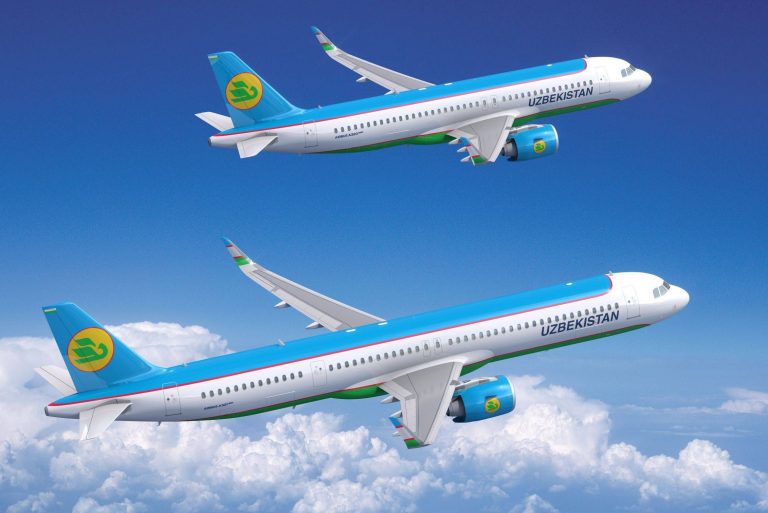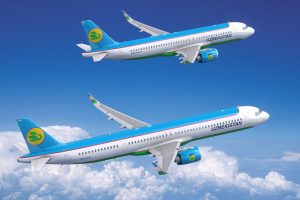 The 12 aircraft ordered by Uzbekistan Airways comprise eight A320neo and four A321neo aircraft. The new aircraft will join the carrier's current fleet of 17 Airbus A320 Family aircraft. The choice of the engines will be made by the airline at a later stage.
The A320neo (new engine option) Family aircraft will feature the new Airbus Airspace cabin, bringing premium comfort to the single aisle market. The airline is planning to operate its new aircraft to further develop its domestic and international route network.
Ilhom Makhkamov, chairman of the board of Uzbekistan Airways, said: "The contract signed with Airbus is a new step in our fleet modernisation strategy aimed at offering our passengers the most modern and comfortable aircraft. At the same time these new fuel efficient A320neo Family aircraft will help us to further expand and strengthen our footprint in Central Asia as well as develop our domestic and international network."
Christian Scherer said: "Our cooperation with Uzbekistan Airways dates back to 1993. It is an honour that the A320neo Family has now again been chosen. We see good potential for growth in the Central Asia region in the years to come.
"The modern and efficient A320neo will enable Uzbekistan Airways to benefit from this growth and play a leading role in this region."
The A320neo Family incorporates the very latest technologies including new generation engines and Sharklets, which together deliver at least 20% fuel saving and CO2 emissions. With more than 8,600 orders from more than 130 customers, the A320neo Family is the world's most popular aircraft.