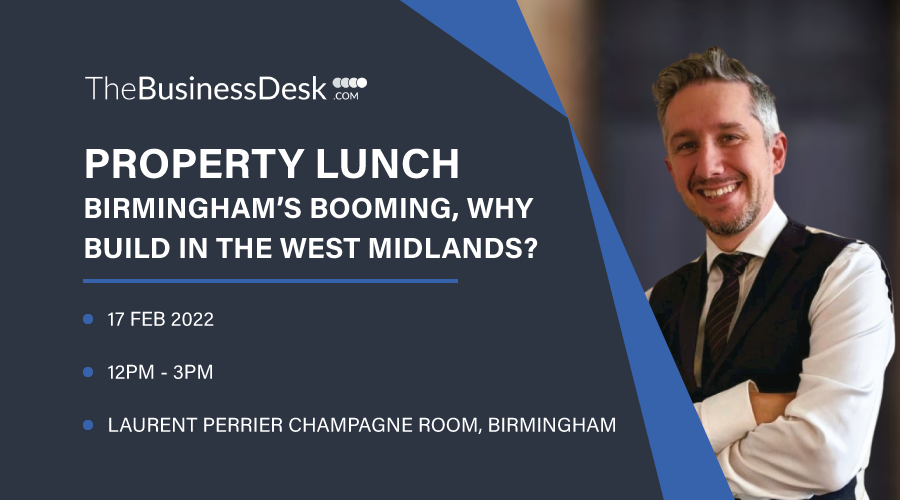 Thursday 17 February 2022
12pm – 3pm
Laurent Perrier Champagne Room, Wharfside Street, 196, Birmingham, B1 1RN
Tickets: £45pp + VAT
Tickets are no longer available to book for this event.
Please email events@thebusinessdesk.com for ticket enquiries. 
Sponsors:


There are a number of high-profile sponsorship opportunities available.
To discuss these please email sales@thebusinessdesk.com
Birmingham's booming: why build in the West Midlands?
Property development in Birmingham is enjoying a golden period with landmark schemes being revealed on what seems like a monthly basis.
At this exclusive lunch event, we'll talk to Marcus Hawley, founder and managing director of Birmingham-based property developer Cordia Blackswan about why Birmingham is booming now, the importance of placemaking and people-centric design and how his company is seeking to address the diverse and growing housing needs of the city, including BTR and shared living schemes.
In 2009, Marcus founded Blackswan Property, which he developed to become one of the most active property developers in the Midlands.
Blackswan's track record and placemaking vision caught the attention of international property powerhouse, Cordia. The multiple international award-winning real estate group extended an invitation for Blackswan to become part of the Cordia family. In 2020, Cordia Blackswan was born resulting in the acceleration of existing property development projects, a number of exciting new site acquisitions and a 2,500 unit pipeline in the next few years.
With a passion for going beyond the red line, Marcus has a placemaking-led development ethos. Together with a focus on heritage, sustainability and regeneration, people-centric design is at the heart of all Cordia Blackswan developments.
Alongside leading Cordia Blackswan, Marcus sits on the Board for the Chinese Community Centre in Birmingham, where he runs a relocation project and is involved in a market transformation project to support the business in pursuing profitable ventures in the city centre. Before founding Blackswan Property, Marcus worked as a Development Surveyor for Bruton Knowles and as a Development Manager for Urban Splash, where he was responsible for four major projects across the city: the Rotunda, Birchfield, Fort Dunlop Train Station and Cincinnati.
Join us to put your questions to Marcus at what is sure to be a fascinating event for everyone with a stake in the West Midlands property sector.