Birmingham's Axis Square gets the green light
The Axis Square development in Birmingham, a major scheme which is set to transform the city centre site next to The Mailbox, has been given the go ahead.
Birmingham City Council has approved the outline planning application for the site, which will see the current 1970s Axis building demolished and replaced by four commercial office buildings, including the 10-storey One Axis Square, which received detailed planning permission in January.
The development will see structures ranging from five up to 23 storeys, set around new public square with ground floor retail and landscaping features.
The design will enable people to walk more easily between Broad Street, New Street Station and the surrounding areas.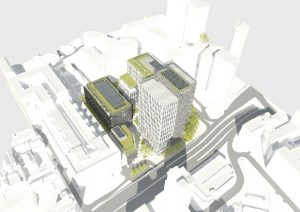 Detailed planning permissions for the remaining buildings will be sought in the coming months.
LCR development manager Nick Clough said: "We are delighted to have reached another major milestone with our development proposals. Axis Square will create a vibrant new commercial office development of up to one million square feet, with ground floor retail uses and a new public square, with the development vastly improving connectivity with nearby locations and creating an attractive place to work, eat and shop in the heart of the evolving city centre."
The scheme is designed by Fletcher Priest Architects supported by Quod as planning consultants.
The public consultations have been managed by communications specialists Gough Bailey Wright.