Consent granted for major new apartments scheme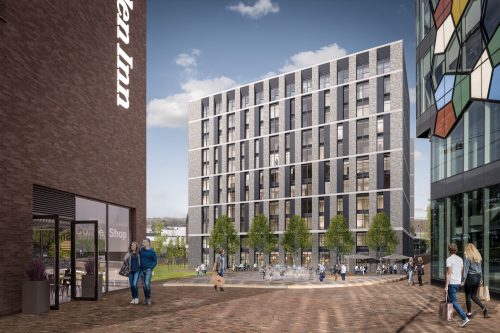 Proposals for a new mixed-use apartment and office scheme in Stoke-in-Trent have received planning consent.
Genr8 is working in partnership with the city council's housing company, Fortior Homes, which will own the site of the Smithfield scheme.
The Smithfield residential scheme will provide 277 'build to rent' apartments, the largest single apartment development in Stoke-on-Trent.
Designed by Cartwright Pickard, and located at the heart of the Smithfield development, the apartments will sit alongside a new Hilton Garden Inn Hotel.
As the first 'build to rent' development in Stoke, developers are aiming for a high standard. The scheme includes substantial additional amenity provision for prospective tenants, including cycle storage, function rooms, roof terrace and a contemporary private, landscaped courtyard.
The scheme will deliver a mix of contemporary one and two-bedroom apartments, all built to a high specification.
The first residential block will deliver 151 apartments for Fortior Homes with amenity space and communal gardens. There are also leisure and commercial units planned for the ground floor, including a gym and office space.
The first block is due to start on site in early 2018 with an anticipated completion date of the fourth quarter of 2019. The second approved building of 126 apartments will form part of a future phase of development.
Richard Ingham, partner at Genr8 Developments, said: "This is another huge step forwards in the delivery of Smithfield. Having a high-quality build to rent apartment offer is key to the ongoing regeneration of the city centre and the wider Stoke-on-Trent economy."
Cllr Randy Conteh, the city council's cabinet member for housing, communities and safer city, said: "It's fantastic news that the plans have been approved, meaning we are a huge step closer to improving our city living offer. These high quality apartments will give the city centre permanent residents, who will increase footfall, support the local businesses and lead to further investment.
"We hope that Smithfield will be the first of many schemes we're considering and are confident that it will give the delivery of our future development strategy a positive kick-start."
The first phase of Smithfield Stoke-on-Trent, which includes 210,000 sq ft of office space – now known as One Smithfield and Two Smithfield – was completed in August 2015 and is occupied by the city council along with private sector companies.
Further phases are in the pipeline, including a 140-bedroom Hilton Garden Inn – which received planning permission in July 2017 – and the next phase of offices.