Shot blasting firm acts on growth after acquisition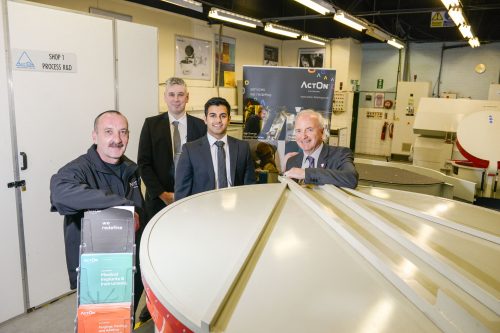 A Black Country shot blasting firm is targeting growth after being acquired by a Coventry metal finisher.
Quality Blasting, based on Old Forge Trading Estate, Stourbridge, has been taken over the ActOn Ventures.
ActOn has appointed a new general manager at the shot blasting firm and tasked him with growing its turnover and expanding its capacity.
Quality Blasting was formed in Birmingham during World War Two to blast shells for the defence industry, and has evolved to its current Stourbridge base where it has around 80 regional clients undertaking a variety of domestic and commercial finishing jobs.
While Quality Blasting will continue to trade under its current name, new general manager Andy Tarr is planning to use his more than 36 years of engineering experience to boost the firm's turnover past the £1m mark.
He said: "This is a business that has been trading at a stable level for some time, but there is so much potential for it to develop further.
"We are currently trading out of two 5,000 sq ft units but we have an additional 5,000 sq ft of space, which we are looking to capitalise on.
"We have a team of 11 that are currently managing around 30 jobs a week, and a lot of work has gone into improving our efficiency levels so that we'll be ready to tackle an increase in orders."
ActOn Ventures acquired Quality Blasting – also known as Tecwin – after its accountants and financial adviser, Harrison Beale & Owen (HB&O) made it aware of the investment opportunity, including a valuation of the business and structuring the deal.
Sid Gulati, managing director at ActOn Ventures, added: "Quality Blasting is a well-run business that has built up a solid reputation in the industry, so when the opportunity arose to purchase the firm, we knew it was the ideal investment to expand into a new area and grow.
"It was important that we appointed somebody with the drive to take the business to the next level, and Andy's vision for how he wants to grow the business proves he is the right man to oversee the next stage of its journey."
Phil Ewing, director at HB&O in Coventry, and Greg Philp, Head of Corporate Finance, assisted ActOn Ventures with the acquisition.
Both businesses are now utilising HB&O's Virtual Finance Office (VFO) service – a cloud-based tool offering the equivalent financial services of an in-house accounts team – to improve day-to-day efficiencies.