Maven reveals top team to deliver Midlands Engine fund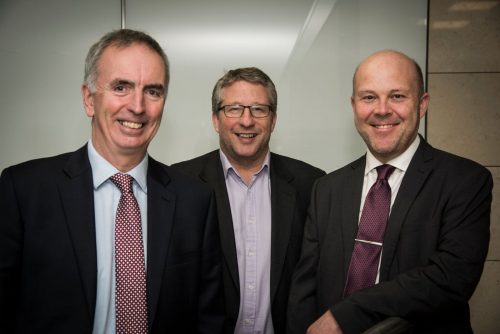 Private equity firm, Maven Capital Partners has revealed two new top-level appointments as it gears up to deliver one of the key funding aspects of the Midlands Engine.
The company was revealed earlier this year as the one chosen to deliver the debt finance aspect of the Midlands Engine Investment Fund (MEIF).
The move was a surprise in several quarters due to the firm's lack of presence in the area.
It has since been playing catch-up and in an effort to impress the business community has been trying to assemble a top team to administer the fund, which will see £50m being made available to firms in the West Midlands and £40m for those in the East Midlands.
Businesses needing growth capital can apply for loans ranging from £100,000 to £1.5m.
Maven said it had secured the appointment of Steve Lewis and Jonathan Lowe as Investment Directors. They will lead the Maven – MEIF Debt Fund team in the West Midlands and East and South-East Midlands respectively.
Based in Birmingham, Mr Lewis has responsibility for new MEIF investments across the Midlands, as well as managing portfolio investments.
He joins Maven following a 30-year career in SME investment and banking, most recently with Handelsbanken in Wolverhampton. He has spent most of his career supporting business growth at a number of UK banks including NatWest, Barclays and the Bank of Scotland.
Mr Lowe will be based in Nottingham. He brings more than 25 years' experience in banking, equity investment and SME finance, most recently as investment director and head of investor relations at Catapult Ventures and previously at Capital for Enterprise Ltd as portfolio director. He also spent spent nine years at the East Midlands Development Agency where he was responsible for new loan and equity funds and the delivery of two major SME grant programmes.
Maven said it a statement to accompany the appointments that it was "one of the UK's most active private company investors, with a long established record of working with advisers and supporting SMEs across the Midlands".
Andrew Ferguson, Partner at Maven, said: "We are delighted to welcome Steve and Jonathan to the team and strengthen our presence across the region. Both already have considerable in-depth knowledge of the local SME market, and a range of sector specialist knowledge, allied to the national resource of Maven's UK business.
"The Midlands has a well-deserved reputation as being a key driver in UK economic growth and producing innovative smaller businesses and our MEIF Debt Fund team is very much looking forward to working in partnership alongside Midlands SMEs."
The Midlands Engine Investment Fund project is supported financially by the European Union using funding from the European Regional Development Fund (ERDF) as part of the European Structural and Investment Funds Growth Programme 2014-2020 and the European Investment Bank.
Pictured from left are: Steve Lewis, Andrew Ferguson and Jonathan Lowe.