Weekender: Solicitor swaps Port Stanley for Solihull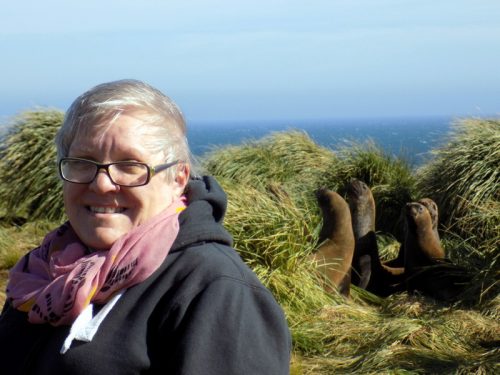 A West Midlands law firm has gone to the ends of the earth for its latest appointment.
Thursfields Solicitors could well claim the record for the longest distance recruitment after strengthening the Family team in its Solihull office with a lawyer working 8,000 miles away in the Falkland Islands.
Pauline O'Rourke first came to the West Midlands more than 30 years ago to study law at the University of Birmingham, and then worked at various practices in Birmingham and Coventry after qualifying in 1991.
In 2016, she took up the "opportunity of a lifetime" on a two-year contract with global law firm Pinsent Masons, based in their small satellite office in the Islands' capital of Stanley as a family lawyer.
Recalling her time in the Falklands, Ms O'Rourke said: "I lived in the most beautiful island location, in an apartment, overlooking the harbour in Stanley, from where I could look at the sea and frequently watch the seals and dolphins.
"I don't think I'll ever be able to see penguins in a zoo again after the experience of having them on my doorstep.
"One of my other memories was the unusual weather. With the Falklands being between Chile and Antarctica, you'd often see four seasons in one day – from light drizzle to storm-like rain, and from bright sun to snow."
Talking of her legal work in the islands, Ms O'Rourke said: "I'd always been fascinated by the social history of the Falkland Islands, and when this opportunity of a lifetime came up I thought 'I could do that.'
"Once there, I encountered a resilient, proud local population in need of specialist family representation and found myself meeting the unique challenges faced by the communities there from St. Helena and Chile."
Working often by herself in the Falklands, Ms O'Rourke had to quickly learn Falkland Islands law and had to use reading, research and her extensive experience to implement the latest UK-adopted laws and case law.
After two years, she wanted to return to the West Midlands and chose Thursfields Solicitors because she liked the idea of helping to expand the company's operations in Solihull.
Shane Miller, director and head of the Family department at Thursfields, said: "Pauline is passionate about family law and we could see how resourceful she had been working on her own in the Falklands.
"We're delighted to have recruited her for our Solihull office where we think she will adapt very well and where her vast experience will help to strengthen our practice."
Ms O'Rourke, who lives in King Heath, will continue to offer her services as a consultant family lawyer to the Falkland Islands via Thursfields Solicitors.
She is one of eight new appointments Thursfields has made in the first few weeks of 2018, taking its overall staff numbers above 140.
Ms Miller added: "Thursfields is rapidly expanding across the Midlands and is attracting some of the legal sector's top performers who want to work for a company that offers the chance to help us build our services."